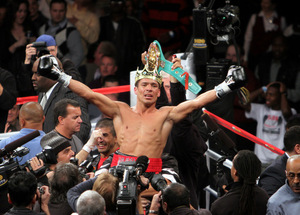 Martinez celebrates victory

Pound for pound top five boxer Sergio Martinez had nothing but praise for opponent Darren Barker after knocking him out in the 11th round of their world middleweight title clash in Atlantic City on Saturday night.

Speaking at the post fight press conference after defeating Barker
Martinez, 48-2-2-(27), said: "This was a difficult fight, as are all fights at this level, He was elusive and had a good defense.

"He did a good job early on, but this is a 12 round fight. I knew that around the sixth or seventh round, my work rate would increase and after the eighth or ninth, I would increase it even more. It's good to have a good first or second round, but what's important here is to know how to finish, not just how to start."

Barker 23-1-(14), did not attend the post fight press conference, Martinez, as honest as ever, admitted that Barker caught him clean a number of times and may have broken his nose in the fourth round.



Martinez added: "It was a good right hand in the fourth round that may have broken my nose. I was not hurt, but it was uncomfortable because I was bleeding."

"I knew that Barker was difficult. However, one must recognize that there is a difference between motivating yourself for a Kelly Pavlik and motivating yourself for a Darren Barker; it's just not the same. I say that without taking anything away from Darren Barker, who demonstrated that he's a great champion tonight."

Martinez was not the only person in his team to heap praise on the European champion from London, England. His promoter Lou DiBella was also impressed. "Darren Barker deserves a round of applause because I haven't seen a fighter that disrespected [by the media] in a long time. I thought he fought a tremendous first half of the fight. I think everyone now knows who Darren Barker is and that he's one of the best middleweights in the world."

October 3, 2011