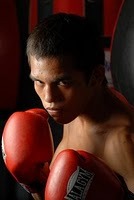 By Derek Bonnett: When it comes to ranking rising flyweight Milan "Method Man" Melindo, only the WBO has it right among the top four recognized sanctioning bodies (I remember when I said top three). With impressive victories over Carlos Melo, Muhammad Rachman, Carlos Tamara, and Francisco Rosas, Melindo now stands as the WBO's number three man at 112 pounds (#7 WBC, #11 WBA, and #12 IBF). SecondsOut holds Melindo in high regard at number five. However, the number that goes unnoticed by these statistics set by the organizing bodies is Melindo's age. At twenty-three, Melindo is by far the junior of Pongsaklek Wonjongkam, Moruti Mthalane, and Brian Viloria, who collectively own three quarters of the flyweight title picture. Hernan Marquez is the twenty-three year old WBA boss and could use a fighter like Melindo to help him inject new blood into the top the division.

As Melindo, 25-0 (9), has moved up in weight from 105 pounds, he has added a lot to his game in terms of experience and KO power. Melindo has four stoppage victories in his last five bouts against five early nights over his first twenty wins.

"He has improved a lot since he fought Rachman," trainer and former world title challenger, Ala Villamor, stated. "His power to deliver a punch, his timing of the punches, and his maturity to face a world champion or a world caliber fighter are all greater."

The experience levels of Rosas, Tamara, and Rachman, and Melo rival anyone campaigning in the top ten of most divisions and certainly are excellent foes to cut one's teeth against. However, the one thing missing from Melindo's dossier is a victory over a fresh, young contender of his own ability and experience. Such fighters exist in Wilbert Uicab, Luis Concepcion, and Juan Carlos Reveco, but would any of these men be willing to accept the risk attached to yet another Filipino sensation?

"I think he is ready now for a world title fight if there is a big opportunity," Villamor asserted. "He fought former two-time world champion Muhammad Rachman, Carlos Tamara, and other world caliber fighters. At his age, I think his body is matured enough to fight for a world title. We just rested for one week [after the tenth round retirement of Rosas] then came back to the gym. It's up to our manager and ALA promotions what happens next. I think all [the top ten] are dangerous fighters, but Melindo can manage them. He thinks when he fights and he knows how to read the style of his opponent. That's why he called the "El Methodico".

Trainers have only one perspective through which they see their fighters. Bold statements and unfettering confidence come with the terrain. However, the fighter himself speaks with similar resolve. Not only does Melindo think inside of the ring, but he is able to assess his areas of improvement through self-reflection outside of the ropes.



"I learned a lot of experience. I learned to relax myself," Melindo claimed. "I think wisely to use my punch when and how. I learned how important the eyes are to read the move of the opponent. I'm ready, sir, to fight the top fighters [at flyweight]. It's my opportunity if they offer me. If that happens, I will gain more experience. Moving up in weight has developed my power and speed. I'm comfortable at my weight at this time. I will maintain 112 pounds until I become a world champion."

Melindo lacks the concussive power of Wonjongkam, Marquez, Concepcion, or Giovanni Segura, but boxing purists can extract great pleasure from watching the unbeaten Filipino ply his trade. Great match-ups exist out there for him with, former world champion, Edgar Sosa, Julio Cesar Miranda, and any of the other contenders and champions mentioned previously. The flyweight division stands in good health at the moment and Melindo figures strongly into the future of the division and possibly at super flyweight in a couple of years.

"I need a 'Segura' fighting style to get a lot of attention before a championship fight," Melindo stated. "I want to earn a number one contender ranking for all the world [sanctioning] bodies of the flyweight division to become a mandatory challenger to the champions."

Once the opportunity presents itself to him, Melindo is a lock to make good on it.

September 22, 2011