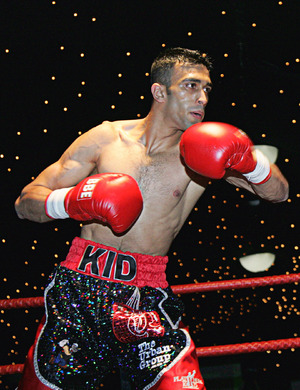 Adil Anwar (Pic Jav Iqbal)

By Andrew Wake: If Leeds' exciting prospect Adil Anwar could speak Latin he'd be saying "Qui audet adipiscitur".

Translated the term simply means "who dares wins" and, although it may sound like something straight of the Derek Trotter book of quotations, it could serve to be the perfect mantra for Anwar this weekend.

Last weekend, the Yorkshireman, 24, was contemplating the next move in his career with a six rounder on a small hall show in December looking likely to be the only action available to him this side of New Year.

But then his phone rang and he was offered surprise chance to box Coventry's undefeated James Flinn for the English welterweight crown on the undercard of Tyson Fury's latest heavyweight endeavour on Saturday night.

"I was doing cartwheels when the opportunity came up," Adil told SecondsOut. "It's about time something like this happened for me.

"[Matchmaker] John Ingle rang me up and asked me if I fancied it because Adnan Amar wasn't feeling too well and I accepted. It was all sorted within a day.

"It's late notice and it's bit risky but I was in training anyway and I've been walking around at 10 and a half stone so it wasn't a difficult decision to make.

"I believe in my talent so whether it's a few months, a few days or even a few hours notice, I know I can still produce the goods in the ring. It's time for the Platinum Kid to shine."

And with the fight being part of a card televised to a massive audience on Channel 5, Anwar knows he won't get many better chances to get his face known amongst the general public than this.

"It'd be good to show my ability to a wider audience and get my name out there," he said.

"It's a big event because you've got Tyson Fury, one of the biggest names in boxing, on and it'll definitely be something exciting for the public to watch."

Victory will put him closer to his dream of winning the Lonsdale belt he has craved ever since first lacing up the gloves. However, he doesn't see himself sticking around at welterweight and intends to move back down to 10 stone.

"I'll need to sit down with my manager, Mark Bateson, and see what he wants to do but the plan is try and dominate the light-welterweights," Adil explained.

"This is a stepping stone for me to hopefully get to the British title and it'll give me the exposure I've been wanting for quite a long time. If I win this I want the winner of Ashley Theophane and Nigel Wright."