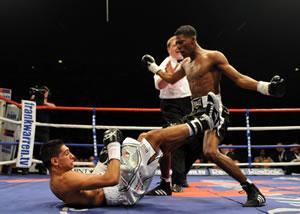 Prescott ko's Khan

Breidis Prescott, the only man to have defeated Amir Khan, has accused the WBA junior-welterweight champ of running scared.

Since being severely knocked out by Prescott inside a round back in September 2008, Khan has gone from strength to strength by moving up a weight and claiming the 140lbs world title.

Prescott believes if Khan is a true champion he should fight him and attempt to reverse the only defeat on his record

"I don't get this guy," said Prescott. "He's supposed to be a champion. Okay act like it.

"I shouldn't be calling you out. You should be banging down my door for this fight.



"Every time they tell Amir Khan's story on television they always cut to me knocking him out and yet my phone never rings.

"Why is that, Amir? You're supposedly a totally different fighter now, but apparently you're still as scared as ever of me."

There could be a reason why Khan has no interest in facing the big punching Colombian. Since defeating Khan, Prescott has been out-pointed by Britain's Kevin Mitchell and Mexican Miguel Vazquez. Admittedly Prescott has won his last three bouts but Khan has moved on there are much bigger fights out there for him.

May 31, 2011