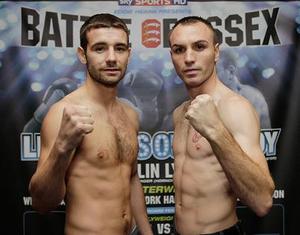 Purdy And Lynes weigh in

Lee Purdy and Colin Lynes are ready for the 'Battle of Essex' tonight (November 9) after weighing in for their British Welterweight title battle at the Nu Bar Loughton yesterday.

Colchester champion Purdy will win the Lonsdale belt outright if he can successfully defend it for the second time and faces Hornchurch's Lynes at York Hall, with the 33 year-old challenger fighting in his 14th title bout.

Purdy scaled 10st 6lb 2oz at the Essex nightspot famous from its appearances on BAFTA hit TV show The Only Way Is Essex, and the 24 year-old champion said he is in prime shape to see off his experienced opponent.

"I've got nothing but respect for Colin and what he has done in the game – but I think I will have too much for him," said Purdy. "I have trained better than ever for this as it's a really massive occasion for me topping the bill at York Hall in a title defence live on Sky Sports, and I am totally confident that I will come out on top."

Lynes weighed in at 10st 6lb 5oz and ahead of his 45th professional contest to Purdy's 20th, he insisted that while experience is important, it's not going to be the sole factor in the fight.

"Experience does come into it but I'm not going to rely on it tonight," said Lynes. "It's a question that keeps getting put to me, but it's not something during training that I've been working with the attitude that I've this many fights and that many rounds, so I'm going to win the fight. That would be stupid. Statistically, it's an advantage for me to have had more rounds and more title fights, but he'll be thinking his age is an advantage to him. So I'm under no illusions that my experience is a good thing, but it's not going to win me the fight.

"Lee's a fantastic fighter and I liken his path to mine really. Not so long ago Lee was the man to get on your record and if you beat him, you warrant a title fight. I was in that category before I challenged Barry Morrison in Scotland. It's up to you to turn around and say 'no, I'm not going to be someone's stepping stone, I want to be the champion', I did that against Barry (Morrison) and full credit to Lee, he did that against Watson."

A limited number of unreserved (£35) and ringside (£60) tickets for Purdy's British Welterweight title defence against Lynes plus full championship undercard featuring Mike Perez will be available on the door at the York Hall in Bethnal Green from 6pm.