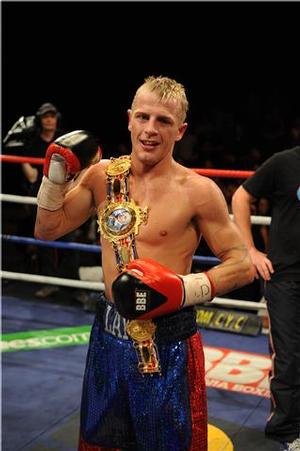 Gary Sykes pose pic Leigh Downey

Gary Sykes will be throwing an incredible 120 punches a round in Saturday's (Sept 24th) British super-featherweight title defence against Gary Buckland.

Dewsbury's Sykes was stopped in 45 seconds by the Cardiff battler in Prizefighter last November, but has left no stone unturned in preparations ahead of their Ponds Forge Arena battle.

He has lived and breathed boxing during a nine week camp and his manager and co-trainer Chris Aston even paid for a warm-up fight.

Aston warned said: "Buckland is a bit of a workhorse and I don't know how he will cope when Gary is throwing 120 punches a round with speed.

"Even late in fights against Andy Morris and Anthony Crolla, Gary was still throwing 100 punches every three minutes.

"Obviously after what happened at Prizefighter there is always a chance that Gary could clock him, but he is bang on after the camp."

Sykes captured the British crown in March 2010 when he defeated Andy Morris and will win a Lonsdale belt outright if he beats Hatton Promotions 130lb star on their talent stacked bill.

Aston added: "We're not making excuse for Prizefighter, but in a competition like that you are less cautious.

"This is over 12 rounds and in the early stages Gary will have his chin tucked down, using footwork, speed and ability to stay out of trouble."

In the chief support former European champion and WBC world title challenger Rendall Munroe meets Ryuta Miyagi in a non-title ten rounder.

Jenkins fellow Sheffield prospects Adam Etches, Scott Jenkins, Richard Towers and Jezz Wilson are also on the big bill.

Etches and Towers face Belarussian opposition. Heavyweight Towers meeting Yuri Bihoutseu over eight rounds, while Etches boxes Yauheni Abdurazakau over four rounds.

Jenkins has his second paid fight when he faces vastly experienced Steve Gethin.

Manchester's former amateur star Tommy Stubbs makes his pro debut when he faces, tricky Kuwaiti Anwar Alfadi, who boxes out of Ingle's stable.

Other fights: Justyn Hugh v Carl Wild and Wilson v Jay Morris.

There are just a few tickets left priced £35, £55 and £75 VIP from 01925 755222.

The card will be screened live by Sky Sports.