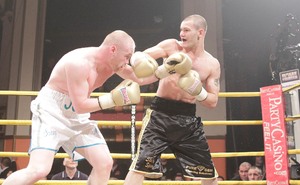 Wayne Reed faces former WBC super middleweight Champion Robin Reid at the Hillsborough Leisure Centre on Saturday – and says he'll end the 40 year-old's career at the sold-out show.

Both men took part in the 17th edition of Prizefighter in Liverpool, and while Reid went crashing out to Tobias Webb by unanimous decision was a surprise, it was the second quarter-final when Reed took on local favourite Joe Ainscough that caused the controversy. The three-round contest was tight until the final stages when Reed floored Ainscough before the final bell, seemingly enough to claim a place in the semi-finals.

But it was not to be, Ainscough took the split-decision and Reed's corner was livid. Reed has fought since – a points win over fellow Sheffield man Dean Walker in April – and says that it is time to move on from that contentious night in Liverpool.

"After Prizefighter I was in the gym the next morning and I was so angry that I absolutely battered the bags," said Reed. "But a week or so later time is a healer so I was over it, you just have to get on with it, there's nothing I could do about it.



"I lost the first round, won the second round and knocked him down in the final round - so even if I was losing the final round I still won the round, as it was I battered him and knocked him down so it had to be a 10-8 round. If you were being very objective - and I know it's all about opinions - you could've said the second round was a draw, but even then I won the fight by a point. That's my opinion anyway, but it's gone now and all I can do is look forward, starting tonight."

Reed may have got over the loss to Ainscough – only his second as a pro – but when Walker and he were called into the Rotherham bout at 24 hours notice, it was all people wanted to ask him about, much to his chagrin.

"When I fought Dean everyone kept mentioning Ainscough, the split decision or Prizefighter and I got really annoyed," said Reed. "I was telling them that I was trying to get ready for another fight, shut up. I was warming up and trying to get focussed and people were coming into the changing room asking me about Prizefighter – I had to tell them to get out in the end. It's understandable as it was a shocker so people are going to be able to talk about it.

"I said in my interview on Sky before Prizefighter that any publicity is good publicity and to be fair it has got people interested in me – but not for the right reasons. Having said that, everyone is coming to watch me fight and I've sold a ton of tickets, well over 150 and I could have sold more too. I can't wait to get in there."

And when he does get in there, he'll face the former WBC World Champion Robin Reid, who returned to the ring for Prizefighter after almost four years away from boxing.

Reid's decision to return to the ring for Prizefighter was befitting of a man who always fought in the public eye. He won his WBC belt in 1996 and defended it three times before losing it in 1997 and then had memorable title challenges against the likes of Sven Ottke, Silvio Blanco and of course, Joe Calzaghe.

Reid had a warm-up bout before Prizefighter, but his last major fight came in 2007 against Carl Froch in Nottingham when he lost to The Cobra in a British title challenge. Tonight will be The Grim Reaper's 49th professional fight – and Reed is intending to make it his last.

"He's old enough to be my Dad!" said Reed. "I'm going to end his career, his time has gone. Prizefighter isn't really made for him; he's a twelve round fighter who won't come alive until after three rounds. I don't watch DVDs of my opponents but obviously I've seen footage of his old fights. I've got nothing but respect for what he's achieved but the writing is on the wall for him.

"I've been on the weight for weeks so I'm in great shape and after this I'm looking for a contract and an English title shot."

June 23, 2011