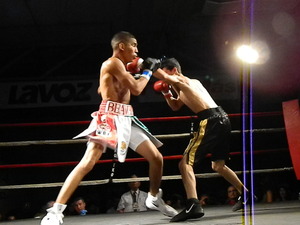 Danny Santiago in action against Galaviz

By Ron Valderrama at ringside: Alexis "Beaver Santiago treated his fans in Phoenix and a sold out show hosted by FACE II FACE EVENTS, in association with Sonoran Capital Group at Friday Night Fights 2 at the Madison Events Center.

Santiago made his intro to the ring complete with a Mariachi band leading the way. The crowd went wild at the sight of the super bantamweight and began yelling "Beaver Beaver Beaver". Santiago who is gaining a big fan base after his loss to Randy Caballero and his shot at the WBC Youth International Bantamweight Title earlier this month faced Manuel Galaviz in a six round match up.

Beaver did not disappoint coming out as if having a point to prove and displaying his ring skills early by delivering some lightning speed combinations and powerful body shots. Galaviz tried to answer back with a few combinations but was having no luck as Beaver put up some defence and making his poised opponent miss. The fight ended in the second round when Beaver went to town on the Mexican fighter delivering an array of body shots, upper cuts and power punches that sent Galaviz to the canvas giving Beaver the KO.

 



In the co-main event Emilio "Milo Time" Garcia defeated Maros Diaz in what turned out to be a good match up, Diaz in his first fight as pro was well poised and gave Milo a hard right that stunned the valley favorite. That was Milo's wake up call and all he needed as he began to deliver some crushing hard body shots and lightning speed combinations that Diaz could not answer to. The crowd began chanting "Milo-Time" as Milo displayed his signature style of great movement and powerful punching together with his ring smarts. He used the entire ring and his skills to school Diaz and to let him know he was the teacher. Milo wins by decision in the four round battle.

Undercard:

Arlo Argueta defeated Jose Marrufo in one of the great fights of the night. It was toe to toe action and like watching Rock-Em Sock Em Robots and treating the boxing fans to slug fest. I was amazed that the two came out fighting like it was the last round, very few jabs and mostly power punches. Argueta won me over as a fan displaying good movement and speedy combinations as he began to pull away punishing Marrufo in the third round with some hard blows. Agrueta gets the win as the referee stops the fight at 2:55 of the third round.

Juan Gonzalez made short work of his night as he defeated Omar Quevedo. Gonzalez threw some hard combinations and punches in which one of them sent Quevedo to the canvas in the first round and again in the second giving Gonzalez the win at :51 seconds of the second round.

Javier Loya improved his record by knocking out Jaime Del Cid at 1:56 of the second round. Loya looked sharp taking no chances and staying busy with some very good movement and punches. Like a shark going in for the kill, Loya delivered some blows that stunned Del Cid.

Victor Castro defeated Michael Salcido by shooting off some powerful combinations and a right that pushed Salcido back in the first round. In the second round both fighters came out strong trading punches, Salcido displayed some good combinations and body shots that got the attention of Castro. In the third round Castro rattled off some crushing blows and combinations that appeared to be to much for Salcido forcing the ref to stop the fight.

Ramon Valenzuela Jr. defeated Torrence King. Valenzuela may not be the greatest fighter out there but this kid has a big heart and one hell of a punch! I thought I was watching a heavyweight fighter for a minute as Valenzuela pounded King. The judges scored the fight 40-36 all in favor of of the humble Valenzuela.

In the USA Boxing Amateur Bout Breenan Macias defeated D'angelo Ascencion by showing his great ring skills and punching abilities. Brennan is 11 yrs. old and is training to go to the Olympics. He is a valley favorite and knows how to pump up the crowd, I forget sometimes he is only 11 by the way he carries himself in and out of the ring.

Highlights of the evening:

First Lady of Boxing Jackie Kallen was in attendance to lend her support to Michelle Rosado and FACE II FACE EVENTS. The crowd was stoked to have the presence of the living legend in the house. Kallen who also had Ramon Valenzuela Jr. on the card posed for pictures with the fans and signed autographs. There will be more on Jackie Kallen soon in an upcoming article. FACE II FACE EVENTS announced the next show will be October 21st


All photos by Tymmarie Valderrama