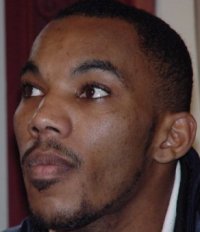 By Ben Carey: British and Commonwealth light-welterweight champion Junior The Hitter Witter sent out another chilling message to arch domestic rival Ricky Hatton with a chilling two round demolition over Italy's Giuseppe Lauri at the Derby Storm Arena on Saturday night.
Italian and WBO Intercontinental champion Lauri, now 29-3, and beaten by Hatton in five rounds two years ago, had no answer to the Bradford man's switch-hitting style and ever improving punch power.

In what was a final eliminator for the WBO crown currently held by Demarcus Corley, Lauri looked bemused and tentative as Witter, arms down by his side, stalked his opponent with real intent from the first bell. Only the ropes kept Lauri up after a looping left hook from Witter almost dropped him inside the opening ninety seconds.

Sensing his opponent was hurt Witter threatened to end proceedings in the very first round. Crunching right hands to the body drove Lauri around the perimeter of the ring as he sought to weather the crisis. But Witter, punching with some authority, was in no mood to let his opponent off the hook.

A lightening combination that was as deadly as it was accurate, consisting of uppercuts, left hands, and rights to the body had Lauri in dire trouble. After absorbing another solid right hand and left hook whipped in at speed, the beleaguered Italian slipped to the canvas desperate to find some respite. In doing so he had taken thirty three unanswered power shots from Witter. He rose gingerly at six and displayed the knowing look of a beaten fighter. A follow up left hand once again ripped through Lauri's defence forcing him to sag against the ropes. He somehow made it through the round but the fight had long since ceased to be competitive.

Witter, keen to make a statement in front of the watching WBU champion Hatton, emphatically ended matters in round two. The outgunned Lauri, having taken an age to climb of his stool was strictly in survival mode now. It was all over a minute into the round. A left hand shook Lauri against the ropes and the follow up right hand from Witter dropped him for the second time in the fight. Although up quickly the Italian sported a dejected look on his face, and after an initial pause to consider his decision, referee Mickey Vann decided to rescue Lauri from what was a one sided beating.

Witter moves to 25-1-2 (14) and has now stopped his last 10 victims inside five rounds. At 28, and punching harder than ever, the confident Bradford man is at his peak. Although this win has earned him a crack at the winner of the Demarcus Corley – Randall Bailey WBO title showdown in the New Year, Witter once again made it clear that it is the unbeaten WBU champion Ricky Hatton that he so desperately yearns to fight. Having barely broken sweat in the ring Witter expended his leftover energy to goad Hatton in the resultant post-fight interview: It went the way I thought it would. I'm too big, too strong, too much power, skill, and accuracy a satisfied Witter proclaimed.

Hatton, ever the gentleman outside the ring, was full of praise for his rival's showing within it: You can't fail to be impressed. He (Witter) just jumped on him straight away. The minute Lauri felt his power he didn't have any answers.

With Hatton's and Witter's promoter Frank Warren inconspicuous in his absence, it was left to the boxers to reflect on why Britain's biggest domestic rivalry since Chris Eubank and Nigel Benn is still to be settled in the ring. Responding to Witter's interrogation as to why Hatton has not challenged for the WBO title the Hitman retaliated: You should know as boxers we can only fight who is put in front of us. We could have done this fight three years ago but for some reason its not happened, but with performances like that (Witter's) it can only be around the corner.

Witter, his patience clearly evaporating announced: If Ricky doesn't fight me after his next fight (against Antonio Mesquita in Newcastle on December 14), I'm not going to fight him until I'm the WBO champion and made a good few defences. It's his chance to put up or shut up.

A frustrated Hatton who insisted for a fight against Witter in his recently signed contract extension with Warren replied: We've got to a stage where the people have been wanting to see this fight for long through no fault of myself or Junior. The fight hasn't happened so I asked Frank Warren to put it in the contract. In direct response to Witter's calls for a January 2003 showdown Hatton said: Junior's my main rival now and it's a fight I've wanted for ages and I don't see why it's taking so long to wait for it. But now it's in the contract we'll get it sorted.

Frank Warren, originally looking to stage Hatton vs Witter next summer may have other ideas, however. After another explosive performance from Witter tonight the pressure is mounting for them to meet. Public indifference, so often used to hold Witter back in the past, is no longer an obstacle now in what will be the most eagerly awaited British showdown in years.