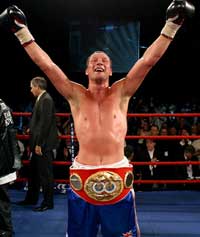 "My ITV figures were this big!" (pic Mr Will)

By Ant Evans: Over three million viewers tuned into ITV1 to see live coverage of IBF light heavyweight champion Clinton Woods's epic win over Glen Johnson from Bolton Saturday night.

The two hour ITV show averaged 2.7 million viewers, peaking at an audience of 3.3millon for the defending IBF champion's courageous fight back in the final three rounds of a cracking battle.

Those are very respectable numbers indeed for the opening fight of the boxing season, and coming just hours after an England soccer international, too.

It also underlines the Sheffield champion is every bit as big a TV draw as IBF super-middleweight counterpart Joe Calzaghe, whose March superfight card with American Jeff Lacy in March pulled 1.5million viewers (with a peak of 2.4million for an undercard bout).

Of course, Calzaghe v Lacy was screened live at 2am on a Sunday morning to accommodate US television and, thus, the mass audience just wasn't there. But Calzaghe's previous headline night on ITV, featuring the facile public sparring session with Evans Ashira last year, did no better than Woods v Johnson III, averaging a similar 2.8million.

And while Woods's thrilling fight gained viewers as it went on, Calzaghe's antiseptic showing had armchair fans switching off after the 3.7million high water mark for Amir Khan's second pro fight.

In fact, by the time Calzaghe v Ashira reached the 12th round, over a million viewers had found something else to do. Meanwhile, Woods v Johnson III - and not teen sensation Khan - set the high water mark last weekend.