Britain's most exciting fighters: 10 to 4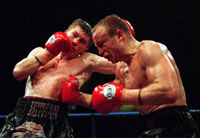 Hatton makes the list

By Elliot Worsell: It can be a guilty pleasure sometimes. Watching two proud battlers wield away mercilessly at one another in pursuit of their place amongst peers. You wince, yet at the same time can't help but smile and revel at the sight of claret and stench of combat.

The kind of sensation you feel when seeing a horrific car smash on the hard shoulder. It's wrong to stare, but curiosity conquers your better judgement.

Roy Jones Jr. often disliked being labelled a 'fighter' and preferred asserting his ability as a 'boxer'. He preached the art of hitting and not getting hit. Many fans and reporters chastised him for his approach, saying that for all his unique gifts he was too safety-first and conservative.

Ultimately, though, it worked for him.

For the many lesser-gifted or blood-hungry warriors out there, Jones' style isn't their kind of thing, either. They prefer being tagged 'fighters', not 'boxers'. They prefer leaving every ounce of their soul inside the ropes.

This top ten list is dedicated to those 'fighters' who don't mind taking some to give some. Here's numbers 10 to 4.


10. Light-welterweight Alan Bosworth - 17-15-2 (5).

If Northampton slugger Bosworth were a video recorder, you'd have to return him on the day of purchase for being without a 'rewind' button.

This win some, lose some light-welterweight takes the well established adage of 'punching through an opponent' one step further by near on marching through his adversaries to scavenge victories.

Top-class operators like Junior Witter, Eamonn Magee, Colin Dunne and Wayne Rigby find ways to break up his heart-first assaults, but lesser men either narrowly scrape past Bosworth, or suffer shock, incomprehensible defeats at the pit of his diligent industry.

Enjoying something of an Indian summer, Bosworth recently wailed after the well-schooled English champion Nigel Wright for a title Alan previously held.

The 37-year-old had, in recent times, devoured touted prospects Gavin Down (stopped inside five) and Stephen Smith (out-willed over the distance for the English belt) as well as taken ex-Olympian Francis Barrett to the wire in an ECC title tilt.

Yet, the finely honed skills of Wright were just a bit too much for the rugged warrior, as Nigel outscored him over the ten-round distance. Still, that didn't stop Bosworth from giving Wright the scare of his life in the fifth round when badly shaking the Hartlepool youngster. Despite Wright's superior ability, one imagines Bosworth didn't feel bettered until he woke up the following day without the title. He just never stopped trying.

There's nothing sweet, and definitely nothing science about what Bosworth does, but tedious? Alan doesn't even know the meaning of the word.

* Bosworth recently announced the Wright bout would be his last.


9. Super-flyweight Jason Booth - 25-4 (10).

Well schooled, textbook, back-footer Booth is somewhat more aesthetically pleasing than brother Nicky, but yet seemingly has an inbuilt desire to, at some point in his contests, set about stimulating his vociferous Nottingham fan-base with a toe-to-toe breakdown.

Primarily a skilful boxer, but one that just craves a tear up, Booth has thrice come up short in European flyweight title chances (points defeats to both David Guerault and Alexander Mahmutov and injury stoppage to Mimoun Chent), but at domestic level, where Jason has governed both the British and Commonwealth flyweight waters and the IBO super-flyweight scene, his superiority has proved unassailable.

As well as beating the likes of Keith Knox, Abbey Mnisi and Ian Napa in gruelling defences of his dual domestic crowns, Booth can also lay claim to the unbeaten scalps of African prospect Lunga Ntontela and Huddersfield super-flyweight Dale Robinson in defence of his IBO belt.

Dropped by Ntontela in the seventh round, Booth battled back and out-punched the self-styled "Mad Dog" in a tumultuous Harvey Hadden Leisure Centre. Robinson, likewise, was bettered over the full 12 rounds in March 2004 in a domestic humdinger that more than lived up to everyone's pre-fight expectations.

Booth's boast of never being beaten by domestic opposition, however, came to an end in December of last year when classy Irishman Damaen Kelly out-pointed the 27-year-old in his second defence of his IBO strap. First domestic defeat maybe, an end to the crowd friendly excitement Booth exerts? Not likely.


8. Light-middleweight David Walker - 22-2-1 (11).

There's almost something unnerving about watching Bermondsey's David Walker go about his ring graft.

Stalking forward, blinking rapidly, cocking the right hand, dropping the left, there's forever a sense that Walker thrives on a kill or be killed mentality. As an ex ABA champion, there's undoubtedly more stylistic substance to the South London Balboa he portrays, but nonetheless, just beneath British title level, Walker rarely has an easy one.

The 27-year-old feverishly scrapped toe-to-toe with Birmingham hardman Jimmy Vincent for eight titanic rounds before being handed his first professional loss in December 2002, and before that had engaged in decent rumbles with domestic types Brett James and Paul Dyer in Southern Area welterweight title bashes.

It was after the Vincent setback, however, that Walker's ring obligations seemed to tilt in the direction of his adoring fan base rather than career longevity or long-term progression. Walker moved up from welterweight to light-middleweight, and a small hall cult hero was born as a result.

First came a thrilling two round stoppage of lanky light-middleweight dangerman John Humphrey when on the brink of trouble in the opener, and then in July 2003, Walker swapped multiple knockdowns with Londoner Spencer Fearon in retaining his Area title in four rounds.

Downed twice in the first and second rounds via heavy left hooks, Walker somehow turned the tables in the third (flooring Spencer with a big right hand), and finished matters in a highly charged fourth. Both Walker's pros and cons were emphatically defined that summer's night in Norwich, but shortcomings don't make this proud battler any the less engaging.

Since failing in an audacious European 154 lb title bid against quality Russian Roman Karmazin in October 03', Walker has rebounded with four wins on the British circuit. Even in so-called 'routine affairs', however, Walker still generates excitement.


7. Lightweight Steve Murray - 24-4 (17).

If ever a warrior had to suffer for his excitement it's the dangerously enthralling puncher Steve Murray from Harlow. A gritty, gutsy, big hitter who will walk down all comers in order to get off his own meaty artillery, Murray has twice come up short in British title tilts via punishing knockout defeats.

His first, a seventh round loss to the unpredictable switchitter Bobby Vanzie, saw Murray's explosive power wreak havoc on the Bradford slickster in the opening round, flooring him twice, but then systematically coming apart at the seams as Vanzie's own heavy hands began to go about their work.

A puncher's puncher, if Murray can't whack his opponent out, the momentum often swings in the direction of the under siege adversary.

Murray's other failed Lonsdale title attempt against Luton's Graham Earl had barely transpired long enough to allow any swinging of momentum. A super-charged Earl leapt on Murray from the off and overwhelmed the veteran puncher inside of two rounds. The loss marked Murray's second in succession having been out-willed down the stretch by hot Russian protégé Yuri Romanov five months previous.

Dejected and dispirited, Murray attempted to negotiate his way back into title contention with a crossroads dual against Scotsman Martin Watson a year after the Earl setback, in a British title eliminator. Furious amounts of leather were thrown by both fighters, and Murray, knowing a little too much for the youngster, pulled out the victory by the narrowest and bloodiest of margins on the scorecards.

The 29-year-old's second stab at British title glory and second stab at Graham Earl arrived in July of last year, but once again, despite putting in a plucky effort and enjoying momentary periods of success, Murray eventually succumbed to Earl's youthful vigour in the sixth round, when officially stopped on a cut.

Never one to sit and wait around, Murray, despite coming up short twice in British title attempts, is back on the road to rehabilitation in an effort to manufacture one last title chance or perhaps an alluring slug-out with fellow blood and guts donor Michael Gomez at 135 lbs.

6. Light-middleweight Wayne Alexander - 23-2 (18).

If the old saying 'everyone loves a puncher' rang true, Croyden skull cracker Wayne Alexander would be fending off admirers from all angles. He is the definitive bang out or be banged out puncher - on domestic shores at least.

Possessing numbing ammunition in either fist - especially the left hook - and suspect defence and punch resistance, Alexander gives off the sense of unravelling at any time, and yet alternatively, switching out the lights of an opponent at any time.

His two defeats, a sterling effort against world-class Namibian Harry Simon and modest trial-horse Delroy Mellis, have both culminated in stoppage setbacks, and have both seen Alexander on top for periods, before coming unstuck via some heavy-handed work.

His notable victories, on the otherhand, have underlined how Alexander can be just as gripping when winning as he is when being upset, and just as explosive when knocking out as he is when being knocked out.

His British title coming out party against Paul Samuels in 2000 saw Alexander wrest the prestigious title as well as engaging in one of the most intense, close quarter, three round slugfests seen in a British ring.

Swap Alexander and Samuels for Hagler and Hearns, bill them out of Great Britain, and alter Vegas for the Goresbrook Leisure Centre and you'd hardly tell the difference. Well, nearly.

Wayne's subsequent crushing of Joe Townsley in defence of the title and Paolo Pizzamiglio for the vacant European crown showcased his tremendous one-punch power and progressed the Londoner to the brink of a WBO title shot.

Via a string of pullouts and negotiation breakdowns his return to world-class never materialised, and Delroy Mellis and Howard Clarke both dented Alexander (Mellis knocking him out and Clarke flooring him with a body shot) in his ensuing period of disappointment.

If you're seeking a chance for rejuvenation and picture perfect knockout punch, however, look no further than Alexander's last noteworthy triumph on the domestic stage over bitter rival Takaloo last September.

On the receiving end for much of the first round and most of the second, Alexander, hurt and seemingly on the brink of disaster, hit the ejector button on Takaloo and sparked his Margate-based rival clean out with a left hook.

The brutal finish ended a simmering argument between the pair that had gone on for years, and also asserted Alexander's standing as one of the most concussive, unpredictable, and wildly exciting punchers seen in a British ring.

Furthermore, on June 4th's bumper Kostya Tszyu-Ricky Hatton card in Manchester, Alexander illuminated a tired MEN crowd - fed up of sitting through a frail undercard awaiting the 'big one' - with a tremendous one punch knockout of Christian Bladt.

After flooring the Belgian in the opening round, Alexander, as expected, hit a wall, and was badly marked up and being picked apart by right hands. When you have TNT like Alexander though, such predicament is a moot point. Bladt was soon acquainted with the 'Takaloo-feeling' via a devastating Alexander overhand right.
5. Super-featherweight Michael Gomez - 32-6 (22)

This 28-year-old's homage to Latino warriors from yesteryear extends beyond his Wilfredo Gomez-inspired surname and sombrero-wearing, mariachi-backed ring entrance. He goes about business with the same intensity, ferocity and machismo as the Mexican and Puerto Rican greats he idolises, too.

All this from an Irish-born, Manchester-raised gypsy warrior named Michael Armstrong (who was forced to change his name to Michael Gomez upon signing pro forms).

Escaping a patchy start to his pro career that saw him fester at 4-3 in his first seven outings, Gomez found himself on the Manchester fight scene alongside fighting friends Ricky Hatton and Anthony Farnell, and raced to a series of enthralling battles at British and WBU title level.

Often engaging in battle face-first and intent on breaking the will of his opponent with compact hooks, uppercuts and sickening body blows, Gomez proved to be a wear-em-down type with an explosive left hand.

He broke the heart of decent domestic types Carl Greaves, Craig Docherty and Gary Thornhill (in his first British title triumph) in double-quick time and also chalked up 12 hard-fought rounds with Coventry's Dean Pithie in defence of the super-featherweight crown.

His reputation as the definitive on-the-edge slugger was realised in his two meetings with Laszlo Bognar, however, when, in the first, he floored the Hungarian in the fifth round only to be stopped four rounds later in the ninth. Then, in the return, five months later, Gomez had to pick himself off the floor in rounds one and two, to then finish Bognar this time, in round number three. Even in revenge victory it was never easy for Gomez.

That up-and-down pattern continued as Gomez elected to travel down the WBU title route.

First, he stood toe-to-toe with unproven West Ham youngster Kevin Lear in a give and take shootout that saw Lear give most and Gomez take his lumps. Gomez was eventually retired on his stool by Brian Hughes at the end of the eighth round - a decision that effectively ended their fighter-trainer relationship.

Stories circulated that Gomez's party lifestyle had caught up on him, and many, including Hughes were begging the proud Mancunian to admit defeat and retire from the game.

Gomez knew better, though. He regrouped with a series of routine wins, and then laid it all on the line in October 2003 with a domestic dustup against new British champion Alex Arthur.

The new Scottish hope was expected to shake off Gomez with relative ease and manoeuvre his way to the forefront of the country's super-featherweights. However, what unfolded was simply beyond anyone's belief.

Gomez, from the off, attacked Arthur as though he'd stolen the title from him the night before, viciously shaking the Scotsman with intense left hooks. Arthur battled back in the second round and appeared to hurt Gomez with body shots. Gomez, though, was still upright, and through rounds three, four and five took control in a heated war that ranked highly in Boxing News' fights of 2003. Gomez delivered the coupe-de-grace with a three-knockdown salvo in round five.

Once again, he was champ.

Since then Gomez has rattled off a couple of routine WBU title wins against Ben Odamattey and the hapless Justin Juuko, waged a good un' with Russian puncher Leva Kirakosyan, and in his most recent outing, was unhinged by unheralded Argentinean Javier Alavrez.

Gomez was floored in the sixth and later stopped in the same round, with an Arthur rematch in the offing should he have won. It's now a long road back for the title-less Gomez, but no doubt, with the excitement he generates, it will be thoroughly watchable all the way.

Arthur-Gomez 2 still has ITV primetime written all over it, despite Michael's recent demise. He's that kind of character.
4. Light-welterweight Ricky Hatton - 39-0 (29).

Undisputed world light-welterweight king Ricky Hatton cant help but excite. He's perhaps far too dominant and technically sound to top a list such as this, but the recent destroyer of the legendary Kostya Tszyu, still finds a way to be hugely entertaining yet hugely on top. It's a balance that many of the other genuine world champions out there have not quite managed to grasp.

Hatton, however, backed by his 20,000 strong Manchester chorus-line, has raced to 39-0 and an IBF title to boot, with wicked intensity yet very few predicaments.

Had it not been for Ricky's tendency to mark up and cut in fights, and a momentary lapse in defence against Belfast's Eamonn Magee (when floored for the only time as a pro), you're looking at a confident and unrivalled titleholder perched at the pinnacle of his division.

Those slight quandaries, coupled with Hatton's rampant body-wrecking style have helped make the self styled 'Hitman' become the hottest boxing ticket in Great Britain.

In October 2000, Hatton trudged through a bloody haze to outpoint a gutsy Jon Thaxton for the coveted British title, in a touch-and-go situation, that, due to the severity of Hatton's cuts, could have been halted at any point. Hatton was victorious, though, and has not looked back since.

He's racked up 15 defences of the WBU title, has beaten respected names like Ben Tackie, Vince Phillips, Ray Oliveira, as well as the irrepressible Tszyu, and has also featured in some humdingers along the way.

For most foes, Hatton's power and body assaults become too much. The likes of Tony Pep, John Bailey, Freddie Pendleton, Justin Rowsell and others couldn't live with the heat, and subsequently were deemed as being overmatched.

Others, like Mikhail Krivolapov, Eamonn Magee, Vince Phillips, Ben Tackie and Ray Oliveira, however, extended Ricky and played their part in some smashing 140 lb bouts in front of Hatton's screaming home support.

The Magee fight, one in which Hatton was decked in the opening round and battled back to carefully batter the ribs of Magee without getting tagged, was a domestic grudge fight that went down a storm.

His elevation to world-class against the teak-tough Vince Phillips was also an all-action affair with both men delivering bombs, and 'Cool' Vince having to withstand a hellacious shellacking in the latter rounds from 'The Hitman'.

Ben Tackie, too, wasn't without his moments when he challenged Hatton in December 03', stunning Ricky momentarily with a right hand, and absorbing everything Hatton threw at him for 12 hard-fought rounds.

Then, of course, came the incredible performance Hatton mustered when dethroning the 140 lb powerhouse Kostya Tszyu of his IBF championship last month in Manchester.

Setting a feverish tempo, that many believed would play into Tszyu's hands - namely his explosive right - Hatton produced everything he knew to rough-up, break-up and eventually dissolve the will of the proud Russian-Aussie champ, who retired after 11 rounds of heated action.

The intensity of Hatton, like with the 38 opponents before him, was just too much for Tszyu. This sign of departure from a man with over 300 amateur bouts and 19 professional world title contests to his name, as well as the most concussive punch in all of boxing.

That's some temperature Hatton must generate.


*** Check back for the top three boxers, and interviews with each of them.



Subscribe to feed