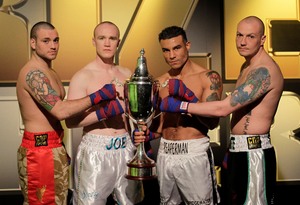 Ainscough, Reid, Dilks and Quigley

Joe Ainscough will return to big-time boxing in the Prizefighter Super-Middleweights II tournament in his hometown of Liverpool on March 23, just two years after a stabbing appeared to end his career.

The Kirkdale Kid suffered horrific injuries after being stabbed in an incident in Liverpool in April 2009 and was told by doctors that he would never box again.

Ainscough excelled as an amateur, winning the ABAs in 1999, and had six wins from his first nine fights as a professional but his future was thrown into doubt when he intervened in a scuffle outside a pub in Walton. As he broke up a fight, Ainscough was stabbed in his lower body from behind twice and suffered a punctured bowel and bladder.

Two years later, he returned to the ring in Manchester on Saturday night (March 12) with a first round stoppage of Iliya Shakura and steps up from being a reserve in Prizefighter to take the place of Adrian Dodson in the 17th edition of Matchroom Sport's eight-man, one night tournaments live on Sky Sports.

"When I heard that Prizefighter was going to be in Liverpool I just knew I had to be in it," said Ainscough. "It's all come about at the right time and I'm made up about it.

"I knew in the hospital after I had the operation to save my life that I was going to fight again – I knew that within a couple of days and it was one of the first things on my mind, that I needed to get myself back in the gym and training to get back fighting again. It's been tough but I've made it back now and I cannot wait to feel that buzz again."

The 31 year-old toyed with the idea of becoming a coach immediately after the attack but soon decided that he still had a future in the ring. Ainscough says the physical and mental scars from the ordeal have long since healed and he's now focussed on getting his career back on track.

"It's nearly two years ago now and as for talking about it, it's not something that I really think about it anymore or dwell on it – it's in the past and I've moved on," said Ainscough.

"I've got a really busy lifestyle outside boxing, with my own ceramic tiling business that is doing really well and I've got two kids that I love spending my free time with. I've dedicated two-thirds of my life to boxing and I've been committed to getting ready for Prizefighter but after being out for so long I'm not going to make statements like 'I want a big title shot' because I'm just thrilled to even be here fighting really."

Ainscough joins fellow Liverpudlians Robin Reid, Tony Quigley and Carl Dilks in the line-up and they will be seeded in the draw which will be made later this week. Merseyside's boxing 'Fab Four' will face Sheffield pair Wayne Reed and Patrick J Maxwell, unbeaten Welshman Tobias Webb and Leicester's Jahmaine Smyle in the quarter-finals.

Dodson was due to fight in a warm-up bout on Saturday night, but spoke to the promoters beforehand to say that he did not feel he would be able to get into a physical condition to do himself or the competition justice.

"Adrian is a seasoned professional and a gentleman who has been honest with us and himself," said Matchroom Sport's managing director Eddie Hearn. "He said he didn't want to disappoint the fans in Liverpool and those watching at home so he decided to step aside. Adrian's loss is Joe's gain and it's a great story for him to come back into the spotlight in his hometown after recovering from a life-threatening attack."

Tickets for Prizefighter Super Middleweights II at Liverpool Olympia on Wednesday 23 March are available from Matchroom Sport priced £30 unreserved and £100 VIP – to buy call Matchroom Sport on 01277 359900.