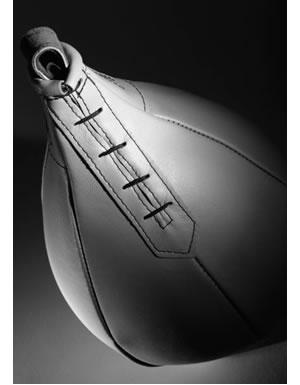 generic speedball bw

Jerry Glick at ringside-I must admit, this reporter was disappointed that "The Kosovo Kid" Elvir Muriqi was off the main event. They tried to find an opponent but "The Kid" wanted a tenner and the fighters who said yes were approved for eight rounds, so no Elvir. At the end of the night I realized that while a Muriqi fight would have added to the fun, things turned out just fine.



As a matter of fact the fights were so good that HBO's Harold Lederman said that matchmaker Felipe Gomez was a great matchmaker. I agree, he put together competitive fights that had the fans screaming. Except for the abbreviated main event, each fight was a struggle in which both battlers had their moments of glory.



Light-heavyweight Joel Castillo, 8-0 (5 KOs), needed only one short left hook to send Billy Cunningham, from Columbus, MS, down and out on Havoc Promotions exciting eight fight show at Brooklyn, NY's Aviator. After the fans watched the first six fights go to the score cards, Junior-lightweight Mark Davis stopped Ramesis Gil, of San Juan, PR, with some fine body work in the co-feature followed by the short main event that took a scant 18 seconds and one punch.



Where they found 18 seconds, this reporter is not sure. It seemed more like eight than eighteen it was so quick. Castillo, 172, and Cunningham, 167, came out, faced each other then boom, one little left hook from Castillo, from the Bronx, NY, and Cunningham hit the canvas. Referee, Eddie Cotton, started to count, and then waved it off. With the loss Cunningham falls to 5-9 (4 KOs).



Mark Davis, 129, looked very impressive as he landed lightning fast combination with power. His shots should have at least staggered opponent Ramesis Gil, 6-2-4 (5 KOs), but they didn't. Finally Gil's corner called it off after the fifth round of six scheduled because he was taking too many punches. Davis, a solid prospect with too many amateur titles to list here had over 200 pre-pro fights, improved to 15-0 (5 KOs), with the impressive showing.


Davis, from Cleveland, OH, worked behind a sharp jab and punches to the body. He was in charge all the way. Gil, 130, showed heart and never stopped trying, but could not cope with Davis' speed and boxing skills.


WBC number three ranked Super-Bantamweight Leon Moore the PABA and WBC CABOFE super bantamweight champion, originally from Georgetown, Guyana but now residing in Brooklyn, NY, won a six round unanimous decision over Felipe Almanza, from Lorica, Colombia. Most of the fight saw Moore, 123, boxing at long range using his jab. Almanza, 121 ½, kept backing up with Moore in pursuit. The Colombian lost a point in the fourth round for hitting on the break. All three judges agreed 59-54 for Moore. Moore has now won ten in a row improving to 28-2 (22 KOs), and his opponent dropped to 18-23-4 (9 KOs). Ref: Pete Santiago.


THE UNDERCARD


For the first time I saw something to get a little excited about watching Tommy Rainone, 149, Plainview, NY, 13-4 (3 KOs), school Arthur Medina, 146, Fort Collins, CO, 13-23 (4 KOs), to claim a six round unanimous decision. Lefty Rainone couldn't miss with his straight left and had things his own way throughout. His skill set was visible against a fighter of limited ability, but nevertheless, it's there. There was a questionable knockdown scored by Rainone in the third, and another unquestioned decking of Medina in the fifth. One Judge had Tommy ahead, 59-53, and the other two saw a shutout 60-52 for Rainone as well. Sparkle Lee officiated.


Frank Galarza,152, Brooklyn, NY, 3-0 (1 KO), won all four rounds over journeyman Noel Garcia, 150, Springfield, MA, 2-8-1 (1 KO). With some of the shots he landed one would have expected a KO but Garcia was able to absorb the power. Garcia was durable but not an effective puncher. He had the bad habit of arm punching, even slapping, but he proved to be a tough bird when Galarza came inside to trade. All three judges tallied 40-36. Ref: Santiago.




"We're happy that Frank went the rounds," said Anthony Catanzaro his advisor. "His opponent was a survivor. We are hoping that Galarza will be on Dmitriy Salita's show on April 13th."


The most entertaining fight on the show was a four rounder between two unbeaten heavyweights, Ramadan Yasser, 204, New York, NY, 3-0 (2 KOs), and Jose Mario Flores, 202,Washington, DC, 1-1 (1 KO), that ended in a majority decision in favor of Yasser. Hard to assess whether Yasser can fight after so few bout but his antics were wild. He would run after his opponent the stop short in front of him and smile. He'd put his hands at his side and make a face; plus a number of other schticks. The crowd loved it. Both were wild swingers especially Yasser who's high arcing swings missed by a mile. The scores were 38-38, a draw, and 39-37 twice for Yasser. Cotton refereed.


Angel Cruz, 116, Juamadiaz, PR, 5-1 (4 KOs), looked like the real thing against a fired up Jonathan Arias, 113, Dominican Republic, 11-7 (9 KOs), winning a unanimous sixer by scores of 58-56 two times and 59-55. Arias started very fast, coming out throwing bombs but Cruz quickly turned things around with a left hook that stunned Arias. The first four rounds belonged to Cruz who constantly caught his foe on the ropes and punished him with shots that often staggered Arias. Cruz appeared to slow down in the final two heats but he did more than enough to win the fight and the fans. Santiago refereed.


Prospect Don Yil Livingston, 159, Los Angeles, CA, 3-0 (2 KOs), won a unanimous six rounder over tricky Greg Hackett, 157, Philadelphia, PA, 2-7 (0 KOs), tricky because he knew how to use the ropes to negate Livingston's power. Every time he was attacked he backed into the ropes and fell into them to avoid being hit. Hackett lost a point for hitting on the break making the score 57-56 across the board. Livingston used a hard left hook to the head and body to control the action. Cotton refereed.

***PUNCHLINES***

**TWO GUNZ**

On hand at the Aviator was Monte Barrett who talked about his proposed rematch with David Tua. The two heavyweights battled to a draw back in July of 2010.


"We're waiting to see what's going on," said the two time title challenger. "They're trying to get a date and a venue. The fight's supposed to be July 9th, so we're just waiting to see what happens."


He added that he does not know where it will take place, but he said it will be in New Zealand. Where in New Zealand remains to be seen.