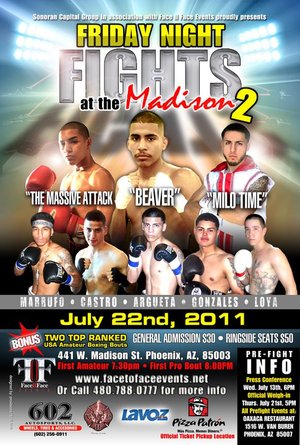 By Ron Valderrama: The excitement is building as Friday Night Fights at the Madison Events Center draws near in Phoenix, Arizona .

FACE II FACE EVENTS President Michelle Rosado has been hard at work putting the final touches on the show with the assistance of her sister Jennifer Rosado. Since Friday the two sisters have conducted the Ring Girl Casting Call, taken part in multiple radio shows (Breakthrough sports, MEGA 104.3, THE FAN 1060AM) and numerous other assignments.

The main Event feature Alexis "Beaver" Santiago said today: "Training is going good, not bad at all I keep working out hard like always."

In regards to the defeat to Randy Caballero a few weeks ago at Fantasy Springs Casino, Santiago said he feels that he gained the respect of a lot of people. " There were those who doubted me and expected me to get knocked out early but I showed I was a better fighter then that, I feel I did a great job."

Fight Card Information
Bout 1-USA Boxing Amateur Bout, Breenan Macias vs D'angelo Ascencion,
Bout 2- Light Welterweight (140lbs) Victor Castro vs Michael Salcido
Bout 3- Light Welterweight (140lbs) Javier Loya vs TBA
Bout 4-Junior Middleweight (152lbs) Juan Gonzalez vs Omar Quevedo
Bout 5- Super Bantamweight (123lbs) Fernando Samaniego Jr. vs Michael Monalbano Bout 6-Lightweight (130lbs) Arlo Argueta vs Jose Marrufo
Bout 7 Middleweight (160lbs) Ramon Valenzuela Jr. vs Torrence King
Bout 8 CO-MAIN EVENT Super Bantamweight (123lbs) Emilio Colon-Garcia vs TBA
Bout 9 MAIN EVENT-Super Bantamweight (122lbs) Alexis Santiago vs TBA.

Oaxaca Restaurant, Sonoran Capital Group, in association with FACE II FACE EVENTS will host the Official Weigh-In this Thursday July 21st at 5pm.

More news on the other fighters as well as Jackie Kallen to follow this week on Secondsout.com Boxing News.

******

This week's charity nod goes to the Chavez Boxing Foundation, this foundation is a non-profit, and exists to help motivate and set an example by training Arizona's youth in boxing. The Chavez Boxing Foundation was started by Pete Chavez, who was himself a troubled youth. He uses boxing as a tool to keep kids off the streets and has a great amateur boxing team.

They are hosting a car wash this Thursday July 21st at Sylvia's Mexican Food (7th Ave/Missouri) from 4-8pm. The Arizona Rattlers (Arena Football) will be there for a meet and greet. Bring any of your AZ Rattlers gear and get it signed, photos can be emailed as well. 100% of the proceeds go to the Chavez Boxing Foundation.

This writer will be volunteering for this event, as well my daughter Tymmarie for Secondsout.com. Dixie The Wonder Dog of "Dixie's Picks" Fight Predictions will also be on hand for photos. Dixie is a rescued dog with a great personality who will soon be going to old folk's homes and hospitals to bring comfort to the elderly and sick.