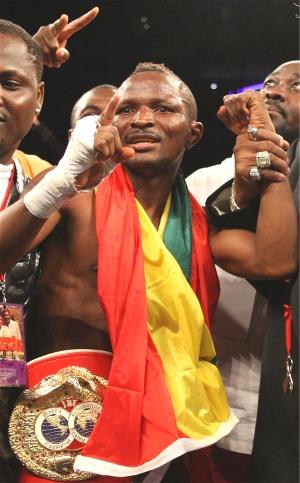 Joseph Agbeko wins: Tom Casino/Showtime

By Paul Upham: IBF bantamweight boxing world champion Joseph Agbeko from Accra, Ghana defended his world title with a unanimous twelve round points decision win in an impressive performance against junior bantamweight world champion Vic Darchinyan on Saturday night at the BankAtlantic Center in Sunrise, Florida, televised in the USA on Showtime Championship Boxing.

"This win means a lot to me," said Agbeko 27-1 (22). "This is my light because Vic Darchinyan has been under the light and a lot of people have been talking about him. Now this is time for King Kong to shine."

There were some strong punches from Darchinyan, 117½ lbs, who was coming forward in round 1. Agbeko,116½ lbs, was holding his ground proudly and landed one solid right hand punch on the inside, which made Darchinyan prop for a split second. Both boxers traded willingly on the inside in an attempt to assert their superiority.

There was a two-way double exchange on the inside at the start of round 2 and both men were stunned. They standing and traded in a test of power, with right hands landing almost simultaneously. Darchinyan hit to the exposed body as Agbeko held his hands high and tight, protecting his head. Darchinyan backed off and was caught with a left hand. The challenger went back to the body, but sustained a sliced cut above his left eye, under his eyebrow.

The right hand of Agbeko was beginning to be an important weapon in round 3. The Ghanaian was standing small and minimising the target for Darchinyan, who would then be countered with a lead right hand when he was slipped. Agbeko's tactics of leaning forward and then pulling back out of range was making Darchinyan miss. There was a wild finish to end the round as both men traded passionately. Darchinyan stumbled as his feet were entangled with Agbeko, who had recorded a strong round after Darchinyan had shaded the first two stanzas.

29 year-old Agbeko jumped in and missed with a wild punch at the beginning of round 4. Darchinyan cornered Agbeko and landed a left hand with his back on the ropes. Agbeko went down from a slip, but was fighting at a distance, which was proving difficult to solve for Darchinyan. A left hook from the champion landed, but it was at the end of its arc and Darchinyan shook it off. Agbeko was timing his ducks well as Darchinyan telegraphed his forward charges. The Armenian was swinging but Agbeko's head was often a few inches lower than where it originally was. Agbeko landed a right hand, but Darchinyan worked forward to end the round.

There was more well-timed ducking and slipping from Agbeko in round 5. There was another wild exchange. Agbeko then landed some single punches from a distance. A trickle of blood flowed from Darchinyan's nose, while his left eye was intact after some good work from his cut man Angelo Hyder.

Agbeko was boxing with confidence in round 6 and looked like a proud champion in control. He had been able to nullify Darchinyan's furious attacks and was now turning the heat back on the junior bantamweight world champion. Agbeko continued to lean forward and then slip back at the last second. A single body shot from Darchinyan landed, but he was unable to land volume punches. Lead right hands from Agbeko were eye catching and resulted in Darchinyan's left eye cut bleeding once again.

Round 7 saw a much slower pace with Darchinyan trying to box from the outside. A left hand from Darchinyan landed on the chin of Agbeko, but it appeared to have no obvious effect. Darchinyan was cut under the left eye and his cheek was badly bruised. Just when it seemed that Agbeko was in total control, he hit the canvas and referee Tommy Kimmons counted for a knockdown. Agbeko stood up and looked confused by the count. Television replays showed Darchinyan landed a left hand in close and then pushed Agbeko down for what was a questionable knockdown. As the round ended there were unconfirmed claims from ringside that the official timekeeper had allowed a four minute round.

33 year-old Darchinyan landed to open round 8, but Agbeko certainly appeared to be the fresher of the two boxers. The challenger looked very tired. He punched wildly in desperation and seemed to be on the verge of being stopped. The action paused after Agbeko was hit low accidentally. The fifteen second break suited Darchinyan, who roared into action and forced Agbeko into a thrilling exchange to the bell.

After appearing to be out on his feet, in round 9 Darchinyan came out looking refreshed and back to his best form. A left hook buzzed Agbeko's head and all of sudden the Raging Bull looked dangerous again. Agbeko stood firm, but Darchinyan was working forward and controlling the action with combination punches. A left hand landed and Agbeko wobbled momentarily just before the bell.

In round 10, Darchinyan looked more confident and a right hook hurt Agbeko. The champion was lunging forward in desperation as he attempted to regain his previous momentum. There was a sickening head clash on the inside which resulted in a large open wound through Darchinyan's right eyebrow. With a mask of blood, Darchinyan complained to the referee that Agbeko was using his head as a weapon. The boxers traded right hands to end the round. Referee Kimmons ruled that Darchinyan's new cut was indeed from a head clash.

Darchinyan screamed in pain about a low blow in round 11 and Agbeko was down on the canvas again from another push. There was sustained offence from both men as Darchinyan tried to time his best punches to the slipping Agbeko.

While Agbeko appeared to be winning the fight going into round 12, it was still close enough to leave a question mark in the minds of many observers. Agbeko landed his right hand as they traded on the inside. Darchinyan, with blood all over his face, was lunging forward trying to land a knockout blow, but Agbeko was able to evade them and lock him up in a clinch. There were many tie-ups in the final ninety seconds as Agbeko protected what he thought was a solid points lead. The judge's official scorecards actually saw the contest much closer.

After the final bell, promoter Don King left no one in the ring in any doubt what he thought about the performance of referee Tommy Kimmons. "It was a crooked referee," he yelled. "The worst referee I have ever seen!"

All three judges scored the fight for Agbeko, 116-111, 114-113 and 114-113.

"I prepared very well," said Agbeko. "I am not just coming to be a champion for one year or two years, I want to reign for a long time. I want my promoter Don King by my side. Vic Darchinyan cannot stop my dream. The whole of Ghana is behind me. I have to make them proud."

Australian citizen Darchinyan 32-2-1 (26) was brutally honest when assessing his own performance.

"I took different tactics and I go for big punches. I made a mistake and I paid for it," he lamented. "He was so good in punching and working me out. The judges gave him a close decision and I lost. I can't say anything. I know I was supposed to be careful of head butts, I didn't and I paid for it. I was going for my big punch, my left and I was missing and that's why I was getting upset and I was repeating my mistake. It is not an excuse. I took a bad tactic. It was not a smart fight from me today."

Agbeko gave credit to Darchinyan in his losing performance.

"I respect Darchinyan a lot," he said. "I can't take that away from him. He is a very good fighter. This is the biggest fight of my career. It was a top fight, a very good one and God made it easy for me. I know nothing can stop me now."

Darchinyan's WBC/WBA/IBF junior bantamweight world titles were not at stake in this fight and he promised to return to the ring a better fighter.

"It was my mistake," he said. "I am going to work on my mistake. I know he did a god job today, but he is not better than me. But he beat me today and that is why I am going to work on my mistakes."


Date: July 11, 2009
Location: BankAtlantic Center, Sunrise, Florida, USA
Joseph Agbeko w.ud.12 Vic Darchinyan
IBF bantamweight world title
Antonio DeMarco w.ko.9 Anges Adjaho
Ivan Kirpa w.ud.12 Miguel Angel Rodriguez
Steve Cunningham w.ud.12 Wayne Braithwaite
Francisco Palacios w.tko.1 Manu Ntoh
Victor Fonseca w.ud.8 Mauricio Pastrana
Archie Marquez w.tko.4 Jason Hayward
Angelo Santana w.ud.4 Jaime Rodriguez
Lanard Lane w.ud.4 Carlos Garcia


Paul Upham
Content Editor