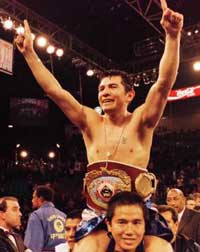 Mexican legend Barrera seemed fortunate to retain his title against Juarez

By Ant Evans: Legendary three division world champion Marco Antonio Barrera walked out of the Staples Center, Los Angeles with his WBC super-featherweight title still around his waist, but the crown he wears as the king of 130lbs is undoubtedly slipping from his brow.

Barrera, now 61-4-1-1 ((42KOs) and in his 18th year as a professional fighter, was somewhat fortunate to emerge from a grudging and sometimes thrilling 12 round encounter with Rocky Juarez, 25-1-1 (18KOs) with a split decision.

The result was initially announced as a draw. In a similar farce to the WBC featherweight title fight between Injin Chi and Michael Brodie three years ago, the WBC didn't have anyone present who could do simple arithmetic. It took 15 minutes for what the Mexico based body would probably dub "a typographical and mathematical error" for the mistake to be corrected; by that time the fighters had showered and the fans had left the arena.

Interestingly, Barrera said he had no problems with the verdict: "I feel it was a fair decision, I respect the judges' verdict. Juarez is a tough, young puncher and I knew this before the fight, I expected a hard fight. He's a good, good fighter. I'll decide with my team what to do next."

But Juarez, who was having his first fight at the higher weight, was animated in his assertions that he deserved what would have been a famous win.

"I had him going back from the start of the fight," the Texan said. "The only punch he was landing a lot was with his jab and I didn't think that would be enough to win the fight. He was trying to stay away from me for much of the fight. Getting a draw here, in California, which is the home (of Golden Boy Promotions) is like a win anywhere else. I give myself a 'B-' in this fight but I still think I won it."

As do I, just about, even though I wouldn't invest too much of an evening arguing the point. It was an exciting, highly skilled contest where both fighters had big moments.

Juarez was a replacement opponent following the withdrawal of Jesus Chavez but the 2000 Olympic silver medallist was there on merit. He went into the ring holding a win over Zahir Raheem and his one defeat, to Humberto Soto, came while Juarez was still dealing with the disappointment of the cancellation of his WBC featherweight title challenge to then 126lbs champ Injin Chi.

But that loss is a lifetime ago for Juarez, who, at 26 came of age with a breakout performance where he forced the action throughout his 12 rounds with a man who has haunted pound-for-pound lists for the past 11 years.

Owing to his vast championship experience, Barrera found his range immediately with his jab, even clipping the younger challenger with a left hook and uppercut early on. However, knowing he needed to get some respect fast, Juarez fired and landed a good right cross to Barrera's chin. The Texan came forward - as he would all night - but was picked off with laser guided jabs and a neat uppercut between the guard.

Juarez went back to his corner a point down and a little puffy eyed after the opening round.

The challenger shot out his own jab to start the second, but he was never going to prevail in a battle of left leads for long. But the Texan had some of his own way when he shoved the Baby Faced Assassin to the ropes, landing some solid hooks and an uppercut. Then, as Barrera stepped away, he ate a good left hook from Juarez, who took the round. Now it was Marco's turn to sit down with blood on his face.

Buoyed by his second round success and the site of blood seeping from Barrera's nose, Juarez began to pay less professional respect to the champion in the third. Both fighters reached for their big guns. Suddenly, Barrera was sent sprawling backwards by a leaping left hook. His backwards motions halted by the ropes, Barrera fought furiously to stave the younger man off to end the round.

The 26-year-old Juarez tried exactly the same shot to begin the fourth, only to miss and have some of the confidence beaten out of him by a Barrera uppercut and left hook. The pair traded evenly from long range in what was already a fine title fight but it was apparent Barrera, 11 years after first becoming a world champion, had lost some of his speed. How else would a comparative novice be able to take two paces towards him and smash home a lead left uppercut without getting countered?

It appeared to be two rounds apiece going into the fifth. Now Juarez's jab was heard from again, as both a weapon and as a disguise for another leaping left hook, which registered on Barrera's 32-year-old features.

Perhaps realising that Juarez had found his range for a mid-range battle, the Mexican icon began to step in with his jab and landed some heavy shots at point blank range to pull ahead in the fight.

The sixth began with a solid right cross to Barrera's jaw. The champion responded (of course) but Juarez had the look of a man who now knew he belonged in the elite level, rather than merely hoping he did. Juarez's roughed the elder statesman up along the ropes but - just as he has so often in his brilliant career - Barrera responded with a huge assault. The three division champion snapped Juarez's head from side to side with a scorching combination, the most dominant 30 seconds either way thus far.

Juarez needed a big seventh but was now getting bossed on the inside. Barrera's hooks - to body and head - were coming in with more accuracy. Juarez's pressure was forcing Barrera to fight a more aggressive, 'old school Barrera', type of fight but even so Barrera was now three points up on my card.

In the eighth, the Mexican hero elected to fight at long range, picking off the Texan whenever Rocky got close. Barrera was feeling the pace, no doubt, as evidenced by the fact his open mouthed gulps of air led to his gum shield getting knocked out twice. Juarez had a good final minute of the fight and perhaps took what was a hard round to score.

Barrera was bouncing around more than you'd guess would be economical for a 32-year-old in his 67th fight. He was clearly trying to take the ninth round off, firing only single 'stay away' shots to the body to deter Juarez from marching in. Juarez really should have jumped on the old champion but, at least, he stopped the veteran from stealing the round in the final 20 seconds.

The WBC 130lbs title was there to be won and lost going into the tenth round. Juarez hacked open Barrera's nose once more with an uppercut and whacked in a good left hook to follow; but almost immediately Barrera clubbed home some eye-catching hooks and thudding jabs. But Barrera was forced to step back -from tiredness and then from a huge Rocky right - in the closing seconds. Barrera stormed back but his shots were partially blocked.

The challenger run across the ring to start the second and almost immediately Barrera's nose was showering blood and snot. Again Barrera fought in spurts, when it suited him, but occasionally Juarez would force him to stand and trade. Two lead right hands drilled Barrera back to the ropes in the last 40 seconds. He responded with a great bodyshot and two huge right hooks. The pair threw everything at each other at the end of the round, which I would just about give to Juarez.

The exhausted warriors touched gloves to start the last round and then leapt right back down into the pit with each other. A brace of heavy left right combos stunned Barrera, but he hit back with a right, Juarez countered with a left hook, Barrera hacked away at Ricky's ribs, Juarez clubbed Barrera on the ropes, Barrera landed a big right hand and left hook, and they were fighting tooth and claw to end what was a terrific fight.

The official scores were 115-114 for Juarez, 115-113
for Barrera, and, after the WBC found someone who could add up, 115-114 for Barrera.

I scored the fight 115-113 for Juarez.