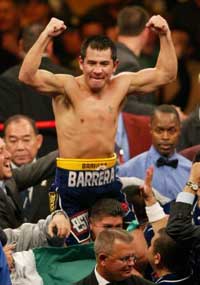 HoganPhotos.com

By Sean Waisglass: HBO and Golden Boy Promotion's "Too Close To Call" card was a rare beast - a Pay Per View actually worth Paying To View. The mouth watering triple bill of Barrera/Juarez II, Vasquez/Gonzalez, and Guzman/Barrios gave fight fans a nice variety of punch for their dollar: a hard fought boxer vs. slugger match that saw the rise of a new future star in the sport, an all-out war featuring a division champ that's a candidate for Fight of the Year, and a living legend dishing out a boxing lesson to a hungry young contender who'd given him all kinds of hell their first time around.

Promoters and broadcasters need to understand that they install 'fan satisfaction insurance' by stacking the card like that; the main event didn't pan out as a PPV calibre fight, but the two undercard bouts gave patrons their money's worth. Nobody went to bed feeling ripped off that night. More events like this, and the people in charge will not only reap the rewards in buys, but increase both the loyalty and size of the sport's fan base as well.

It may not have been one of Barrera's thrillers, but it still seemed like this one got his blood boiling. After having his future rematch with either Morales or Pacquiao nearly upended in his first meeting with Juarez, you could tell the "(Not so) Baby Faced (anymore) Assassin" wasn't so happy about the former Olympian making him look his 32-year old, 16-year pro, 67-bout age.

This was the rare rude version of the normally sportsmanlike Barrera that we've only seen against arch nemesis Morales and the cocky Naseem Hamed in recent years, taunting the polite and respectful Juarez throughout by tapping his chin to indicate that his foe couldn't reach or hurt him, and getting in the Texan's face and spitting "I told you I wouldn't let you get away with that again, punk"-type sentiments as soon as the final bell rang.

Although the forceful Juarez, now 25-3 (18 KO), got his ears boxed off by the aging legend, as proven by his impressive performance against Barrera in their first fight, he's still going to be a handful for anybody that isn't too lanky (see the Humberto Soto loss) or too crafty and elusive (see the Barrera rematch, the controversial Zahir Raheem win). Match him up right, and he'll probably still make a hell of a fight even if it's not likely he'd come out on top against any of the best in the division.

Needless to say it was pretty damn disturbing to hear the catcalls from the attending crowd at the MGM Grand and in the bar I was at, as well as the protestations of HBO's Larry Merchant regarding the stoppage of Jhonny Gonzalez in the 10th round of his seesaw war against Israel Vasquez.

Not only was the stoppage good, it was keeping in line with the card's designation as a tribute to lightweight Leavander Johnson, who died from injuries sustained in his TKO loss to Jesus Chavez on a Barrera undercard a year ago. Johnson took a battering before his bout was finally stopped in the 11th, which was at least a few rounds too late.

Gonzalez may have badly hurt Vasquez twice and been ahead on the cards, but he was clearly not the same after the first knockdown he suffered at the hands of the comeback-minded junior featherweight champ, and looked downright spent after the second. After that second knockdown, in which he collapsed to the canvas more than fell, it seemed like Gonzales was looking over at his corner for help, who in turned called for end to the bout. And even if Gonzales wasn't looking for help, he sure wasn't protesting the stoppage either.

When the boxer and his own corner feel the TKO is warranted, the fans and commentators should too.

* With the recent signings to major promotional outfits of maybe the most talented brother act in boxing history, Rafael and Juan Manuel Marquez, last Saturday's bill of junior lightweight and super bantamweight matches only serves to increase the anticipation of the Mexican duo's return to major bout scene.

Juan Manuel, 45-3-1 (34 KO), who fights next month for the interim WBO featherweight title against Jimrex Jaca (is that a boxer or a Star Wars/Trek character?), will no doubt be steered towards moving up to the action-packed 130lb division by his new promoters Golden Boy. It will be a welcome return to the big leagues after his trainer Ignacio Bernstein nearly mismanaged him into oblivion, squandering the momentum Juan Manuel gained in his thrilling draw against Pacquiao over two years ago. Since then the former semi-unified title holder's team passed on a couple of major bouts, fought a couple of 'keep busy'-type opponents on televised undercards, then went into Indonesian Chris John's backyard for a pitiful $30,000 and lost the bout and his remaining title belt via controversial decision.

Rafael, 36-3 (32 KOz) who signed with Gary Shaw Promotions, and meets Veeraphol Sahaprom in November to defend his IBF 118lb title, now has two names that will whet appetites as future opponents in 122lb champ Israel Vasquez and fierce but failed challenger Jhonny Gonzalez. A round robin between the three could restore the buzz the 122lb division had back when their predecessors, Barrera, Morales, and Pacquiao were weighing in there.

It's about time we got to see Rafael in against some top shelf competition after his string of seven very solid, yet not truly threatening opponents he's faced since his excellent twelve month run from early '02 to early '03, in which he broke onto the scene by knocking out two lower tier Pound for Pounders in Tim Austin and Mark Johnson.

* The cast of characters currently populating or nearby the junior lightweight division could turn out to be this generation's supergroup, akin to when Hagler, Hearns, Leonard, Duran, Benitez and Barkley were all knocking around the welter to middle weights. We've already got genuine classics like Barrera/Morales I and III, Morales/Pacquiao I, and Pacquiao/Marquez in the library, and good tussles like Barrera/Juarez I and Morales/Pacquiao II in there as well.

The return of Marquez and the addition of the game Juarez deepens a division already containing Barrera, Morales, and Pacquiao, but now with the addition of Joan Guzman, who beat Jorge Barrios to snag the WBO belt last Saturday, things are really heating up.

The slick and cocky Dominican, now 26-0 (16 KO), beat the heavy-handed slugger Barrios via split decision in a very entertaining match, nicely following up on his dazzling and under-appreciated performance against the veteran former lightweight title holder Javier Jaregui on the De La Hoya/Mayorga PPV undercard. Hopefully this win will serve as the flashy potential Pound for Pound candidate's break out fight, and get him matches with some of the big names in the neighbourhood.

Interestingly, with reports coming out of Manila and on the Internet that Pacquiao has signed with Golden Boy Promotions, boxing's best division is fast becoming Golden Boy's Division: Pacquiao, Barrera, Guzman, and Marquez are all part of the blossoming company's roster. Normally, that might be worrying, since pitting their stars against each other might seem like a self destructive business decision, but considering the 'take on all comers' career paths of the company's figureheads: De La Hoya, Shane Mosley, and Bernard Hopkins, there's a better chance than normal that won't be the case.

Here's hoping that someone at Golden Boy figures out that putting Guzman in with Marquez - who also needs to start making his case for a match against one of the junior lightweight Big Three - is a great idea. Why not shuffle the 130lb deck and throw a couple more wild cards in there while the game's in full swing?

* And while we're on the topic, I'd like to add that Zahir Raheem's ugly effort against Freitas couldn't erase the goodwill he's logged in with me after the stunningly great performance he put in against Morales a year ago - there were two guys clinching and grappling in that ring this past April, not one.

Considering he jumped up to lightweight from featherweight, maybe Raheem could still get squeeze down to 130 and get back in on the action as well. He's got a score to settle with Juarez after he got jobbed in Texas (watch the tape), and already dominated one of the main players in Morales.

Why isn't this guy being mentioned by fans and media alike? At the very least, he should have his own cult following like the languishing Antonio Margarito. You can't tell me it's just because of that often unwatchable Freitas fight - he dropped off the radar after the Morales win and Juarez bout too.

As far as most of us saw, he beat an undefeated Olympian in Juarez (but was denied his victory by a partisan ref and judges), then dominated a Pound for Pound fighter in Morales, then moved up two divisions and lost a close one to a former champ in Freitas - and many thought he won that one too. And all on the sport's biggest network HBO. Yet he's gone Missing In Action from the schedules, magazine pages, and websites yet again.

Is there something wrong with this guy's management team, or is Raheem the new Winky Wright?