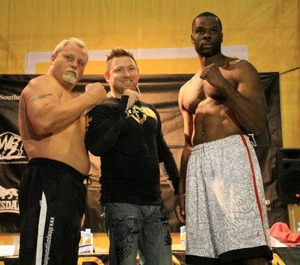 Botha and Grant ready for battle

Heavyweight Francois Botha is beaming with confidence ahead of his attempt to reclaim his WBF title against American Michael Grant in the headliner of Showpony Promotions "Urban War" extravaganza at the Monte Casino in Johannesburg, South Africa on Saturday (Nov 19).

And just like in the ring, the man nicknamed "The White Buffalo" is pulling no punches when interviewed.

"I see a knockout coming. The Buffalo is going to roam the Prairie. I'm going to knock him out", Botha, 48-5-3 (29), recently told IOL Sport when asked about his view of the upcoming challenge. And, expecting to ease past Grant, Botha eventually has his sights set on revenge against the man who dethroned him in Las Vegas last year, the legendary Evander Holyfield:

"I'm going to reclaim my belt that I lost to Holyfield, and he's going to have to stand in line after I've knocked out Michael Grant. We're doing our next show in February where we want to bring Evander Holyfield back".

In what looked like a shootout at the Last Chance Saloon, Botha rebounded from the Holyfield loss by stopping previously undefeated countryman Flo Simba this past June, and he fully expects to do the same to Grant, saying:

"At one stage he was the next Mike Tyson, but you have to look at the guys he knocked out. I think my sister could knock him out".

The two fighters met at a public workout Tuesday morning, and Michael Grant, 47-4 (35), of course begs to differ. The former WBC, IBF and IBO World title-challenger, like his foe on Saturday, came back with a very good performance in his last bout, following a disappointing setback. After dropping a decision to Thomasz Adamek last year, Grant looked impressive in March knocking out giant Tye Fields (45-2) in three rounds.





"I applaud Francois for taking this fight", said Grant when the match-up was announced. "It will be a good night for the fans, but it will not be a good night for Francois. I look forward to exploring South Africa, but I am going to take care of business at the same time".

With the fight just a few days away, the stage is set. Legendary ring announcer Michael Buffer is hired to work the big event, and as Grant's fellow American is famous for saying: Let's get ready to rrrruuuuuummmble!

Botha vs. Grant is just one of six WBF title fights on the huge "Urban War" bill promoted by Damian Michael and his Showpony Promotions. Five championship encounters and one All-Africa title fight completes the biggest event in World Boxing Federation history.

Besides Botha vs. Grant, Lubabalu Msuthu will defend his WBF Bantamweight championship against undefeated Philippino Dennis Tubieron, Ali Funeka takes on Zolani Marali for the vacant WBF Light Welterweight Championship, Malcolm Klassen squares off with Mexican Daniel Lomeli for the vacant WBF Welterweight crown, and Ilunga Makabu goes for the vacant WBF Cruiserweight title against Pedro Otas from Brazil.

November 16, 2011