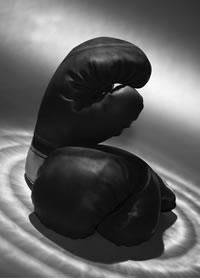 Jerry Glick reporting: New York City was teaming with small fight clubs; St. Nicks, Sunnyside Gardens, Eastern Parkway Arena, and others back in the 40's, 50's and 60's, but those venues are gone now but local boxing has made a comeback in New York with new venues hosting local talent. Places like The Aviator, Roseland Ballroom, The Oceana, and The Cordon Bleu.

With the same wonderful, competitive feeling that reminds fans of days gone by, New Legends Boxing, Old World Boxing Promotions, and Universal Boxing NY Promotions have been giving fans the exciting club shows that they crave and doing it at affordable prices. Tickets at the Cordon Bleu in Queens, NY range from $60 for balcony, $80 for floor seats and $150 for the VIP section for the Friday, September 23rd show.

Headlining the show will be a rematch between popular New York welterweight Mike Ruiz, 15-5 (7 KOs), and Martin Wright, 10-1-2 (5 KOs). Ruiz will try to avenge a split decision loss that he suffered back in May, 2011 at the hands of Wright with the then vacant New York State title at stake. This time Wright will be making his first defense against Ruiz in a ten round championship fight.

The co-feature is another rematch. When Ariel Duran, 7-2-1 (4 KOs), dropped Jonathan Cuba, 5-3-1 (4 KOs), in the first round and appeared to win most of the remaining rounds in their fight back in June, he was certain that he had won for his beloved mother, but when the decision was announced as a draw he lost it. He threw himself on the floor, screamed and cried. The frustration of feeling that he won only to hear that he didn't was more than this young lightweight could handle. Neither man was awarded the vacant New York State Lightweight belt so the title is still up for grabs when they meet in another eight rounder.

Duran is over the emotion, but not lacking in determination. "I'm more ready this time," said the young man from the Dominican Republic. "Just to show him how much better I am than him."

"I had a lot of things going on in my personal life," explained Duran. "I just wanted to give my mom some good news. I felt that I should have been victorious."

Also scheduled to be on the show are heavyweights Thomas Hardwick, 2-0 (2 KOs), against Jamell Williams, 0-3, super-featherweights Angel Garcia, debut, facing Jonathan Caban, 0-1, a light-heavyweight brawl between Ahmad Mickens, 1-0-1 and Hamid Abdul-Mateen, 2-2, super-flyweight ladies, Vanessa Greco and Tonia Cravens, 2-6-1 (1 KO), will battle it out, and welterweight Rajiv Bhattacharya 7-0 (6 KOs) will fight veteran Arthur Medina, 14-23 (5 KOs).

***PUNCHLINES***

The title fights are being sanctioned by the National Boxing Association represented by Walter "Butch" Flansburg. The organization is based in Tampa, FL and has a long history, having had some illustrious names as their champions over the years including Hector Camacho Sr. and Roy Jones, "Jones was our world champion in the light-heavyweight division," said Flansburg.