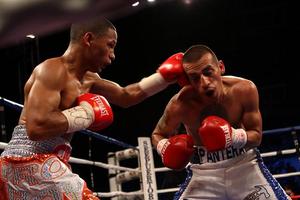 Rivas and Calderon battle it out

Former two-weight world titleholder Iván "Iron Boy" Calderón (35-2-1, 6 KOs) became a champ of sorts once again on Saturday night when he scored a 10 round split decision win over Felipe Rivas (11-9-1, 5 KOs) at the Coliseo Mario "Quijote" Morales in Guaynabo, Puerto Rico.

The 36 year-old was once again involved in a tough fight but managed to convince two of the judges of victory by scores of 97-93 96-94, while the third official made Rivas the victor, 96-94.

Following his unsuccessful challenge for the WBO super bantamweight title back in May Wilfredo "WV2″ Vázquez Jr. (21-1-1, 18 KOs) returned to score a crushing third round knockout win over former minimumweight champ Roberto Carlos "Mako" Leyva (28-14-1, 21 KOs).

A right hand to the chin finished Leyva, who has now lost six straight fights. The time of the stoppage was 2:59.

WBO female junior flyweight champion Yessica Bopp (17-0, 8 KOs) knocked out Suzanne Warner (9-11-1, 2 KOs) in the opening round . The bout was stopped off after Warner was decked for the second time after 1:21 of the first.

In a Junior middleweight bout Jorge Meléndez (21-2-1, 20 KOs) won a hard fought 10 round unanimous decision over Eric "Murder" Mitchell (23-8-1, 11 KOs) in a clash for the WBO Latino title.




The results in full

(WBO Minimum Latino Title – 10 Rounds)
FELIPE RIVAS – VS. IVÁN CALDERÓN –
Nogales, México (11-9-1, 5KOs) Guaynabo, Puerto Rico (35-2-1, 6KOs)
Calderon won by split decision when judges voted 97-93 and 96-94 for Calderón and 96-94 for Rivas.
(Featherweights – 10 Rounds)
ROBERTO CARLOS LEYVA – VS. WILFREDO VÁZQUEZ JR. –
Sonora, México (28-14-1, 21KOs) Bayamón, Puerto Rico (21-1-1, 18KOs)
Vazquez won by KO at 2:59 of the third round after Leyva downed by a right shot from Vazquez. Leyva announced his retirement after de bout.
(WBO Female Junior Flyweight Championship – 10 Rounds)
SUZANNE WARNER – VS. YESSICA BOPP –
New York, New York (9-11-1, 2KOs) Buenos Aires, Argentina (17-0, 8KOs)
Bopp won by TKO at 1:21 of the first after sent Warner two times to the canvas with hard right punches.
(WBO Junior Middleweight Latino Title – 10 Rounds)
ERIC MITCHELL – VS. JORGE MELÉNDEZ –
Vero Beach, Florida (23-8-1, 11KOs) Manatí, Puerto Rico (21-2-1, 20KOs)
Melendez won by unanimous decision when the three judges voted 96-94.
(WBO Junior Welter Latino Title – 10 Rounds)
JAVIER CASTRO – VS. JAVIER MONSERRATE –
Ciudad Juárez, México (26-4, 20KOs) San Juan, Puerto Rico (24-2-2, 17KOs)
Castro won by TKO when referee Gino Rodriguez stopped the fight at 1:25 of the fifth round after an injury in Monserrate's eye. Monserrate downed in the first round.
(140lbs – 6 Rounds)
OSENOHAN VÁZQUEZ – VS. YOELVIS GAMBOA –
Vega Baja, Puerto Rico (4-1, 2KOs) Guantánamo, Cuba (7-1, 3KOs)
Vazquez won by unanimous decision when judges voted 58-51, 57-52 and 56-53. Gamboa felt three times, one in the first round, one in the fourth and one in the fifth. Vazquez downed one in the third round.
(110lbs – 4 Rounds)
JESÚS PAGÁN – VS. ISRAEL VÁZQUEZ –
Guaynabo, Puerto Rico (0-1) Bayamón, Puerto Rico (4-0-2, 4KOs)
Vazquez won by TKO at :50 seconds of the first rounds Pagan downed four times. In the second time, both fighter felt by right shots.

PHOTOS COURTESY PR BEST BOXING PROMOTIONS/JOSÉ PÉREZ

October 29, 2011