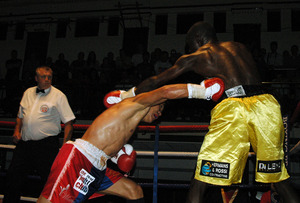 Choi battles Asiku

By Gianluca (Rio) Di Caro at ringside: On Saturday night close to 1,400 hardy souls braved the rain and packed the York Hall in London for Spencer Fearon's Hard Knock Boxing promotion.

The headline bout was Choi Tseveenpurev (WBU/WBF) vs Jackson Asiku (IBO).

Was it worth it? Well there are fights and then there are FIGHTS, Choi-Asiku definitely comes into the later category. On paper it promised to be one of the best match-ups of the year so far, in reality it proved to be much, much more.

The fight started a little slowly with Asiku controlling the first half of the round by keeping Choi at bay with crisp solid jabs. Around the one 1.30 Choi launched his first attack of the fight. After backing the Australian Based African to the ropes Choi let rip with a massive overhand right quickly followed by a double handed body assault.

Asiku responded with a big right of his own, but the savvy Mongolian was not deterred one bit and launched a salvo of big right hands, uppercuts, hooks you name it Choi threw it. Asiku's no mug and dug in his fully stocked arsenal and responded with equally venomous flurries. It was a close round to call but this reporter gave it to Choi,

Round two was very much more of the same, these two warriors went to war with a vengeance. Any attempt to describe this round would be futile, it was probably one of the best rounds seen this year. Each matched the other punch for punch in an awesome display of the pugilistic art, it had it all, it was pure boxing heaven to watch and could not be separated, honors even

Round two was sensational so how could they possibly top that, well they did as round three was even more. To describe it adequately, it was seriously class boxing from two class boxers. At times they stood toe to toe and slugged it out, other times one or the other would launch a venomous attack. Every conceivable punch in the book was thrown time and time again. As before it was impossible to split them, they were equal in every way.

Round four was another beautiful round, early on Asiku switched to the body in an attempt to slow the forceful Mongolian, who would just respond with vicious hooks to the head. As the round progressed Choi turned the tables and started attacking Asiku to the body with a series of piston like hooks.

Round five saw Choi start to dominate proceedings, first by continuing the all out assault to Asiku's body and then with hooks and straight rights to the head. It was not one way traffic by a long shot, Asiku made some wicked attacks of his own, just Choi was in a groove.

Asiku started fast in the sixth and aggressively took the fight to Choi. The diminutive Mongolian stood his ground, taking a few shots before letting rip with pin point accurate hooks and heavy rights. Asiku was determined to wrestle back control so just kept coming time after time. That was until around the two minute mark when Choi started unwinding the most venomous uppercuts which slowed the African considerably.

Not surprisingly Choi went hard on the attack in the seventh, having rattled Asiku the previous round, and got his just reward about midway through. Choi backed Asiku to the ropes and attacked the body before letting rip with a huge overhand right to the temple which sent the African to the canvas. Asiku quickly got to his feet but as soon as the count was done Choi went straight back on the attack, letting rip with bomb after bomb as Asiku switched to defensive mode to see the round out.

Rounds eight and nine see the pair go at it toe to toe again, slugging it out for virtually every second. As in the earlier rounds these two put on a stunning display of boxing, just at an even higher pace!

The tenth and final round was Choi's without doubt. He started hard and fast forcing Asiku on to the back foot again. Asiku was responding but his shots just did not have the intensity of the previous rounds. Choi on the other hand seemed to find even more power and began landing seriously big shots at will until the final bell.

After ten scintillating rounds Choi was rightly declared victorious, by a 98-93 points margin.

The main support for Choi Tseveenpurev-Jackson Asiku was a proposed 10 round battle, for the British Masters junior welterweight title, between Southern Area champ Darren Hamilton and Midlands Area champion Dave Ryan.

I say proposed because the fight came to a very premature end, just one minute and forty two seconds of the first round. Hamilton, who had been controlling the first round easily, backed Ryan to the ropes and then lunged forward, head first, causing a nasty cut above Ryan's left eye. The referee, Ken Curtis, instantly stopped the bout and disqualified Hamilton for the blatant headbutt.

The swing bout for the night, between Simon O'Donnell and Sergejs Savrinoviks, took place in front of a huge crowd, even though it was immediately after the main event. Have to say you don't see that very often, usually the arena clears after the feature fight but not this time.

Throughout the bout O'Donnell controlled the fight with ease, keeping the ever forward coming Savrinoviks at bay with long jabs and double handed flurries. The second half of the bout see O'Donnell step up the pace and take the fight to Savrinoviks. The highlight of the bout came late in the third, when O'Donnell shook Savrinoviks to the core with a big right hand followed by a sharp hook. All in all It was an excellent display of boxing by the former Philadelphia based Middleweight and O'Donnell was rewarded by a well earned shutout 40-36 points victory.

Slotted in between the two main fights was an eight rounder junior middleweight contest between West Drayton's Steve O'Meara and Newark's AA Lowe.

The first three rounds were closely fought affairs, with the pair matching the other punch for punch. O'Meara took control of the fourth after changing tact and started picking his shots. His more clinical approach started to pay dividends much to the annoyance of Lowe who in defiance turned to countering tactics.

Round five see a slight turn around with Lowe controlling proceedings with good sharp jabs. This time it was O'Meara that turned to countering in an attempt open things up. I gave this round to Lowe as he was not only the busier but also landed the more meaningful shots.

Normal service resumed in rounds six and seven with both protagonists going at it hammer and tongs. I gave both rounds to O'Meara though due to his higher and more effective work rate,

The final round was a barnstormer, Lowe's corner made it clear he needed a stoppage to win and Lowe went all out to get it. O'Meara wasn't ready to concede though and the assembled crowd were treated to a true battle royal as the pair slugged it out for the full three minutes. I have to admit I was a bit surprised that Steve O'Meara was declared victorious by a shutout 80-74 margin as I really feel that Lowe had done enough to take the fifth.



Prior to Hamilton-Ryan's title fight Dagenham teenager Joe Catchpole and Scunthorpe's Steve Spence locked horns in a rematch. When the pair first faced each other, back in November, the bout ended in a draw which gave the nineteen year old the only blemish on his otherwise perfect record.

No surprise to anyone that Catchpole was right up for the fight and had retribution on his mind, and boy did he show it.

Right from the off Spence pushed forward, putting the teenager on the back foot. Catchpole though appeared totally comfortable countering, even when backed onto the ropes.

Spence constantly tried to bully the youngster but Catchpole was having none of it. His countering and jabs were crisp and sharp and on the occasions the pair traded Catchpole seemed to get the better in each exchange.

As the bout progressed the youngster really came into his own, countering with double handed flurries of punches, and at times took the fight to the older man.

Just after the final bell rang Spence let rip with a very late punch to the head, Catchpole instantly reacted and let rip with a big left-right before the referee jumped in to separate them. After the kafuffle retribution was well and truly served as far a young Joe Catchpole was concerned when he was declared the winner by a convincing 40-37 points margin.

The second bout of the night see unbeaten Alex Dilmaghani, from Worthing, Sussex, against local(ish) hero Mickey Coveney from West Ham.

The bookies favourite was clearly Dilmaghani, however what no one had taken into account is what a full on battler Coveney is, as everyone including Dilmaghani soon found out.

Right from the opening bell Coveney just kept going forward and working on the inside. This tactic completely neutralised the much taller Dilmaghani's game plan. Each time he tried to keep the diminutive Coveney out with the long jab, Coveney would just duck under and get up close and personal to work the body.

The normally oh so classy southpaw Dilmaghani just couldn't cope with the terrier like East Londoner, especially when backed on to the ropes, as was happening far to often.

Coveney secured a 39-38 against the odds.

The opening bout of the night see Hayes' Robert Lloyd Taylor take on Leeds hardman Tommy Broadbent.

I have to say this was a cracking opening fight, like the rest of the card it was an evenly matched affair. The first round see the pair feeling each other out so was a bit slow at first, but once they settled down the action was superb. I personally gave Broadbent the first round as he settled the quicker and as such earned the round by with a better work rate and tidier shots. The second round was a very, very close hard fought affair, so close I see it a draw.

Taylor really started to exert his authority, taking control of the third with some great ringcraft and landing the more meaningful shots. The fourth and final rounds was more or less a repeat of the second with both going at it hammer and tongs for the full three minutes.

I have to say this was a really closely matched bout, both fighters were really up for it and the action was virtually nonstop, so I wasnÆt at all surprised that when the scorecard was read out and showed a close 39-38 points difference - in favour of Robert Lloyd Taylor.


June 20, 2011