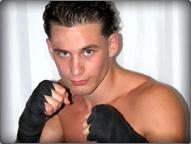 Jerry Glick reporting: Chris Algieri is a 25 year old pro fighter from Huntington, Long Island, New York, who told me that he had no amateur fights; that his first experience in a boxing ring was for pay. I told him at the time that the last fighter to tell me that was former Middleweight Champion Joey Giardello. Nice guy to share something in boxing with. But Algieri fooled me.

He is currently 9-0 with fives knockouts as a pro boxer, but that is not all of his punch for pay experience, he is a former world champion kick boxer; an unbeaten champion, with an unbeaten kick boxing amateur record to boot.

"I won world titles at 154 and 147," said Algieri. "I won the Junior Welterweight, 154, WKA, World Kickboxing Association title, and also the ISKA, 147 pound title. That's the International Sport Karate Association title."

Algieri has had an avid interest in contact sports for a long time.

"I always used to watch fighting with my grandfather," explained Algieri. "My mother was born in Argentina. In Argentina you either watch soccer or boxing. My grandfather watched both but he was a big fan of boxing. I grew up watching fighters and he used to talk about the great fighters like Alexis Arguello, and Roberto Duran, and he would always say how great these guys were, but at the same time he would point at me and say, 'But you don't do that. You be a doctor you're too smart, you're too talented for that.' "

Regardless of his grandpa's warning, it was engrained into his head that being a warrior inside of a ring was something great to aspire to be. So he followed his dream into, first kickboxing, then into a boxing ring.

"I played every sport you can imagine," said Algieri. "Baseball, I swam, I played football, I played soccer, but nothing clicked for me. Then I started martial arts."

He was nine years old when he first tried martial arts.

When he was around thirteen his dad took him to see a kickboxing card and right then Chris decided that it was for him. The cheering crowd, the excitement, he knew it was right. He asked his father who did as all fathers do, he passed the buck, "We'll ask your mother," he said to young Chris.

"After a few years of trying to get my folks to say yes, I finally had my first (amateur) kickboxing fight at sixteen," recalled Algieri.

He won some regional amateur titles before turning pro. He was unbeaten in seven amateur kickboxing fights.

"I got my Black Belt by the age of sixteen," he recalled.

While he didn't travel much during his kick boxing days-"There wasn't enough money in it to warrant traveling"-but he still faced opponents from all over, but did that in the US.

"I fought people from all over the world," he said. "I fought people from Puerto Rico, Dominican Republic, Lebenon, Ireland, England, Canada, and South Africa. I fought people from all over the world."

Algieri is a handsome young man who is a mix of brawn and brains. He is also a student who is currently pursuing a Masters Degree at New York Institute of Technology."

He has a Bachelors Degree from Stony Brook University, a state university on New York's Long Island.

Aside from being a rising star in New York boxing and a graduate student, Algieri, believe it or not also holds down a job.

"I am a lab technician at Cold Spring Harbor Laboratories," said Algieri.

Given all the various forms of fighting that this young battler has practiced he maintains that his boxing style is that of a boxer/puncher, "I can do both," he added with confidence.

The one fighter who has influenced him the most in both boxing and kickboxing, is someone who has participated solely in boxing is the warrior himself, the late Arturo Gatti.

Interestingly, Gatti and Mickey Ward, will forever be linked in boxing history and lore because of the three brutal wars that they fought against each other. I mention this because while Algieri considers Gatti to be the most influential fighter in his career, it is Ward who Algieri watched as he threw devastating body punches to crush his opponents. Ward didn't know it at the time but he showed Chris how to destroy the body with what Algieri calls his "tap-boom" combination. "That is from Ward," he said. "That's the punch that dropped Arturo Gatti."

Algieri is managed by two men who have guided his career and so far, so good.

"I am co-managed and trained by Tim Lane, from Glen Cove, and Keith Trimble, and I train at the Bellmore Kickboxing Academy, I'm the only boxer there."

One would think he is still comfortable among kick boxers, even if he is the only boxer there.

PUNCHLINES

PEERS AT 140 lbs.

Because he is a junior-welterweight I asked Algieri to wade in on his division and particularly the upcoming Amir Khan-Dmitriy Salita WBA title fight.

"I think that they're both technically good fighters," said Algieri. "I don't know if they should be fighting at the top of the game right now. With such a deep division I think that there could be other guys that should be fighting for the titles. But everybody's got to get their chance though."

2010

"2010 is going to be a big year," he sees big things happening in the coming year. "By then I'll have more fights under my belt and people will begin to take notice."

LATER

Algieri expects to have all his ducks in order for his post boxing life. "I want to win a world title and defend it a couple of times then walk," he said. "And as soon as I'm done, it's off to medical school."

ARTIST

Let's see, he can punch, kick, study, and, oh yes, he can draw too. He explained to this reporter that he can paint. The fact is Chris Algieri truly is a talented young man who seems to be headed to a good life. That's okay here. Good things should happen to good people and Chris Algieri is good people.