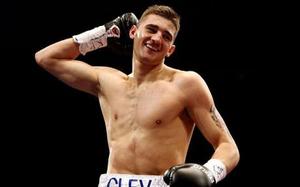 nathan-cleverly_pa_1296193c2

Nathan Cleverly's homecoming title defence on February 25th will see him take on Tommy Karpency.

The unbeaten WBO light-heavyweight champion will engage in his first fight in Wales since 2007 against the American at the Motorpoint Arena in Cardiff.

Karpency, 25, is ranked at number 11 by the WBA and has a good record of 21 wins from 24 fights and 14 knockouts, albeit against limited opposition.

"This is my first fight in Cardiff for a long time and I'm looking forward to putting on a good show for my fans' against Karpency," said Cleverly.

"My return has created a big interest in Wales and it's going to be a fantastic welcome home on 25th February at the Motorpoint Arena,"

"I've trained over Christmas and I'm in great shape already and we're still over seven weeks' away from the fight so I'll be spot on come fight night,"

"Karpency looks like a tough fighter and he took Murat the distance last year and Murat gave me a hard fight,"

"I've got big plans for this year that I hope will include a unification fight so I've got to keep busy and beat Karpency in style."