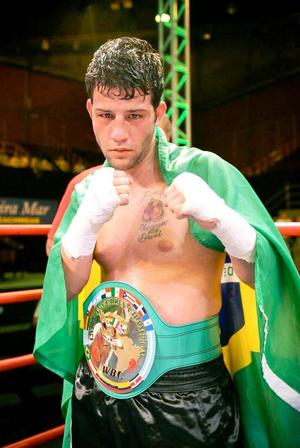 Oliveira debuts on Showtime

Unbeaten, 21-year-old middleweight Michael "The Brazilian Rocky" Oliveira, according to his head trainer Orlando Cuellar, has the potential to be a Brazilian version of Oscar de la Hoya.

Oliveira (15-0, 12 KOs) makes his nationally televised debut Friday night (Nov. 11) against veteran Xavier "The X-Man" Tolliver (23-7, 15 KOs) in an eight-round on a World Championship edition of Shobox: The Next Generation, LIVE on SHOWTIME® at 11:05 PM/ET (delayed on the West Coast) from Cohen Stadium in El Paso, Texas.

WBA super welterweight champion Austin "No Doubt" Trout (23-0, 13 KOs) headlines the card in a title defense versus Frank LoPorto (15-4-2, 7 KOs).

WBC No. 15-rated Oliveira, the reigning World Boxing Council ("WBC") South American middleweight champion, was born in Sao Paulo, Brazil but moved two weeks later with his family to Miami.





His movie-star looks, fan-friendly style and unique storyline as a son from an affluent Brazilian family have allowed Oliveira to become a rising star in Brazil and compelling prospect in the U.S.

"With his face and skills, along with his ability to speak very well and light-up in front of cameras," Cueller said, "Michael can be a Brazilian Oscar de la Hoya, without the amateur background. He loves to fight but doesn't need to because of his family. His appeal is across the board - kids, seniors, etc. Women want to be with him, men want to be like him. He's the total package; a potential marketing phenomenon."

This will only be the second fight that Oliveira and Cuellar, who trains Glen Johnson in Miami among his more notable boxers, have worked together. "Orlando and I, chemistry-wise, clicked right away," Oliveira noted. "What makes this a perfect team is our adjusting to each other. There are times he doesn't have to say a word. I look at him and know what he wants me to do.

"I'm a completely renovated boxer. I still have my strength, but my defense, speed and conditioning are much better. Fighting on Showtime is a great opportunity for me to show boxing fans in the United States what our team has worked so hard at. People who saw me box in the past won't recognize me."

"When I first got Michael," Cuellar remembered, "he was a little chubby and he needed to tighten his defense and work on movement. I explained everything to him and he's everything into training since the first day. He's always had a big heart and guts. We brought his weight way down, got him to execute properly through good sparring, and his lungs and pump (heart) are right where we want. His heart's good, weight perfect, and Friday night our strategy is coming out."

November 8, 2011