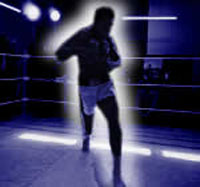 By Thomas Hauser
"A sportswriter," Jimmy Cannon once wrote, "is entombed in a prolonged boyhood." If Cannon were alive today, he might cite Dan Rafael to prove his point.

Rafael is the boxing writer for ESPN.com. He writes breaking news, feature stories, a weekly notebook, and Monday wrap-up. He also answers questions during online chats and compiles rankings. Reading his work enables fans to keep current in the sweet science.

Among his gifts, Rafael can name the title-holder for each of the four major sanctioning bodies in each weight division. "But I'm not normal," he acknowledges. Then he adds, "My mom asked me once what it's like to cover boxing. I told her, 'It's like covering a cartoon world, only the characters in it are real people.'"

Rafael was born in Albany on August 25, 1970. He attended the State University of New York at Binghamton and became interested in sports journalism while working for the school newspaper. "There was a long line of people who wanted to write news and features and only two people who wanted to write sports," he remembers. "So I chose sports."

Binghamton was a Division III college with no football team. Thus, Rafael did a fair amount of writing on the Ultimate Frisbee Club ("they took their competitions very seriously"). He worked his way up to sports editor and eventually became managing editor of the paper. While in college, he also served as an intern at the Binghamton Press & Sun-Bulletin (a Gannett newspaper). To finish his degree requirements, he attended community college and, at the same time, spent twenty hours a week at a small-town newspaper called The Saratogian. The sports department had an editor, two fulltime reporters, and two clerks. Rafael spent his time fact-checking stories, formatting charts, taking telephone calls about high school sports, and doing everything else that had to be done. Then a fulltime job opened up at the paper and he got it.

"I loved The Saratogian," Rafael says. "It was a great place to learn. But I had ambition. My goal was to be at a major newspaper before I was thirty. So when a position opened up at the Binghamton Press & Sun-Bulletin, I applied for it and they hired me."

Returning to Binghamton, Rafael was the beat writer for college sports ("which I liked") and local auto-racing ("which I hated from day one"). Then he was assigned to cover the Binghamton Mets (the Double-A affiliate of the New York Mets), the biggest sports beat on the paper.

Meanwhile, USA Today (the flagship of the Gannett empire) had a "loaner program" designed to teach promising young talent throughout the Gannett system. Reporters were sent to Virginia, put in a residence hotel for four months, and taught the newspaper business on an entirely new level. Rafael was selected for the program and began working at USA Today in August 1998 as a reporter for the sports department.

"They assigned me to the baseball desk," he recalls. "And of course, in the summer of 1998, Mark McGwire and Sammy Sosa were going head-to-head." Thus, virtually overnight, Rafael went from covering Double-A baseball for the Binghamton Press & Sun-Bulletin to reporting on baseball history for one of the most influential newspapers in the country.

When the baseball season ended, Rafael was switched to college sports. At the same time, Jon Saraceno, the paper's boxing writer, was in the process of transitioning from being a beat reporter to a general sports columnist. Rafael asked if he could cover a fight, and USA Today sent him to Atlantic City for Naseem Hamed versus Wayne McCullough. Shortly thereafter, Archie Moore died and Dan was assigned to write the obituary.

Rafael's "loan" to USA Today ended in December 1998. "I remember driving back to upstate New York and twenty feet of snow," he says. "It was a bit depressing." He spent another year in Binghamton. Then, in January 2000, he got a call from USA Today. The paper was thinking of doing its own boxing rankings and wanted to know how Dan would do it. There were more calls and more questions; and finally, a call: "We've decided to do the boxing rankings. Do you want to be our boxing writer?"

"I didn't ask, 'How much will you pay me?'" Rafael recalls. "I didn't ask, 'Do I have to move to Virginia?' I didn't ask a single question. I just said, 'Yes.'" A smile crosses his face. "I remember sitting on the floor of my apartment, wrapping dishes, watching Morales-Barrera I [on February 19, 2000], saying to myself, 'From now on, I'm going to be at ringside for fights like this.'"

At USA Today, in addition to reporting on fights, Rafael wrote notes and features on boxing. And there were rankings, with fighters compressed into the traditional eight weight divisions, ten fighters in each, plus a pound-for-pound top six.

"Being the boxing writer for USA Today opened a lot of doors for me," Rafael acknowledges. "I'd never really covered the sport before, and suddenly I was at what might be the most important newspaper in the country from the standpoint of promoting a fight. I always knew that promoters, publicists, and a lot of other people were treating me nicely because of the impact that an article in USA Today could have. But I worked hard. I went through the wars. And I like to think that, over time, I earned respect from those same people because of my work ethic and knowledge of the sport."

Rafael enjoyed his years at USA Today. "It was a great place to work with hundreds of very talented people putting out a wonderful newspaper," he says. But over time, the limitations inherent in the job became obvious. The paper's coverage of boxing was predicated largely on how much space was available, not on what was happening in the sport. There was nothing more frustrating for Rafael than wanting to write something and having no space in which to run it. And the paper was starting to cut back on travel expenses, which limited the number of fights that he could attend.

Then, immediately after the September 18, 2004, fight between Oscar De La Hoya and Bernard Hopkins, ESPN called to inquire about his availability.

The following weekend, Roy Jones was knocked out by Glen Johnson and Riddick Bowe returned to the ring after eight years away from boxing. "Two big stories," Rafael remembers. "And I had space the size of a fingernail in the paper to write about it. It was driving me nuts, so I decided to go to ESPN. It wasn't the money, although the money was considerably more than I was making at USA Today. It wasn't that I was star-struck by ESPN. It's that ESPN gave me the opportunity to cover boxing the way I want to cover it."

Rafael began writing for ESPN.com on March 1, 2005. "It was understood that I wasn't going to be a house writer," he explains. There was total separation of church and state. I wasn't hired to write puff pieces for ESPN2 Friday Night Fights. I was told that I had total freedom to write about fights on other networks. And I was hired as a reporter, not a decision-maker. The wall between church and state exists there too. Would I like more input into the decision-making process at ESPN? Sometimes. But that's not the way things are, and that's fine with me."

Cyberspace being what it is, there are no space limitations on Rafael at ESPN.com. His output reflects the freedom he has, and no boxing writer does his homework more diligently.

"I'm a junkie," Rafael admits. "And since I work at home, there's no barrier to access to my drug. I try not to overdose, but there are times when I spend sixteen hours a day on boxing. Some people think that's not healthy. But I believe, if you're going to be a boxing writer at the top level of the profession, you have to be like a fighter who's in the gym every day."

"And I love it." Rafael continues. "One of the great things about being a boxing writer is the access you have to participants. The fighters, the managers, the promoters. I got a call one morning from Don King. It was seven o'clock. Don told me, 'I just made Chris Byrd and Andrew Golota.' I thought I heard splashing, so I asked where he was and Don said, 'I'm in the bathtub.' Do you think George Steinbrenner calls beat writers at seven in the morning from the bathtub to tell him that he's just signed Alex Rodriguez?"

The most Herculean of Rafael's efforts for ESPN.com is his monthly compilation of rankings. Any reasonably knowledgeable person can put together a credible list of the world's top ten heavyweights. Bantamweights are another matter. Most individuals who compile rankings today do so based largely on hearsay and fighters' records. Rafael utilizes those tools but he also does a lot more research.

It's a persistent, never-ending, extraordinarily demanding task. Rafael has a home library with literally thousands of tapes and DVDs. He watches virtually every title fight for each of the four major sanctioning bodies and every other fight that he deems important. The result is rankings for boxing's top fifteen weight divisions plus a sixteenth category for the lightest two divisions combined.

"I don't grind axes when I do my rankings," Rafael says. "And I don't speculate as to what might happen if two fighters faced each other in the future. Everything is straight up, based on fights that have already occurred. Yes, it's a lot of work, but it's also great fun. I wouldn't do it if I didn't enjoy it."

Rafael has earned the respect of the boxing industry as a conscientious reliable reporter and for the seriousness with which he studies fighters. If there's a criticism of his work, it's that he seldom digs beneath the surface to expose wrongdoing and corruption. As knowledgeable as he is, he certainly could if he chose to do so. And given his perch at ESPN, his thoughts on matters of that nature would have considerable impact. But the nature of his work reflects his personality. "I'm a live-and-let-live guy," he says. "I don't try to impose my beliefs on anyone else, and I resent it if they try to impose them on me."

But Rafael does speak out regarding abuses by the world sanctioning bodies. "Boxing's problems," he said recently, "are crystalized in the fact that the IBF allowed Zab Judah to keep his title after he lost to Carlos Baldomir. Even in wrestling, which is fake, you lose the title when you lose a match. But here, it's, 'Zab lost? No problem; we'll let him keep the title anyway.'"

Now Rafael is on a roll. "The WBA has two champions in some weight divisions," he proclaims. "That's ridiculous. The WBC and WBO are just as bad. They do things that are preposterous. And don't just blame the sanctioning bodies. The television networks and promoters and a lot of other people have a hand in what the sanctioning bodies do. The ultimate goal in any sport is to be the champion. With this nonsense -- and they don't even try to hide it -- how can they expect anyone to care about boxing?"

So what does Rafael want to see happen in the sweet science?

"I only want for the sport to blossom, the best fights to be made, and for no one to get hurt."

And for himself?

"I'm happy the way things are," Rafael answers. "I'm just a regular guy. I do an honest day's work for an honest day's pay, and I'm having a great time doing it."

Thomas Hauser can be reached by email at thauser@rcn.com.