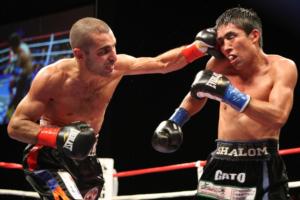 Darchiayan and Guerrero slug it out

By Paul Upham: WBC/WBA super flyweight world champion Vic Darchinyan cruised to an easy unanimous points decision win over courageous Mexican Rodrigo Guerrero on Saturday night at the Agua Caliente Casino in Rancho Mirage, California on Showtime.

34 year-old "Raging Bull" Darchinyan 34-2-1 (27) dominated the fight and landed multiple heavy bombs which was no surprise, but Guerrero 13-2-1 (9) proved his toughness by remaining upright throughout and going the distance.

"I hit him with some big punches and I couldn't believe how he was holding up," said Darchinyan. "Sometimes I could feel my knuckles going through to his head. He would come back. I respect him. He is a good kid. I tried to finish him, but I couldn't."

Darchinyan boxed at a more even pace in this fight and rarely rushed in wildly looking for a knockout as he has done in the past.

Before the match, Darchinyan stated he wanted to show more boxing skills and he achieved it, using his footwork on a number of occasions to avoid Guerrero's punches.

The unknown Mexican, who had the inspirational great Marco Antonio Barrera in his corner, simply did not have the punching power to worry Darchinyan.

Cut above the right eye in round 5, Guerrero took a sickening amount of punishment throughout the fight and at the end, had badly swollen cheeks on both side of his face.

The three judges scored the fight for Darchinyan 118-110, 117-111 and 120-108.

27 year-old Nonito Donaire 23-1 (15) upset Darchinyan at flyweight by stunning 5th round knockout in July 2007. It is the only fight now that makes sense for Darchinyan at super flyweight, as opposed to another shot at a bantamweight world title.

"I would love to move up in weight, I am very powerful," said Darchinyan. "If I am not going to fight Donaire, I would like him to fight this kid (Guerrero). We will see what happens. I don't think Donaire is going to fight me. He is scared. He does not want to. Here are two (world title) belts. If you already knocked me out, why don't you want to come and fight for them? I don't want to mention his name anymore. It is not fair."


Paul Upham
Content Editor