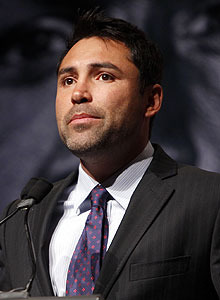 Former multi weight boxing champion Oscar De La Hoya says he has contemplated suicide in the past and has been going to a rehabilitation Center to be treated for drug and alcohol dependency. In a remarkably honest and truthful interview with Spanish-language network Univision that aired Tuesday, De La Hoya said he has been sober for three months after hitting rock bottom over the past two years.

According to an English-language transcript provided by the network De La Hoya was remarkably honest regarding his past thoughts: "Rock bottom was recently," said De La Hoya. Within a couple of years, just thinking if my life was even worth it. I don't have the strength, I don't have the courage to take my own life but I was thinking about it."

In the interview De La Hoya said he had been sober now for three months after joining Alcoholics Anonymous and receiving treatment. He also admitted to being unfaithful to his wife. "We are obviously not talking a Tiger Woods here, but I was unfaithful," De La Hoya admitted.
De La Hoya, who began boxing at the age of five years old, won an Olympic Gold medal at the 1992 Barcelona Games. The medal winning performance was all the more satisfying as he promised his late mother, Cecilia, who died of breast cancer two years earlier, that he would Win Gold.



De La Hoya added; "There were drugs, my drug of choice was cocaine and alcohol. Cocaine was recent. The last yearsI depended more in the alcohol than the cocaine. It took me to a place where I felt safe, it took me to a place where I felt as if nobody can say anything to me, it took me to a place where I just can reach out and grab my mom."

De La Hoya retired from the sport in 2009 after a 16-year career in which he won 10 world titles in six weight divisions
In his prime he was one of the most popular and well paid boxers in the sport and went by the name of 'Golden Boy'.

Oscar now heads Golden Boy Promtions, one of the top promoters in the sport today, who manage and promote many world champions.

August 31, 2011