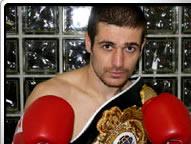 arnaoutis_billemes.jpg

PRESS RELEASE-On Friday April 2nd, Joe DeGuardia's Star Boxing returns to the Mohegan Sun Resort and Casino in Uncasville, CT with what promises to be yet another action packed night of boxing. The card, broadcast live on ESPN's ever popular "Friday Night Fight" series, is headlined by an exciting and meaningful welterweight crossroads battle between current USBA welterweight champion (IBF #5 world rated) Delvin Rodriguez (24-4-2, 14KO) and former USBA light welterweight champion, "Mighty" Mike Arnaoutis (22-4-2, 10KO). The bout is scheduled for twelve rounds and will be for Rodriguez's USBA championship.

"We are thrilled to be bringing this sensational card to the Mohegan Sun," stated Joe DeGuardia, CEO of Star Boxing. "We had great success with our shows at Mohegan Sun in 2009 and we are looking to build off that and continue to provide boxing fans throughout the whole northeast area with exciting world class fights and entertainment."

"Rodriguez vs. Arnaoutis is a very intriguing fight. You have two guys who are very familiar with one another and who have both been in very big fights throughout their respective careers. This is a huge fight for both guys. If Delvin wins, he reestablishes himself as one of the top welterweight contenders in the world. If Mike wins, he will show everyone that he is a true force to be reckoned with in the welterweight division. Both guys are going to leave it all in the ring come April 2nd, which promises to produce an event you won't want to miss."

"Mohegan Sun is thrilled to bring back Star Boxing and Connecticut's own Delvin Rodriguez for the main event. Star Boxing delivers great bouts each and every time they come to our arena, and April 2nd is shaping up to be a very exciting night of live boxing," stated Bob Yalen, Director of Sports and Entertainment at Mohegan Sun.

DELVIN RODRIGUEZ
DR
The Danbury resident Rodriguez is coming off a high profile 2009. After an impressive win at Mohegan Sun in March in an Official IBF Title Eliminator, Rodriguez lost a heart breaking razor thin decision to Isaac Hlatshwayo for the IBF Welterweight Championship of the World in August (also at Mohegan Sun). In Rodriguez's next fight in November, he traveled to Poland to square off against the countries native son, Rafal Jackiewicz, in yet another IBF Title Eliminator. In a bout that saw Rodriguez throw 700 more punches than his opponent and seemingly dominate for the entire twelve rounds, Jackiewicz was surprisingly awarded the decision.

"I had some real tough luck in 2009, but I'm done looking in the past, I'm looking forward to a fresh start with my career in 2010, and to repositioning myself for another world title opportunity," stated Rodriguez. "This is a must win fight for me, and I plan on leaving it all in the ring come April 2nd. I respect Arnaoutis as a fighter, but there is no way he is going to come into my backyard and take my USBA belt away from me."

"MIGHTY" MIKE ARNAOUTIS (R)
A
Arnaoutis is no stranger to the controversy Rodriguez experienced in 09. In 2006 Arnaoutis lost a highly controversial split decision to Ricardo Torres for the Vacant WBO Light Welterweight World Title. In his last fight for the Vacant USBA Light Welterweight Title, Arnaoutis once again came up on the wrong end of a questionable split decision, losing to Tim Coleman in a fight that ringside announcers had Arnaoutis comfortably ahead in.

"The only thing on my mind right now is Delvin Rodriguez and my fight with him on April 2nd," said Arnaoutis. "I'm looking at this fight like there is no tomorrow if I lose. I want that belt and I want to show everyone that I am going to be a force in the welterweight division, and that's exactly what I plan on doing."