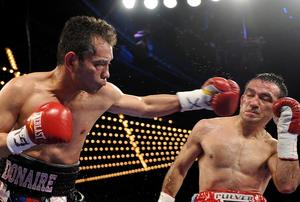 Donaire throws a left hand at Narvaez

Nonito Donaire may have scored a decisive 12 round shutout(120-108 on all card) win over the previously unbeaten Argentinian Omar Narvaez last Saturday night at Madison Square Garden in New York but just hours after his win he was in no mood to celebrate.

Sat in the lobby at the Affinia Hotel the WBC/WBO bantamweight champion told GMA News: "The fight was stolen from the crowd The Argentinian guy should reimburse all the people."

Narvaez, 35-1-2-(19), barely engaged in a single exchange throughout the entire 12 rounds, instead he seemed more content to survive, leaving Donaire feeling the fans were short changed.

"I'm being a fan right now, I'm disappointed for the fans right now because they deserve so much more for showing up and giving support," said Donaire.



"He (Narvaez) hit me a few times because I want to get hit so I can hit something back. I did everything I can to make it as exciting as I could."

Donaire informed his trainer Roberto Garcia between rounds that he was getting bored with the way the fight was progressing but was told to remain focused and stick to the game plan.

"You never know what could happen with one punch, so we told him to be careful, look for the fight, step to the side and throw those hooks," said Roberto Garcia. "When Nonito tried, Narvaez took a step back and it was just impossible to land. He was very defensive. He does have a lot of experience, we expected a little bit more of a fight but we didn't get it."

October 24, 2011