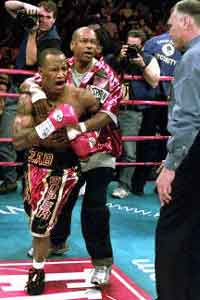 Nady refs Tszyu v Judah

By Thomas Hauser
Fighters are never alone in the ring. Metaphorically, yes; but not literally. There's always a third man. Yet fans tend to forget the referee unless there's controversy or worse. Dave Barry is enshrined in boxing lore as the arbiter who presided over the "long count" in the second bout between Jack Dempsey and Gene Tunney. Ruby Goldstein is remembered primarily as the referee who passed out from the heat during Sugar Ray Robinson's challenge to Joey Maxim and also as the man who presided over Emile Griffith's fatal beating of Benny Paret. Referees have memories too. Some of the best third men in the ring reminisce below about the fights they worked that were the most memorable from their point of view.

JOE CORTEZ: I've refereed a lot of great fights. It was an honor to be part of Bowe-Holyfield I. The tenth round of that fight was one of the greatest rounds in boxing history. But I'd have to say that George Foreman knocking out Michael Moorer [on November 5, 1994] was my most memorable moment. I became a professional referee in 1977, and my dream was to referee one world title fight. I'd watched on television when Foreman beat Joe Frazier to become heavyweight champion. Believe me; never in my wildest dreams did I imagine back then that someday I'd referee George Foreman fighting for the heavyweight championship. It was a night I'll never forget. Foreman was losing every round but he wasn't taking a beating. Then, in round ten, he threw a left hook. Moorer went to his left and walked into one of Foreman's right hands, so Foreman did it again and hit him with another straight right. No one was closer to the action than I was. It was a thunderous punch. I was the referee the night Lennox Lewis knocked out Hasim Rahman and Mike Tyson knocked out Larry Holmes, and this punch was as hard as anything that either of those guys threw. Moorer went down flat on his back. I tried to get Foreman to a neutral corner but he seemed stunned by what he'd done, like he couldn't move. I had to push him. It was like neither of us could believe what we were seeing. I picked up the count from the timekeeper at six. At seven, I'm saying to myself, "This guy isn't going to make it." At eight, I knew it was over. Then the count hit ten and a 45-year-old man was heavyweight champion of the world.

LARRY HAZZARD: Matthew Saad Muhammad and Jerry Martin in Atlantic City [on September 26, 1981]. I hadn't had a whole lot of experience in big fights. I'd only done a few title fights before and this was a big one. Saad Muhammad was the light-heavyweight champion. The fight was on ABC. It was close, but it seemed to me that Martin was fading and Saad Muhammad was a lethal puncher in the late rounds. In round eleven, he caught Martin with a left hook to the body and a straight right and Martin froze. It was a concussive episode, so I stopped the fight. All the Martin people were jumping up and down, screaming, "Why did you stop it? Why did you stop it?" Then Howard Cosell got in the ring and I told him the same thing I just told you: "It was a concussive episode." That satisfied Cosell, and I always felt that the way I explained it to him propelled me onto a national stage. There were some writers who didn't agree with what I'd did and their stories made for interesting reading. But I still feel I did the right thing.

RANDY NEUMANN: Defintely, my first championship fight in Europe. Gary Hinton against Reyes Cruz [on April 26, 1986]. I'd been to Europe once before when I fought Billy Aird in London, but that was a quick in-and-out deal. This was my second time on the other side of the Atlantic. I flew over with Bob Lee, who was president of the IBF at the time. The fight was in Lucca, a beautiful walled city built by the Romans in Northern Italy. Talk about history. The night before the fight, I was walking on roads the Romans built two thousand years before. I was in awe of the culture, in love with the food, and captivated by the beauty of the land. Back then, most of the world had limited access to sports. There wasn't 24-hour-a-day access to ESPN like there is now, so this was a big deal for the locals. It wasn't like Atlantic City, where the fight is a two-hour interval of non-gambling and then everyone goes back into the casinos. Everything in Lucca was focussed on the fight. All of the officials, myself included, were treated like royalty. Both guys fought brilliantly. The crowd had never seen that level of boxing before. Hinton won a decision, and afterward there was a party that lasted until dawn. I was in heaven the whole time I was there.

WAYNE KELLY: The first Bowe-Golota fight at Madison Square Garden [on July 11, 1996]. It was nuts. Andrew Golota was clearly winning the fight. He was outjabbing Bowe. He was outboxing Bowe. He was outpunching Bowe. And he kept throwing low blows. I don't know why. It was so unnecessary and stupid. I don't think the low blows hurt as much as Riddick claimed they did. But he was looking for a way out of the fight and Golota gave it to him. How many warnings can I give and how many points can I deduct? Enough is enough. Finally, I had no choice but to disqualify him. You know the rest. One of Bowe's people got in the ring and hit Golota on the head with a cell phone and a riot started. Then they fought again in Atlantic City. I went to that fight as a spectator and Golota got disqualified again. What can I say? Andrew had all the talent in the world but something was missing. Who knows what lurks in the mind of Andrew Golota? And when I see Riddick today, omigod. The man was a great fighter, one of the best ever. And look at him now. I wish he'd stop fighting.

ARTHUR MERCANTE: I've refereed a lot of great fights and a lot of great fighters. My first major championship fight as a referee was the rematch between Ingemar Johansson and Floyd Patterson [on June 20, 1960]. I'd been the timekeeper for knockdowns for their first fight, when Johansson knocked Patterson down seven times. I must have tolled fifty-six over Patterson that night. Then, in the rematch when I was the referee, Patterson knocked Johannson out. It was a frightening sight. Johansson was unconscious. His foot was twitching and blood was dribbling out of the side of his mouth. I really thought it was the end, and I don't just mean his losing the fight. That night has always stayed with me. But for every reason conceivable, the fight I refereed that means the most to me and the one I remember best is the first fight between Muhammad Ali and Joe Frazier at Madison Square Garden [on March 8, 1971]. I don't have to tell you what happened that night. It's part of history. The entire world bore witness. There hadn't been a fight as important as that since Joe Louis against Max Schmeling. And I don't think there will ever be a fight of that magnitude again.

JAY NADY: It would have to be Zab Judah and Kostya Tszyu [on November 3, 2001]. Zab got knocked down, got up, fell back down, and I stopped the fight. The basis for my decision was that I knew the kid was hurt. He'd been concussed and, if he got hit again, there could be more serious damage. I didn't want to stop it. It was a great fight and I wanted to see more of it, but I had no choice. I've never had a regret about what I did that night. It was the right thing to do. As for what happened afterward; I didn't know Zab threw a stool at me. Obviously, I was aware of it when he put his fist under my chin, but I don't think he understood fully what he was doing. His eyes still weren't focussed. And as bad as it looked, I never felt threatened. My thoughts were for him, not for me. What I felt was, I wish I could help you, son. This was a kid who'd never been beaten, who'd just been knocked out and felt he lost everything. I felt sorry for him.

STEVE SMOGER: The first fight between Simon Brown and Tyrone Trice in France [on April 23, 1988]. I'd had a handful of championship fights before, but this was the door opener for me. It was one of the last fifteen-round fights and it was a great fight, the IBF "fight of the year." Both guys fought their heart out, and Brown stopped him in the fourteenth round. That was my signature fight. In fact, Gil Clancy, who was doing commentary for CBS, commented favorably during the telecast on the young up-and-coming referee who was handling the fight. After that, people started to take note of my refereeing ability. That fight got me on a world stage. And I also have to mention Felix Trinidad against Bernard Hopkins. I'd worked Hopkins fights before. I did Roy Jones against Hopkins in Washington DC, which was a fight that didn't live up to expectations, and also Hopkins against Keith Holmes. But Trinidad-Hopkins was my first major fight at Madison Square Garden. Anyone in boxing will tell you, there's nothing like working a major event at the Garden. The place was packed. The crowd was electric. It was two weeks after 9/11. You could feel the emotion in the air. I remember standing in the center of the ring before the fighters' entrance, taking a deep breath, and telling myself, "Just do your job." It was a special night for me, and Hopkins gave one of the finest technical performances I've ever seen.

ARTHUR MERCANTE JR: The best memories I have are of Holyfield-Lewis I [on March 13, 1999]. Here it was; Madison Square Garden, the most famous arena in the world, where my dad had refereed Ali-Frazier I. Now there's another heavyweight championship fight; the arena is sold out; twenty thousand people. And I get the call. In the ring, I focussed completely on what I had to do and turned off to everything but the fight. In the second round, the fighters got into a wrestling match and I had to step in, but they fought cleanly after that. As the fight went on, I thought Lewis was winning, but I didn't score it. That wasn't my job. And the best part for me was that my father was there. Any athlete will tell you that having his father watch him work is special. In the car going home after the fight, he told me, "I'm proud of you; you really proved yourself tonight." That meant a lot to me. And of course, the other fight that stands out in my mind is Beethavean Scottland [who died of injuries suffered in a bout against George Khalid Jones that Mercantee refereed on June 26, 2001]. There's still litigation involving that fight, and I've been instructed by the lawyers not to talk about it. But you know how I feel about fighters. I'll always feel sad about that night.

RICHARD STEELE: I've worked a lot of great fights, but Marvin Hagler against Thomas Hearns [on April 15, 1985] stands out more than any of them. It was so fast and those guys were so good. Thomas Hearns was a puncher and a knockout artist. He hit Marvin with everything he had, and Marvin just kept coming. It was the best three rounds of boxing ever. The action was non-stop incredible. As a referee, you can't just stand out of the way. You always have to be in position. You have to be able to see fouls. If there's a cut, you have to know if it was caused by a punch or a head butt. If a fighter is hurt, you have to intervene. I worked so hard to get in shape for that fight; and after the first round, I was exhausted. I said to myself, "I don't think they can keep this pace up, and I know I can't." I also worked Marvin's fight against Sugar Ray Leonard [on April 6, 1987]. Leonard beat Hagler mentally that night. It started months before the fight with Leonard saying, "Marvin Hagler is nothing but a puncher; he doesn't know how to box." Marvin heard that, and I guess he tried to prove otherwise. Instead of boxing aggressively in his usual southpaw stance, he came out righthanded against Leonard and gave away the early rounds. And by the time he woke up, it was too late.

Author's Note -- Steele also reflected on two fights that he has been criticized for. His March 17, 1990, stoppage of Julio Cesar Chavez versus Meldrick Taylor with two seconds left in the fight (and Taylor comfortably ahead on the judges' scorecards) and his March 18, 1991, stoppage of the first fight between Mike Tyson and Razor Ruddock:

RICHARD STEELE: In Chavez-Taylor, I saw a young Olympic star outpointing his oppponent and taking a beating. People still come up to me and say, "Two seconds more and he would have won the fight." That's correct; but I'm a referee, not a timekeeper. At the hospital after the fight, Taylor was badly dehydrated; he had blood in his stomach. The kid was never the same fighter again. That one fight ruined his career. And Tyson-Ruddock, as I saw it, Ruddock was getting beaten up. Fans want to see a guy on the deck. They want to see that last big knockout punch, and I took it away from them. But if a referee knows that punch is coming, he should stop the fight before it happens.

Thomas Hauser can be reached by email at thauser@rcn.com.