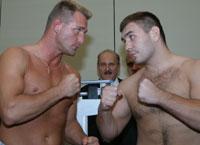 By Derek Bonnett: Rob Calloway, the All-American Prizefighter, loves to fight. The veteran cruiserweight of just over eighty professional bouts has kept a break-neck pace in the sport since turning professional in 1994 and doesn't show any discernable sign of slowing down. Since 1999, Calloway, 69-7-1 (55), hasn't lost as a cruiserweight, but is most recognized for his heavyweight defeats to such fighters as Jameel McCline, Ruslan Chagaev, and Hasim Rahman. It's been a long trek, but Calloway feels 2008 just might be the year he gets a crack at the 200lb. crown.

With two victories in 2008, and two more bouts scheduled for April and May, Calloway, 38, finds himself ranked on the outskirts of the top 10 by all three major sanctioning bodies (#11 WBA, #12 WBC, #13 IBF). Even so, his best victories have come as a heavyweight, stopping Cliff Couser in two rounds and out-pointing Terry Smith over 10, and he has yet to prove himself against perhaps the deepest cruiserweight division in history.

Like many fighters, Calloway, of Saint Joseph, Missouri, finds his strength from, and focuses virtually every aspect of his life around, his family. Their impact on Rob's career is recognizable immediately and he speaks about it openly.

"I am motivated to provide my family the best life I can possibly give them. I love them more than life. You may hear this a lot, but they are perfect. Robin Rae (Calloway's wife) has supported me in everything I do," Calloway recalled. "We met in 1988; her dad was my amateur boxing coach and was in my corner every fight until he passed away in 2001."

Rob's pride in his son, Chase Samuel, and daughter, Riley Rae, also became apparent as he listed off numerous accolades and honors each had earned in sports and academics. Chase, a boxer like his dad, has won three junior Olympic regional championships and maintains straight A's. Riley Rae excels in various dance forms and models while earning top marks in school as well.

Calloway approaches his preparation for each fight like he's going to work, mostly because he's owned and run Team Calloway Family Health & Fitness Club since 2001.

"I am always in pretty good shape, but when a fight is signed, let's say six weeks out," Calloway assessed. "I will pick up my running and weight program with my usual boxing workout. Shadow boxing, jumping rope, bag work, and sparring. If my right hand is important for the fight, we add medicine ball specific exercises stimulating the right hand."

Calloway feels he owes a lot to the sport of boxing and doesn't treasure the 14 miscellaneous titles he's held over the years as his greatest achievement. He still hopes for a major world title and the glorious paydays, but this self-proclaimed poor boy from Kentucky has a far different set of values than most people.


"Most importantly, people in the community have gotten to know me. I have received numerous awards including Keys to the City from three different mayors," Calloway explained. "I've been able to establish a business, so when I retire I can still remain close to the health field and help in youth boxing."

At the age of thirty-nine, retirement has to be a topic on Calloway's mind more and more. He's put up with hometown decisions, been ignored by some bigger name fighters, and been viewed as just a club fighter. He's dreamed of fighting Virgil Hill, but says he's willing to settle for Firat Arslan now. He'd love to fight David Haye, but knows it's unlikely since Haye is committed to pursuing the heavyweight dream. Calloway can handle all of that. What he can't handle is walking away from it all with his dream unfulfilled.

"I have put too much into this game to walk away now. I want my shot at a world title," Calloway demanded. "I feel I deserve it and have earned it."

Calloway grew up poor and had a father that wasn't around for him. Yet, he's become an excellent provider for his family and an honored citizen of his community.

Rob Calloway is an ordinary man, and he hopes to do extraordinary things in life, if he hasn't already.

April 14, 2008