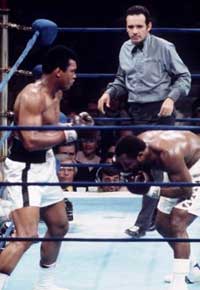 The Ali v Frazier wars took place in the 70s, but Muhammad was truly 'the Greatest' in the 60s

By Thomas Hauser
A. J. Liebling once wrote of the importance of tradition in boxing with the words, "The sweet science is joined onto the past like a man's arm onto his shoulder."

With that in mind, I embarked recently upon a sentimental journey. More specifically, I decided to travel back in time and choose a "fighter of the decade" for each decade beginning with the 1880s.

Comparing fighters is difficult, particularly where only fragmentary film footage (or none at all) exists. But I've done my best and had fun doing it.

Several historians and fight aficionados shared my journey. My thanks to Randy Roberts, Mike Silver, Steve Farhood, and Craig Hamilton for sharing their thoughts. Don't blame them for what follows. The final judgments are mine.

1880-1889
The choice here is easy. John L. Sullivan was America's first sports superstar. He began in boxing's bare-knuckle days and won the world heavyweight championship in 1882 by knocking out Paddy Ryan in nine rounds. Then, in one of boxing's most-storied encounters, he knocked out Jake Kilrain in 75 rounds in Richburg, Mississippi, on July 8, 1889, in the last bare-knuckle fight for the world heavyweight championship.

Sullivan was dominant throughout the decade. More than anyone else, he created modern boxing. At decade's end, he was undefeated and one of the most famous men in America.

1890-1899
There are two candidates in this decade; James J. Corbett and Bob Fitzsimmons. But Corbett's primary accomplishment was beating an old John L. Sullivan in 1992. He defended his title only once over the next four years (a 1894 stoppage of Charley Mitchell) before being knocked out by Fitzsimmons in 1897.
Meanwhile, Fitzsimmons won the world middleweight championship in 1891. Except for a loss on fouls to Tom Sharkey, he was undefeated over the next eight years. He beat Corbett. And for good measure, after losing his title to James Jeffries in 1899, Fitzsimmons went down in weight to campaign successfully as a light-heavyweight. In the next decade, he would knock out George Gardner to capture the world light-heavyweight crown, making him boxing's first champion in three different weight classes.

The nod here goes to Fitzsimmons.

1900-1909
This decade narrows down to James Jeffries, Joe Gans, and Stanley Ketchel.

Jeffries was a dominant champion. But his two best showings (winning the title from a much smaller Bob Fitzsimmons and defending it successfully against Tom Sharkey) were in 1899 and he retired in 1905. In the first decade of the twentieth century, Gans and Ketchel are more deserving of laurels.

Joe Gans was a boxer's boxer and set the standard for fighters in the lighter weight classes who followed in his wake. He captured the world lightweight title with a first-round knockout of Frank Erne in 1902 and, four years later, added the welterweight crown. He remained a champion until 1908, when he lost his lightweight title to Battling Nelson, eight years his junior, who he had beaten in a 1906 title defense. He had 87 fights in the decade and lost only five of them; to Erne (who he later defeated), to ring greats Terry McGovern and Sam Langford, and twice at the end of his career to Nelson.

Ketchel began fighting in 1903 and won the world middleweight title in 1908. He ducked no one, fighting Billy Papke four times, Philadelphia Jack O'Brien twice, and Sam Langford. He even went so far as to challenge Jack Johnson for the heavyweight crown in 1909. Films of the fight support the view that Johnson agreed to "carry" Ketchel and knocked him out with one punch when Stanley was more aggressive than his end of the bargain called for.

Ketchel was shot and killed in 1910 at age 24 while still middlweweight champion, which added to his legend. But by that time, the decade was done, and his credentials don't measure up to those of Gans.

Joe Gans is the fighter of this decade.

1910-1919
Jack Johnson won the heavyweight championship by knocking out Tommy Burns on December 26, 1908. He began the new decade by brutalizing James Jeffries en route to a 15th-round stoppage on July 4, 1910. That was followed by triumphs over Fireman Jim Flynn, Jim Johnson, and Frank Moran.

On April 5, 1915, Johnson was defeated by Jess Willard in Havana. But he dominated the decade in and out of the ring and, in the process, challenged the core values of America.

1920-1929
This is the most difficult decade to evaluate with Benny Leonard, Mickey Walker, Harry Greb, Jack Dempsey, and Gene Tunney in contention.

Benny Leonard was a complete fighter. He turned pro at age fifteen and was stopped three times in his first twelve fights. Then, over a nine-year period, he fought 154 bouts without a loss (many of those bouts went the distance and were ruled "no decision"). Leonard entered the "Roaring 20s" as lightweight champion, having dethroned Freddie Welsh in 1917. He held the crown until retiring in 1925, giving him the longest lightweight title reign ever.

Mickey Walker won the welterweight crown by besting Jack Britton in 1922 and defended it successfully six times. Then he moved up in weight and captured the middleweight title from Tiger Flowers in 1926. But Walker is best remembered for his quixotic quests at higher weights. In 1925, weighing only 149-3/4 pounds, he challenged Mike McTigue for the light-heavyweight crown. And at the start of the next decade, he moved to the heavyweight ranks for a losing effort against Max Schmeling and a draw with future champion Jack Sharkey.

Harry Greb was tough as nails and a dirty fighter. He fought an astounding 294 times in his career. Included in these bouts was a fifteen-round decision over Gene Tunney on May 23, 1922, the only loss of Tunney's career. Greb won the world middleweight title on August 31, 1923, and successfully defended it six times, including a 1925 victory over Mickey Walker. Other victims included Tommy Gibbons and Tommy Loughran. Greb died in 1926 at age 32 after complications from surgery on his nose following an automobile accident.

Gene Tunney turned pro in 1915. He avenged his 1922 defeat at the hands of Greb with two 15-round-decision victories the following year. They also fought to "no decision" on two occasions in later years, although it's worth noting that Tunney was a bigger man.

Tunney, of course, is best known for his 1926 and 1927 triumphs over Jack Dempsey in two of the most-storied heavyweight championship fights ever. He lost only once in his 77-bout career and was the first man to retire as heavyweight champion and stay retired.

Dempsey, with Babe Ruth, ushered sports into a golden era. He won the heavyweight title by decimating Jess Willard on July 4, 1919, and provided boxing with some of its most memorable moments. His 1921 bout against Georges Carpentier engendered boxing's first million-dollar gate. In 1923, he and Luis Firpo enaged in the greatest heavyweight championship slugfest ever, with Dempsey going down twice and Firpo hitting the canvas seven times before the Manassa Mauler prevailed in the second round.

Let's eliminate Walker first. He simply wasn't as good as Leonard or Greb. Then take Greb off the list because he was such a dirty fighter. That leaves Leonard, Dempsey, and Tunney. But this was a heavyweight era, so let's narrow the choice to Dempsey and Tunney.

Dempsey was a brutal puncher and a "cross-over star" who fired the public imagination and changed the way fighters fight with his brawling assaults. But his greatest win and the fight that first fired the public imagination was against Willard in the previous decade. Also, Dempsey put the title on ice for much of his seven-year reign and refused to defend it at all during the three years prior to his meeting Tunney.

Tunney, in turn, refined the science of boxing and beat Dempsey twice. Still, Dempsey did more for the sport. And let's not forget; Tunney got Dempsey at the end of Dempsey's career and after a three-year lay-off. If Dempsey and Tunney had fought at their respective peaks, Dempsey might well have won.

Is is right to choose Dempsey over Tunney when Tunney beat Dempsey twice? Is a fighter's dominance in the ring the only standard by which a "fighter of the decade" should be chosen, or can a boxer's impact on the sport also be weighed?

Some rounds should be scored 10-10. The 1920s should be scored even. Jack Dempsey and Gene Tunney are my fighters of the decade.

1930-1939
Joe Louis defined the era. The choice is Joe Louis; right? Probably; but first, let's hear from a worthy challenger.
Henry Armstrong was "pound-for-pound" before the phrase was invented for Sugar Ray Robinson. Armstrong fought 27 fights in 1937 and won them all, 26 by knockout. He captured the featherweight crown that year by knocking out Petey Sarron. Then, over the next nine months, he added the welterweight championship with a lopsided decision over Barney Ross and annexed the lightweight title with a victory over Lew Ambers. Armstrong held all three titles at the same time. And for good measure, he fought twelve title fights in 1939 and won eleven of them. His accomplishments were almost beyond comprehension.

Now for Joe Louis. The Brown Bomber changed the fabric of America. He was one of the greatest fighters in history, and possibly the most important fighter who ever lived. But Louis didn't have the inquisitors that Armstrong had and his ring opponents in the 1930s didn't compare with Armstrong's. Armstrong fought the best in every division he conquered. Louis fought some tough opponents on the way up. But once he was champion, setting aside his fabled 1938 rematch against 33-year-old Max Schmeling, he finished the decade with a succession of "bums of the month."

Still, this was an era when the heavyweight championship was the most coveted title in sports. And Louis-Schmeling II weighs heavily on the scale, both in terms of its societal impact and Louis's performance.

Boxing historian Randy Roberts asks plaintively, "How can you pick anyone over Joe Louis?"

You can't. Joe Louis is my fighter of the decade.

1940-1949
Joe Louis fought through the 1940s, but lost four years to the war and ultimately faded. Willie Pep turned pro in 1940 and, two years later, won the world featherweight championship at age twenty. Pep had 148 fights in the deacde and lost only twice (to Sammy Angott and Sandy Saddler).

But the 1940s belonged to Sugar Ray Robinson.

Robinson turned pro on October 4, 1940, with a second-round knockout of Joe Escheverria at Madison Square Garden. He had 103 fights in the decade and lost once, to Jake LaMotta. He beat LaMotta five times.

There's no such thing as perfection in boxing, but Robinson as a welterweight came close. He won the title in 1946 with a decision over Tommy Bell and kept it until the next decade when he moved up in weight and captured the middleweight crown. Without doubt, he's the fighter of the decade.

1950-1959
Sugar Ray Robinson began the 1950s with 27 more consecutive wins including his February 14, 1951, seizure of the middleweight crown from Jake LaMotta. His record for the decade was 41 and 5, which included winning and losing the middleweight title four times. Robinson's dramatic one-punch 1957 knockout of Gene Fullmer might have been the most perfect left hook ever thrown. But Sugar Ray as a middleweight was beatable. Rocky Marciano wasn't.

Marciano turned pro in 1947 and captured the heavyweight championship with a dramatic 13th-round knockout of Jersey Joe Walcott in 1952. He didn't have the inquisitors that some champions have had. Most of the men he fought had limited skills or were great fighters past their prime. But Marciano didn't duck anyone. The great young heavyweights just weren't there to fight. And when Rocky retired in 1956, his record stood at 49 fights with 49 wins and 43 knockouts.

Archie Moore, like Marciano, won his title in 1952. But Archie was 39 at the time. He had begun his career in 1935 and was denied a title shot for far too long. Given the opportunity, he made the most of it by dethroning Joey Maxim and holding the championship for the rest of the decade. But Moore was more interested in pursuing the heavyweight crown. Indeed, he was stopped by Marciano in nine rounds in the last fight of Rocky's career.

Give Moore credit for his accomplishments, but Rocky Marciano is the fighter of the 1950s.

1960-1969
The 1960s are "no contest" as Muhammad Ali used to say.

Cassius Marcellus Clay Jr, turned pro on October 29, 1960, with a six-round decision over Tunney Hunsaker. At decade's end, he was Muhammad Ali; a gleaming symbol, unbeaten and unconquerable in his prime.

Ali's record in the 1960s was 29-and-0 with 23 knockouts. The Ali of that era would have beaten any fighter ever.

1970-1979
Ali faded in the 1970s. There were glorious victories over George Foreman in Zaire and Joe Frazier in Manila. But two other fighters, Roberto Duran and Carlos Monzon, are more deserving of consideration for fighter of the decade honors.

Duran brought savagery and power to the 135-pound ranks and redefined what a lightweight could be. He won the championship in 1972 by knocking out Ken Buchanan at Madison Square Garden. Then he avenged his only loss of the decade (a decision defeat at the hands of Esteban DeJesus) by knocking De Jesus out twice. His record for the decade was 54-1 with a 13-0 mark in championship bouts.

Monzon captured middleweight honors with a November 7, 1970, stoppage of Nino Benvenuti. Victims in his fourteen successful title defenses included Emile Griffith, Benny Briscoe, and Jose Napoles. Monzon held the crown until his retirement in 1977, and his record for the decade was 26-0 including a 15-0 mark in title bouts.

It's a close call. But Monzon's toughest opponents were smaller men who were getting on in years when he fought them. And unlike Monzon, Duran was going strong at the end of the decade. Indeed, the following year, he would temporarily wrest the welterweight crown from Sugar Ray Leonard.

Roberto Duran is the fighter of the decade.

1980-1989
This is another tough choice with five nominees: Larry Holmes, Mike Tyson, Julio Cesar Chavez, Marvin Hagler, and Sugar Ray Leonard. It's a bit like comparing apples and oranges, but let's start with Holmes and Tyson (who we'll call the oranges).

Holmes began the decade as the undisputed unappreciated heavyweight champion of the world. On October 2, 1980, he brutalized Muhammad Ali en route to an eleventh-round knockout. Two years later, he stopped Gerry Cooney in the thirteenth-round of their Las Vegas mega-fight. And there were successful title defenses against Lorenzo Zanon, Leroy Jones, Scott LeDoux, Trevor Berbick, Leon Spinks, Renaldo Snipes, Randall Cobb, Lucien Rodriquez, Tim Witherspoon, Scott Frank, Marvis Frazier, James "Bonecrusher" Smith, David Bey, and Carl Williams. Then came decision losses to Michael Spinks in 1985 and 1986.

Meanwhile, just prior to Holmes losing his crown, Mike Tyson arrived on the scene. "Iron Mike" turned pro on March 6, 1985. Twenty months later, he was the WBC heavyweight champion by virtue of a second-round annihilation of Trevor Berbick.

Tyson consolidated the belts with victories over Bonecrusher Smith and Tony Tucker. Next, he destroyed Pinklon Thomas, Tyrell Biggs, Holmes, and Tony Tubbs. Then, on June 27, 1988, he disposed of Michael Spinks in 91 seconds. Knockouts of Frank Bruno and Carl Williams followed. At decade's end, Tyson had 37 wins in 37 fights with 33 knockouts. He was Godzilla and (people were sure) would reign for a thousand years.

Now for the "apples" (Chavez, Hagler, and Leonard).

Chavez turned pro on February 5, 1980. He had 68 fights in the decade and won all of them, including title-bout triumphs over Roger Mayweather, Rocky Lockridge, Juan Laporte, and Edwin Rosario. In the process, he won titles in the junior-lightweight, lightweight, and junior-welterweight divisions.

Hagler captured middleweight honors with a third-round stoppage of Alan Minter in 1980 and successfully defended the title twelve times. Included in that run was his extraordinary third-round knockout of Thomas Hearns. He lost his title to Sugar Ray Leonard on a disputed decision in 1987.

That brings us to Leonard. Ray began the 1980s with a successful defense of his WBC welterweight title against Davey "Boy" Green. Later that year, he lost and regained the crown in memorable fights with Roberto Duran. And in 1981, he emerged victorious from a titanic struggle with a 14th-round knockout of Thomas Hearns. Thereafter, Leonard fought sporadically, with one notable moment of glory. On April 6, 1987, he beat Hagler.

If my ballot had been cast on December 31, 1989, I probably would have voted for Tyson. But in retrospect, Mike didn't fight anyone who presented as great a challenge as Leonard's most formidable inquisitors: Duran, Hearns, and Hagler. Tyson was a steamroller, but he never climbed a mountain. How good was he? Probably not as great as most of us thought he was at the time.

Thus the question: Should a "fighter of the decade" be chosen based on how the candidates were regarded at the end of the decade or with historical perspective?

Looking back, Holmes was steady; Tyson was electrifying. Hagler lost to Leonard, and Chavez was better at front-running than coming from behind. The key determining factor here is that none of the others fought big fights on a par with Leonard. Sugar Ray fought and beat everyone. He's the fighter of the decade.

1990-1999
Four men deserve consideration in this decade: Evander Holyfield , Lennox Lewis, Pernell Whitaker, and Roy Jones Jr.

Holyfield captured the heavyweight title with a second-round knockout of James "Buster" Douglas on October 25, 1990. Over the course of the decade, he won the heavyweight championship three times, defeated Riddick Bowe in their classic second match-up, and won both a glorious victory and an ugly disqualification over Mike Tyson. But in the four title defenses of his first reign, he beat two men well past their prime (George Foreman and Larry Holmes), was life-and-death against Bert Cooper, and lost to Bowe. He also lost to Michael Moorer and Bowe again and failed to win either of two closely-contested bouts against Lennox Lewis. His overall record for the decade was 13 wins, 4 losses, and 1 draw.
Lewis was 29-1-1 for the decade. His sole defeat was a second-round knockout by Oliver McCall which resulted from one punch and a premature stoppage. The draw came against Evander Holyfield and was hotly disputed. Lewis avenged both of those blemishes on his record. His other victims for the 1990s included Razor Ruddock, Tony Tucker, Frank Bruno, Tommy Morrison, Ray Mercer, and Andrew Golota. Lennox ended the millennium as boxing's last undisputed heavyweight champion, but his most dominant years came in the next decade.

Pernell Whitaker entered the 1990s as the WBC and IBF lightweight champion. He successfully defended his title six times before moving up in weight to beat Rafael Pineda for the IBF 140-pound belt. Then he journeyed to 147 pounds and decisioned Buddy McGirt twice. He also outclassed Julio Cesar Chavez in a 1993 WBC welterweight-championship bout, although the judges embarrassed themselves by calling it a draw. Whitaker had 24 fights in the decade and won all of them except for the draw against Chavez, a decision loss to Oscar De La Hoya, and lesser performances against Andrei Pestriaev and Felix Trinidad at the end of his career.

That brings us to Roy Jones Jr. Jones turned pro in 1989. He had 37 fights in the 1990s and won all of them, save for a ninth-round disqualification against Montell Griffin. In their rematch, Jones knocked Griffin out in one round. He dominated the middleweight, super-middleweight, and light-heavyweight divisions in a way that few boxers ever have. He totally outclassed some very good fighters, Bernard Hopkins and James Toney among them. And most telling, at the end of the decade, one could have asked a hundred professional fighters, "Pound-for-pound, who's the best fighter in the world?" Virtually all of them would have answered, "Roy Jones, Jr." Roy Jones is the fighter of the decade.

2000 AND BEYOND
Boxing goes on. Superstars come and go. It's too early to know who will deserve recognition as the next fighter of the decade. Bernard Hopkins is in the competition, but Floyd Mayweather Jr is coming on strong. A dominant heavyweight champion could emerge or someone like Jermain Taylor could run the table. The only thing certain is that there will be considerable debate over who should receive the honor. Everyone is entitled to an opinion.

Thomas Hauser can be reached by email at thauser@rcn.com.