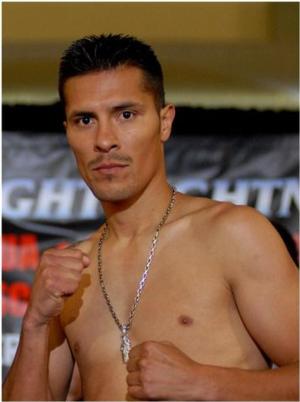 Diaz Julio pose

PRESS RELEASE-Primm, Nevada (April 13, 2010) – It is now or never for two of the junior-welterweight division's most experienced contenders as former two-time lightweight champion Julio "The Kidd" Diaz meets former title challenger Hermann Ngoudjo with potential championship implications in the balance.

The ten-round main event will headline an evening of boxing action 6 p.m. Friday, May 14. Presented by Guilty Boxing in association with Vega Boxing and Thompson Boxing Promotions, the event will be held in The Star of The Desert Arena at Buffalo Bill's Casino & Resort in Primm, Nev. and will be televised by ESPN2's Friday Night Fights.

Diaz, (36-6, 26 KOs), is no longer a "kid" at age 30, but feels he has plenty of fight left in the tank. Diaz won the lightweight world championship in 2004 by defeating Javier Jauregui by decision. After a hard-fought defeat to Jose Luis Castillo in a unification showdown, Diaz topped Jesus Chavez to recapture the title in 2007. The Coachella, Calif. resident's never-say-die mentality makes him a viable threat to anyone in the 140 pound division.

"I'm very excited for this opportunity," said Diaz. "I know Ngoudjo is a very dangerous fighter but I'm prepared to show the fans that I still belong at the top of the sport. I lost focus for a little while but I'm back on track and ready to perform."

Like Diaz, Ngoudjo is also 30 years old but with a record of (18-3, 10 KOs), he has yet to wear the crown of champion like Diaz. The native of Cameroon now residing in Montreal, Canada has come close, losing tight decisions to former champions Jose Luis Castillo, Paul Malignaggi and Juan Urango. With those experiences in the rear-view mirror, Ngoudjo's team feels he is ready to take the next step in his career to the championship level.

"This is a good opportunity for me," said Ngoudjo. "Since I lost my fight against Urango, I've had a different level of focus. I'm aware of the talent of Diaz, he's very experienced. It's going to be a great fight but I'm convinced I can beat him."

"It's a good fight for both fighters and particularly a good fight for Hermann," said Ngoudjo's promoter Yvon Michel. "He proved in his last fight he was back and I think this kind of opposition will prove it to everybody. A win could launch him right back to another world title shot."

In the co-featured bout, junior-lightweight contender Dominic Salcido of Rialto, Calif. will look to rebound from two recent defeats by the dangerous and unbeaten Guillermo Sanchez of Buffalo, NY. Salcido, (17-2, 9 KOs), was one of the sport's rising stars and is looking to get back on track. At (11-0,5 KOs), Sanchez is out to prove that Salcido has bitten off more than he can chew in his return.

Ron Sanderson, President of Vega Boxing, said he is pleased to present a night of highly-competitive boxing to the fans.

"We're very happy the way everything has come together for this show. It's been a long and drawn-out process but we were able to assemble all the pieces of the puzzle and we couldn't be happier with the end result. We look forward to providing many more events for the enjoyment of the boxing fans in the future."

"Guilty Boxing, Thompson Boxing Promotions, and ESPN's boxing program director Doug Loughrey have been wonderful to deal with and we would like to thank them for allowing our company the opportunity to put such a great boxing event together," said Denis Benoit, Director of Boxing for Vega Boxing.