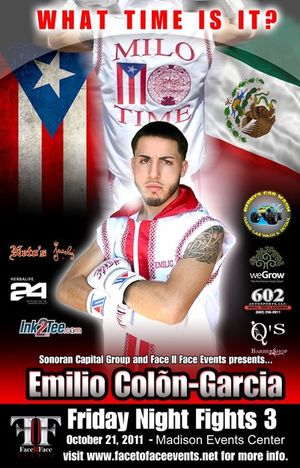 Milo Time

By Ron Valderrama: Sonoran Capital Group in association with Michelle Rosado of Face II Face Events have been busy preparing for their upcoming event at the Madison in Phoenix on October 21st.

The main event features undefeated super bantamweight Emilio "Milo Time" Colon-Garcia -vs- TBD. Garcia is looking to improve his record to 4-0. The humble Garcia has become a Valley favorite in and out of the ring and is destined to be force to be dealt with, he is trained by Andy Soto of the KO Gym.

The co-main event will showcase another up and coming star,Victor "El Nino" Castro (jr. welterweight) and is trained by longtime Valley trainer Eric Hernandez.

The undercard is highlighted by a host of top local talent that Phoenix boxing fans seem to crave. Former amateur standout and prospect at 140 lbs, Abel Ramos, who was also a 2010 USA Boxing State and Regional Champion; National Bronze Medalist; and USA -vs- Puerto Rico International Duel Champion. This kid is a hungry fighter and will face off against Ruben Gonzales.



Making his pro debut is Silver Gloves National Champion, Ritchie Guerrero. This welterweight has had just over 100 amateur fights and is ready to make his mark. Guerrero is trained by Alan Viers, whom also trains the current NABF and IBF North American Super Middleweight Champion Jesus "El Martillo" Gonzalez.

Guerrero will match up against Saul Benitez at this stellar event. The remaining undercard features Marcos Nightmare" Diaz -vs- Luis Rangel fighting in the super bantamweight division; Julio Rodas -vs- Jorge Galindo fighting in the welterweight division; and welterweight Joe Martell -vs- TBD.

As a bonus, the night will open with two top amateur bouts. The first fight features the much anticipated rematch of the 2011 fight of the Arizona Golden Gloves, Roderick Flores -vs- Freddy Cintora. The second amateur bout features Face II Face Events first ever female bout, Sulem Urbrina -vs- TBD. Ubrina was a Mexican National Representative for the America's Tournament in Brazil in 2010.

The press conference will be held at valley landmark and longtime Phoenix favorite, Macayo's Mexican Food on Thursday, Oct. 13th at 6pm.

The official weigh-in will be also there on Oct. 20th at 5pm. Tickets are selling fast but are available at any Pizza Petron in the valley, you can also visit facetofaceevents.net or call 480-788-0777 for additional information and tickets. The Madison Events Center is located at 441 W. Madison in Phoenix.

October 10, 2011