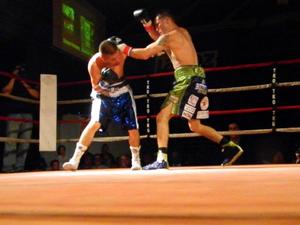 Garcia defeats Armendarez

By Ron Valderrama: Emilio "Milo-Time" Colon-Garcia defeated Miguel Armendarez Friday night at the Madison Events Center in Phoenix before a packed house of screaming boxing fans.

Garcia (super bantamweight) was the main event and seemed to have a determined look in his eyes as the opening bell sounded. He immediately went to work on his opponent with some body shots and lightning speed combinations.

Armendarez came out in round two with a couple of body shots that seemed to not even have an effect on Garcia. The crafty Garcia continued to work the body and used the ring to his advantage cutting off Armendarez and not allowing him to land any shots that would be worth anything. Round three continued with much of the same, Armendarez did land a few good shots early but Garcia answered with more body shots and an uppercut.

Armendarez did the best he could to hold off the determined Garcia but was not having much success as Garcia continued with the body shots and combinations that almost dropped Armendarez at the end of the round. Garcia began round four with his game plan and continued his assault on Armendarez, which would prove to be to much giving Garcia the victory and to the delight of the screaming fans.

After watching this fight, it is apparent that Milo-Time has become a Valley Icon. He has a big fan base (and still growing) as fans chanted "Milo-Time" after the bout. Garcia has a way of exciting the crowd and seems to have a connection with every fan and they love it. The co-main event pitted another fan favorite, Victor "El Nino" Castro taking on Carlos Luqua in a light welterweight bout that would go the distance. This was a well-balanced match as both fighters displayed some good ring skills. Luqua threw some good combinations at Castro in the first two rounds but seemed to have no effect on the patient Castro who was blocking most them.

Castro would stay busy and answer with some combinations and some strait right shots. By the third round, Castro had Luqua figured out as he began to put on a show that would school Luqua on the art of boxing. Castro worked the body with some powerful combinations that sent beads of sweat all over us at the media ringside table. Luqua did his best to hold off the determined Castro who continued to rack up points with some solid body shots.

In the end, Castro would come away with the victory leaving him 4-0, 2 KO's and his undefeated record in tact. It was a good night for Arizona boxing and FACE II FACE EVENTS. Arizona boxing has been resurrected, that was quite apparent by the reaction of the fans. The Madison is a great venue to host a fight, the seating is good and it is loud.







The Undercard:

Lightweights- Julio Rodas lost his pro debut to Michael Salcido. Both fighters came out strong in the first round; Salcido threw a hard right that would knock down Rodas. Round two was much of the same with both fighting as if it was the last round. Rodas would continue with some good combinations and Salcido delivered a stunning left that made for some exciting action. Round three continued with the same and then in round four, Salcido made his move by sending a series of combinations that would stun Rodas. The judges award the win to Salcido by split decision.

Super Flyweights- Rafael Rivera battled Jessie Ruiz in a four round bout that went the distance. Rivera would stay busy throwing some good combinations and body shots. For Ruiz it was his pro debut and he showed some great defensive skills and punching abilities but did not throw enough to score points needed to win. The judges give Rivera the win scoring the fight 39-37; 40-36 and 39-37.Ruiz has nothing to be ashamed of though, he put up a good fight and shows promise. Ruiz later told me after the fight that it was "a lot of pressure" and was sorry about the loss, "I know the fans expected more". I thought that was a class act by this kid and I hope he gets back in the ring soon to show his talents.

Welterweights- Anthony Garcia took on 34 yr old Joe Martell in a four round bout. The aging Martell told this writer at the press conference that at age 34 anything is possible if you put your mind to it. Garcia would get the better of Martell though and proved to be too much. Martell did display some good movement and had great combinations together with a killer uppercut that would have been deadly if they connected. The judges all score the fight 36-40 giving Garcia the victory.

Amateurs:

Roderick Flores defeated Freddie Cintora (138 lbs) in a rematch that did not disappoint the crowd. The action was non-stop toe-to-toe action from the first bell, with Roderick Flores getting the win.



Sulem Urbina lost her bout against Ahyanna Vasquez (114 lbs) in the first girl bout put on by FACE II FACE Events. Both fighters put on a show and gave it their all.

Photos-Courtesy Special Events Media

October 22, 2011