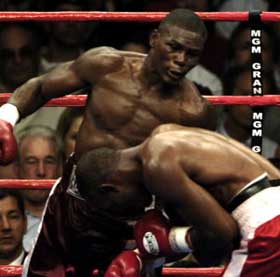 Taylor attacks - pic by Neil Abramson

By Thomas Hauser:
On August 26, 2000, Jermain Taylor witnessed a professional boxing match in person for the first time. "I had just qualified for the 2000 Olympics," he recalls. "Some guy took the entire US Olympic boxing team to Las Vegas on his private jet to see Fernando Vargas fight Ross Thompson. Vargas knocked him out. Dominick Guinn was on the undercard and knocked his opponent out too. That was special to me because Dominick and I are both from Arkansas."

"You could count the number of people in the stands when Dominick fought," Jermain continues. "The arena was almost empty. But I still remember the excitement I felt, seeing fighters with no headgear and no shirts. The whole thing was amazing to me. I asked myself, 'Am I gonna be here someday?'"

Taylor now knows the answer to that question. On July 16th, he won a split-decision victory over Bernard Hopkins at the MGM Grand in Las Vegas to capture the undisputed middleweight championship of the world.

Hopkins is one of the most forceful personalities to ever step into a boxing ring. He was born in 1965; the year that Sugar Ray Robinson retired from the sweet science. He likes to hear himself talk, and his favorite subject is Bernard Hopkins.

Boxing fans are familiar with the Hopkins saga. At age seventeen, he was sentenced to five-to-twelve years in prison for multiple street crimes. Fifty-six months later, he was released and his life began anew.

"When I got home from Graterford State Penitentiary," Hopkins reminisced earlier this year, "it wasn't like I knew I was going to be middleweight champion of the world some day. It was, I got eight years of parole and I don't ever want to go back there again."

On October 11, 1988, Hopkins weighed in at 177 pounds for his first professional fight and lost a four-round decision to Clinton Mitchell, who was also making his pro debut. "I wanted that fight to keep my mind off being on the streets," Bernard says. "I got my ass kicked, but I didn't get knocked out. After that, I took fifteen months off. I stopped training, never went to the gym, and blew up to 185 pounds. The only jobs I could get were off the books. I worked as a roofer for two hundred dollars a week. I got a job in the kitchen of the Penn Tower, polishing brass, scrubbing the floor, doing everything I was asked to do. Then new management came in and decided to do things by the book, and I got fired because they found out I was a convicted felon. And the whole time, I'm seeing a parole officer and pissing in a bottle to make sure I'm clean. I could have said, 'Fuck everything; I can't win; I'm going back to the streets.' I had a lot of options to do wrong, but I didn't want to be Y4145 [his prison number] again. And then I met a guy who knew a guy named Bouie Fisher."

When Hopkins met Fisher, to use his own words, "My record was zero and one; I was a loser." With Fisher as his trainer, he would become boxing's reigning pound-for-pound champion; a man with twenty consecutive successful title defenses, undefeated over a span of twelve years.

Hopkins is a fighter with no visible weaknesses. In the ring, he gives the impression of being as inexorable as a force of nature. At age forty, he challenges the proverb that time and tide wait for no man. He has a credo: Never get soft, mentally or physically. Not for a moment; and certainly not for a day.

Often, the public hears a fighter say, "I'm in the best shape of my life," and then watches as the fighter comes into the ring physically unprepared for battle. That never happens with Hopkins. Over the years, he has maintained his body through a mix of extraordinary discipline and hard work. He knows anatomy; his own and that of his opponent. He has turned himself into a finely-honed precision weapon.

Hopkins breaks his opponents down physically and mentally. "I'm in the fight business," he says. "While the fight's going on, the fight business is not about, 'Are you okay? Are you all right? Did I hit you too hard? Oh, I'm sorry I hit you in the ribs.' It's legal to hit a guy in the Adam's apple. A shoulder can be hit. Trust me; whatever limb you give me, I'm punching it."

Hopkins carries an aura of menace into the ring with him like an impregnable shield. By his conduct, he says, "I'm going to fight you for twelve rounds. If you beat me, it won't be by luck. You'll have to prove that you're a better fighter than I am, and I'll do anything to win."

But a mean streak only helps a fighter if he has the skills to go with it. Mind games only work if a fighter can back them up with his fists. Hopkins has the tools of a great fighter.

No boxer's defense is "impenetrable" but Bernard's comes close. One shouldn't confuse his ring style with his aggressive "executioner" persona. Hopkins is a smart conservative boxer who adheres to the view that, in boxing, every fight, every move, everything is a gamble.

"I'm not a guy who comes to blast you out of there," Hopkins says. "I've never considered myself a one-punch knockout artist. I'm more of a technician. I take my time. I dissect. Eventually, I'll get rid of you or beat you up."

Hopkins's superb defensive skills allow him to dictate the pace of his fights. He's often out of punching range; and any fighter who forces him to engage is skating on thin ice. Yes, Bernard might get tired if required to exchange punches for three minutes of every round, but so will his opponent. And his opponent will get hit a lot.

Bernard doesn't "execute" each of his foes; but almost always, he methodically tortures them. Thus it was that, earlier this year, Patrick Kehoe wrote, "No one has been able to stand up to Hopkins. Bending only leads to breaking. Toughing it out has been a prescription for a beating. Attempt to wage an insurgent strike and you are overwhelmed. Fight the smart fight and you are mastered. Rough up Hopkins and you are mugged. Speed is met with deception; strength with nimble endurance. In the face of passionate desire, he delivers waves of rage."

Nor is that rage limited to physical combat. The paradox of Bernard Hopkins is that there are times when he's articulate and charming. But too often, those times give way to something ugly.

Hopkins appears to approach all of his dealings in boxing as though they were street confrontations. He is vicious in and out of the ring. "Hopkins has made war upon us all," Kehoe continues. "He has no other persona. We don't suspect there's another personality lurking, something more tempered, reasonable, or mature."

Fighters leave promoters all the time. But on numerous occasions, Hopkins has left more bitterness than the norm in his wake. "Bernard Hopkins is a master villain," says Don King. "His villainy exceeds anything good in him. How do you spell 'difficult'?" King proclaims. "B-E-R-N-A-R-D. How do you spell 'problem'? H-O-P-K-I-N-S."

King, of course, carries his own baggage. But the truth is, a lot of people who have done business with Hopkins despise him. At one point, even Bouie Fisher (with whom Bernard has now reconciled) sued him. Hopkins, in turn, wants people to respect him. Whether they like him or not is of secondary importance. He seems to adhere to the view that no one's needs and desires matter except for his own. "I am who I am," he says. "If you forget the personal stuff and just look at me as an athlete, you'd be a fool not to respect me."

Jermain Taylor is the antithesis of Hopkins. The 26-year-old native of Little Rock, Arkansas, is immensely likeable with a wholesome gentle quality about him. He's down-to-earth, unfailingly polite, and good looking. "Jermain Taylor has charisma," says HBO's Larry Merchant. "There's something about his look and bearing that gets your attention."

Taylor's father abandoned the family when Jermain was five, leaving Jermain, his mother, and three younger sisters behind. The children were raised in large part by their maternal grandmother, who was murdered by her own son (Jermain's uncle) seven years ago.

"He had a bad drug problem," Jermain says sadly. "He wanted money and she wouldn't give it to him, so he cut her throat and then killed himself. I was at the Good Will Games when it happened. They told me about it when I got home. I heard what they were saying, but it wasn't real. Then I went into her bedroom. There was blood all over the sheets, all over the floor, and I realized that what they were saying was true. I'd won a bronze medal at the games and, at the funeral, I put it in her casket. I wish I could see my grandmother now and share with her all the good things that have happened since then."

"Jermain grew up in a neighborhood where there was violence all the time," says police detective Dennis Moore, who has known Taylor since Jermain was in sixth grade and now travels to fights with him. "He needed someone to show him a better side of life from what he was seeing."

The man who stepped into the breach to do just that was Ozell Nelson.

"I had a cousin who boxed," Jermain remembers. "One day, he took me to the gym with him. "It was a while before my mother would let me box; but once she did, nothing deterred me. Ozell was my coach. The first time I sparred, it was with his son and he beat the crap out of me. But six months later, I was beating him with one hand."

Nelson became a stabilizing force and father figure in Taylor's life. "He was a scraggly little kid the first time I saw him," Ozell recalls. "He didn't look any different from any other kid who comes in. But when he started sparring, you could see that he had a lot of heart. When you meet a young man at that age, you never know how he'll turn out. But Jermain turned out just fine; better than fine."

Fighting as an amateur, Taylor won National Golden Gloves championships at 156 pounds in 1998 and 1999 and was a 156-pound bronze-medalist at the 2000 Olympics. Looking back on those days, he says, "In the amateurs, I was ignored most of the time because I come from Arkansas. I was skipped over a lot when boxers were chosen for teams that went to tournaments because Arkansas is small and doesn't have much boxing. Then I started winning national tournaments and it was like, "Wow! Look at Jermain."

Taylor today is happily married to Erica Smith-Taylor. Like her husband, Erica is an accomplished athlete, having starred for the Louisiana Tech basketball team. Recently, she was drafted in the second round (the 19th overall pick) of the WNBA draft by the Washington Mystics. Rather than play pro ball, she is staying home to care for the couple's seven-month-old daughter, Nia Jay.

"My wife changed my whole view of women's sports," Jermain acknowledges. "We play one-on-one, and I can't stop her. The first time, she wanted this outfit and I said, 'I'll play you for it.' She beat me 10-6. Then we played again and she beat me again. I still haven't beaten her. And I'm walking around, saying, 'Damn! I can't beat my own wife in basketball.'"

"Family is very important to me," Jermain continues. "I'm not a flashy guy. I think I'm a nice person. A fighter has to have meanness, killer instinct. It has to be born in you. It can't be taught. If you don't have it, you're in the wrong sport. But I'll beat the hell out of you in the ring and then take you out for dinner. People say I've had a hard life that could have made me ugly, but who hasn't had problems. Everybody's been through something."

Enter Bernard Hopkins.

Hopkins and Taylor had been on each other's radar screen for several years. Bernard was the undisputed middleweight champion, and Jermain was seen by many as his heir apparent. In spring 2004, Hopkins appeared as a studio co-host on ESPN2 Friday Night Fights and dismissed Taylor's boxing skills. More specifically, he said that Jermain cocks his right hand when throwing his jab, leaving himself vulnerable to left-hook counterpunches.

"I don't worry about what Bernard says," Jermain stated afterward. "I know what I do. And when I do it, I'm in a safety zone. In fact, when I heard Bernard talking, I was like, 'Wow! He's talking about me; he's thinking about me.' That made me feel good."

Then Taylor had added. "It's important to me to fight Bernard Hopkins. Bernard is a great fighter and a real champion. I take nothing away from him. He earned what he has the hard way, and I honor him for that. But if I don't fight him, it will always be in people's minds, 'Well, he didn't beat Bernard Hopkins, so he's not a real champion.' So I see Bernard as my opportunity to make a name for myself. Someday, I'm gonna beat him. I won't put a timetable on it, but my time will come. And I'll be disappointed if Bernard isn't there when I'm ready for that level of competition, but I got a feeling he'll still be on top."

Hopkins-Taylor was a hard fight to make. There were other opponents Bernard could have fought for just as much money as Jermain. The negotiations were long and acrimonious. In the end, though, a deal was struck. One can speculate regarding Hopkins's motivation. But most likely, two factors were involved. First, Bernard wanted to wipe out Taylor as a cloud on his legacy. Had he ducked Jermain, each time their paths crossed in the future, Taylor would have known that Hopkins was afraid to fight him. And second, many people feel that Bernard took the fight to hurt Taylor's promoter, Lou DiBella, whom he despises. If so, it was Hopkins's hatred for DiBella that brought him down.

The early odds were 2-to-1 in the champion's favor, reflecting both Bernard's greatness and doubts regarding Jermain's seasoning as a fighter. Yes, Taylor was undefeated, but he had yet to step into the ring against an elite opponent. The best he had faced was a faded William Joppy. And Hopkins was in the habit of administering first-time defeats to the likes of Felix Trinidad and Glencoffe Johnson.

As for Bernard's age, trainer Bouie Fisher opined, "When it comes to boxing, Bernard isn't old; he's old school. There's a difference. You can see a lot of things with old eyes if you've been around boxing a while. Young eyes aren't always as good."

And Hopkins declared, ""Experience is more important than youth in all walks of life. Any young guy can get his driver's license, but that doesn't make him a good driver. My thing is, whatever Jermain Taylor will do, I can do better. I'm the better fighter; I'm the better athlete; and I'm the more experienced athlete. Come July 16th, I'm going to show that Bernard Hopkins is not here by any accident. Bernard Hopkins is not here by any fluke or any favors from the industry of boxing. I've been here twenty times. I know the sound of, 'This is for the undisputed middleweight championship of the world.' There's fifteen thousand people in the arena screaming. You're not in Little Rock, Arkansas; you're not in your hometown. You're not fighting a five-eight, five-nine small guy who you can bully. This is a different ballgame, dude. In forty-nine fights, I've never been cut. Bruises, yes; and my nose don't look the same. But I've never been cut. I know Jermain had to grow up quick and become a man before he was one. I respect Jermain for what he had to do to get where he is. He has the talent to take my place one day. One day. But not now; not against me. When he loses to Bernard Hopkins, twenty other guys will say, 'Hey, don't feel bad. We got beat too.'"

But Taylor's partisans were equally optimistic. They felt that, in recent years, Hopkins had been relying heavily on intimidation and bravado against fighters who were either too small (like Oscar De La Hoya) or simply not very good (e.g. Carl Daniels, Morrade Hakkar, and Robert Allen). The Trinidad fight, they noted, took place four years ago. And they believed in Jermain.

Taylor shared their confidence. "I'm ready," he proclaimed. "Hard work pays off, and it's paying off for me now. I put my time in. I've been boxing since I was twelve years old. I've got some good boxing experience myself. I fought the guys I needed to fight. I'm right on schedule. It's time for me to put up or shut up. I love a good challenge. Either I'm good or I'm not. It's my time now."

As for his opponent, Jermain declared, "I have to give respect where it's due, and Bernard deserves it. He does have a lot of professional experience, and I respect that. If you let him set the pace of a fight, he'll pick you apart; but I'm not gonna let him do it. Whatever he does, I can adapt. If he wants to box, I'll box. If he wants to brawl, I'll brawl. I won't do anything fancy; just go in the ring and take care of business. I wish he was thirty, because I'd beat him then too."

Still, one thing was very clear. Talk of Taylor as the successor to Bernard Hopkins was theory, not fact. And after the fight, win or lose, Jermain would no longer be a rising star. Either he would be the undisputed middleweight champion of the world or just another name on Bernard Hopkins's ring record.

Meanwhile, as July 16th approached, Hopkins-Taylor was catching on within the boxing community. In the ring, Bernard is an all-time great, but he has never been an all-time attraction. It aggravates him to hear people say that Philadelphia hasn't had a champion in a major sport since the Philadelphia 76ers won the NBA title in 1983. "What about me?" he asks.

But Hopkins-Taylor was selling well. Advance pay-per-view buys were ahead of expectations. Ultimately, HBO would report 350,000 purchases. And after a slow start, tickets were moving. A lot of that was attributable to Taylor. Best estimates were that 4,000 fans were making their way across the continent from Arkansas to Las Vegas. But Hopkins deserved credit as half of a great match-up between two distinct personalities at the highest level of the sport. This was boxing at its best.

There's something special about the week of a big fight, and this one was no exception. The final pre-fight press conference was held on Wednesday, July 13th. Hopkins seemed to be looking past Taylor as he talked about moving up in weight to fight Antonio Tarver or Roy Jones next.

"I'm forty, but I'm the youngest forty you've ever seen," he said. "In the last ten years, I haven't even had a fight that was considered close. I've been in the ring with Roy Jones, Oscar De La Hoya, Glencoffe Johnson, Felix Trinidad. Who has Jermain Taylor been in with? Jermain Taylor says I'm not going to show him anything he hasn't seen before. But Jermain Taylor doesn't know what he's getting into. Seeing and experiencing are two different things. I had fifteen world championship fights before Jermain Taylor turned pro. When you got twenty championship defenses and you've been undefeated since 1993 and you've heard twenty fighters, trainers, and managers say the same thing, it's hard to convince me at a press conference that I got a problem."

Hopkins also chose to comment on Taylor's persona, saying, "Jermain Taylor and I are both African-Americans but that's where the similarity ends." A mocking appraisal followed, highlighted by, "Jermain uses words like 'golly gee.' That's not my style."

"As a child, I had a real bad speech problem," Taylor said when it was his turn to talk. "I stuttered a lot. I still do it some, so it's hard enough for me to talk without trying to talk trash. Bernard Hopkins might outtalk me, but I'm gonna outfight him. I want to be number one; and now that I got that chance, I'm gonna take it. I'm a lot faster than Bernard; faster and a lot stronger. However he brings it, I'm going to take it to him. I know how Bernard fights. If he wants to make it a dirty fight, then it's going to be a dirty fight because I ain't backing down from nobody. My time is now, and Bernard is ready for the taking. There's been a lot of ups and downs in my life, a lot of hurt. I've had to step up to the plate when it wasn't my time. All that has prepared me for this moment. This is what I've wanted since I first started boxing. I'm not just coming to fight. I'm coming to win."

Still, anyone can say anything in boxing. Fighters have to prove the truth of their words with their fists. Taylor was relaxed all week, confident and looking forward to Saturday night. But there are things that a fighter can't prepare for in his head or in the gym. He has to experience them in fights. Jermain had never encountered real trouble in the ring as a pro. And at some point during the fight, no matter how it went, he could expect real trouble from Hopkins.

Knowing how Bernard fights and being able to deal with it are two vastly different things. The man who was primarily responsible for giving Jermain the necessary tools and preparing him for battle was his trainer, Pat Burns.

Burns was born and raised in Miami, where he has lived for virtually all of his 55 years. A self-described "family man" who goes to mass every Sunday, he served from 1972 through 1995 as a detective, an undercover officer, and with special units of the Miami police department. "You name it, I did it," he says.

After the 1980 riots, Burns was asked by the department to start a Police Athletic League boxing program for inner-city youths. Soon, he was accompanying fighters to international matches. In 1992 and 1996, he was one of the coaches for the United States Olympic boxing team. There's one experience in his life that he doesn't talk about much. In 1968, he was a marine in Vietnam and "got blown up pretty good; shrapnel and gunfire; spent a year in the hospital."

Thus, Burns said of Hopkins-Taylor, "This isn't Vietnam or being a police officer. It's a prize-fight. No one is getting killed here."

Burns has guided Taylor from his first day as a professional fighter. "At the beginning, my relationship with Jermain was very autocratic," he recalls. "When I first saw him, he was fast and strong but his technique wasn't what it could have been. The potential for growth was there. But it was clear that, to be a great professional, he was going to have to channel his wildness. Now Jermain is in his fifth year as a professional and he's earned my full respect for his views. A lot of guys are determined on the night of a fight, but Jermain has the everyday work ethic to back up his determination. He has a determination to win and also the willingness to do what it takes to achieve his goals."

But the relationship between teacher and student got off to an unusual start. "When a fighter turns pro," Burns says, "you sit him down and tell him, 'Okay; everything they told you that you couldn't do as an amateur -- hold, bump, push, spin, use your shoulders -- you have to do now as a pro. And there were some other issues."

Such as?

"When I first met Pat," Jermain offers, "I thought he was crazy."

Because?

"One day, I was tired and slacked off in the gym. There was this lizard on the ground, about six inches long. Pat picked it up and . . . Ugh!"

"Jermain was training for his first pro fight," Burns recalls, picking up the story. "He was showing some fatigue, and I wanted him to understand that he was expected to maintain a new level of intensity if he was going to be a professional fighter. So I told him, 'When a lizard gets in a fight, there's no quit in it.'"

Then Burns bit the head off the lizard.

Jermain's eyes grew wide.

Burns spit the lizard's head out of his mouth and held out the still-squirming body.

"Oh, my God," Jermain blurted out.

Burns came closer, waving the decapitated lizard.

Jermain took several steps back. "Oh, my God," he said again.

Then the man, who five years later would challenge Bernard Hopkins for the undisputed middleweight championship of the world, turned and ran out of the gym. He returned several minutes later, but only to look in through the door.

"It's safe," someone told him. "The lizard is in the garbage."

The lesson had been learned. Professional boxing is a cold hard brutal world where only the strong survive. Right and wrong don't matter. Your opponent will do anything and everything to win. You will have to be prepared to do the same. If you can't be like this in the ring, get out now.

Burns readied Taylor for the Hopkins fight the same way he'd prepared him twenty-three times before. "If we started doing things differently now," the trainer explained, "Jermain would question everything we've done in the past. Besides, if it ain't broke, don't fix it."

"We expect Bernard to fight this fight like every other fight because he thinks Jermain is just another young kid," Burns continued. "Bernard fights one minute a round and cons you the other two. If you let him come out of the gate with a lead, playing catch-up is a problem. To beat him, you have to press the action, set a fast pace, and tire him out. That's easier said than done, but it has to be done."

"I expect Jermain to control the pace of the fight with his jab," the trainer elaborated. "Every fighter who ever lived had trouble with an opponent who has a good jab. Yes, Jermain drags his right hand when he throws a jab. So let Bernard eat that jab and try to counter. Jermain's jab is too fast and too strong for Bernard. Let them each throw five jabs, and we'll see who takes a step back."

"I've never seen a fighter who makes adjustments during a fight as well as Bernard," Burns acknowledged. That means Jermain is going to get hit. But we'll see who gets hit more often and harder. Think of a man who walks down the street every day past a fence with a pit bull behind it. If the man just walks on by, he's fine. But if he kicks the fence every day, one day the pit bull is going to come over the fence and bite him hard. Bernard is kicking the fence with Jermain. Jermain has nothing personal against Bernard and he respects him as a fighter. But Jermain is going to hurt Bernard. Jermain matches up well against Bernard, physically and mentally, and he can go down in the basement and get nasty if he has to."

Burns's face turned deadly serious.

"And one thing more. Listen to me. Look at me, because what I'm about to tell you is very important. Jermain will not be intimidated by Bernard Hopkins. There is no intimidation factor here at all. Zero. None."

That proposition had its first test on Friday. The day began with HBO conducting its usual meeting with each of the fighters who would be on the pay-per-view telecast. At 11:00 AM, Jim Lampley, Larry Merchant, Emanuel Steward, and the other major players on the HBO production team met with Hopkins in Studio 3 adjacent to the arena. Hopkins began by complaining that he didn't get proper respect from HBO and criticizing Merchant for on-air comments about Mike Tyson that the analyst had made the previous month. Then Bernard aimed his venom at Emanuel Steward, who had predicted earlier in the week that Taylor would beat him. That tirade, according to several persons present, began with the declaration that Hopkins would have beaten any of Steward's past middleweights and quickly turned personal with Bernard likening Emanuel to Sammy Davis Jr.

Then the unexpected happened.

Merchant stood up, glared across the table at Hopkins, and said, "Fuck you. I'm not going to sit here and let you insult my colleague."

That led to a louder "fuck you" in return, at which point Merchant, Steward, Lampley, producer Tom Odelfelt, and director Marc Payton walked out of the room.

"Bernard wants to sit there and say anything he wants about anybody without anything coming back at him," Lampley said later. "But the world doesn't work that way."

"I came to Las Vegas to see a fight; not to be in one," Merchant added.

Then came an uglier, more serious confrontation. Hopkins, as previously noted, despises Lou DiBella, and the feeling is mutual. Two years ago, DiBella won a $610,000 libel judgment against Bernard that was affirmed on appeal. Fight fans don't care who promotes or manages a fighter. They're interested in what goes on in the ring. But Bernard had made his hatred for DiBella a subplot to Hopkins-Taylor.

Two months before the fight, Pat Burns acknowledged, "Jermain and I have already discussed the fact that Bernard will try to get at him through Lou in a way that creates doubt in his mind and causes distractions. Jermain is ready for that. In fact, he's looking forward to it. It will break the monotony."

Taylor, for his part, had said simply, "It's not between Bernard and Lou. He's not fighting Lou. He's fighting me."

Still, the Hopkins assault continued unabated. "I take all fights personal," Bernard said in the days leading up to the fight. "But this one's extremely personal. It's a fight that motivates me more than any fight I ever fought. This ain't no lawyer stuff. In this fight, there's no objections; there ain't no overruling. I am the judge, the jury, and the executioner. I'm not going to act like Jermain's even in there. It's not even important that he's in there, because it won't be his face I'm seeing. I will win, must win, and there's no other way that I'm looking at it. I cannot and will not lose this fight. I'd rather be carried out on a stretcher than lose this fight to [Lou DiBella] and give him a day in the sun. Everybody in their lifetime has the experience where they want to get revenge. That's my motivation. I can't hit [DiBella]. He would love for me to do that. He would love for me to lose my temper and clock him upside the head in front of thirty, forty reporters. I'm too smart for that. But how fortunate Bernard Hopkins is that God gave me somebody who just happens to be the only bankroll that [DiBella] has in his portfolio. This is a great country, where I can go in a ring and do something I love to do and actually assault somebody and got a personal reason why I want to clock this guy. Jermain Taylor is going to pay the price for what I feel in my heart. Jermain Taylor is gonna be the whupping boy of my controlled frustrations. Jermain Taylor is the closest guy I can go ahead and physically hurt and physically beat up without going to jail."

At the final pre-fight press conference, for good measure, Hopkins proclaimed that beating DiBella's fighter would be "like a second erection."

By this time, Hopkins and DiBella were adversaries whose hatred for one another was bubbling over. But while one man seemed to be thriving on the confrontation, the other was sickened by it. DiBella was sinking into depression. Hopkins-Taylor had become an agonizing experience. Bernard had gotten inside him like some kind of food poisoning that he couldn't expurgate from his system.

One day before the fight, at the fighter weigh-in, the ugliness burgeoned uncontrollably over the line. Outside, the heat was blistering with the temperature topping 110 degrees. Taylor entered the MGM Grand Garden Arena and stepped on the scale. The crowd roared. Perfect weight, 160 pounds. Hopkins followed to a chorus of boos, while DiBella stood near the back of the platform, gesturing with both thumbs down.

"Bernard Hopkins, 160 pounds."

"Face off the fighters," someone instructed.

But instead of moving to a staredown with Jermain, Bernard approached DiBella. Hopkins knows how to place his punches in and out of the ring. In both venues, he has been known to go low. Twelve years ago, after being disabled in a skiing accident, DiBella's brother had committed suicide. DiBella had shared that information with Hopkins in earlier years when the fighter and promoter had been friends. Now --

"You're going to kill yourself tomorrow night," DiBella says Hopkins told him. "It's the end of your life tomorrow night. You know about people killing themselves. You'll slit your throat or take pills and not wake up on Sunday morning."

Then Hopkins moved toward Taylor, who was tieing his shoes, and stood over him. "You're a puppet," Bernard sneered.

Taylor stood up and the two men were nose-to-nose with perhaps two inches between them.

"I ain't no one's puppet, you ugly motherfucker."

They stood that way, jawing at one another, until calmer heads separated them.

Afterward, Jermain was pleased with the confrontation. "There was a whole lot of motherfucking going on," he said on the way back to his hotel room. "Bernard got in my face, and my first reaction was to step back had throw an uppercut. I got two sides. I'll beat him in a street fight too. Man, we were so close, our lips were almost kissing. I said to myself, 'This won't look good to my wife.'"

"Bernard is trying to get his courage up; that's all," Pat Burns offered. "Some guys drink to get that liquid courage. Some guys do it like this."

"Some people need anger management," Jermain responded. "I don't mind smack-talking, but this went to far. I like Lou, and I don't like what that ugly motherfucker is doing to him."

Jermain Taylor would safeguard Lou DiBella's back again the following night in the ring when it counted most.

On Saturday morning (the day of the fight), Jermain rose at 5:30 and went downstairs with Burns for a second weigh-in. Under the rules of the International Boxing Federation (one of the organizations sanctioning the fight), neither fighter could exceed 170 pounds the morning after the official weigh-in.

The IBF weigh-in was scheduled for 6:00 AM. With a representative of the Hopkins camp already present, Jermain got on the scale ten minutes early. 168 pounds. Burns and Taylor didn't bother to wait for Hopkins. "He'll be on weight," Pat explained later. "And we wanted to send a message. It doesn't matter what he weighs. Jermain will beat him." Then Burns and Taylor ate breakfast. At 6:40, Jermain went back to sleep and Pat turned his attention to credentials, tickets, and other details.

Burns is meticulously organized. "Hard work is crucial for a trainer too," he explains. "If the trainer is lazy, it rubs off on the fighter. A lot of my work takes place outside the gym. I break down hours of tape, but that's just the start of it. I know the rules. I'm always running different scenarios through my mind, from the ring collapsing to some guy flying in on a parachute. I make sure that everything is done right, from medical tests to plane and hotel reservations. I'm very organized. It's important to me that every 'i' is dotted and every 't' is crossed. Jermain is not going to lose a fight because of some little thing that I didn't do during the fight, the day of the fight, or a month before the fight. Attention to every detail is crucial."

At 1:15 PM, Burns went to the arena with his brother Joey to check out the ring. Carefully, he examined the canvas, ropes, turnbuckles, and view from the corner. He even stood on the Nevada State Athletic Commission table set against the ring apron to see if it would support his weight should it be necessary to stand on it. Then he went to the dressing room to determine how much space would be available for Jermain's preparation in the two hours before the fight. The heating was of particular concern to him. Las Vegas is heavily air-conditioned. Burns wanted the dressing room at 85 degrees. Seventy-two degrees was the norm.

"We can do eighty," a maintenance supervisor told him. "I'm not sure about the other five."

Five hours later, Burns had a heater in the dressing room to make up the difference.

Meanwhile, Jermain slept until 12:30. Then he showered and dressed. Most fighters spend the afternoon of a big fight in their room. At 2:15, Jermain went downstairs for a boisterous pre-fight meal. Two dozen family members and friends from Little Rock had gathered at Wolfgang Puck.

"Why are you eating here instead of in Jermain's room?" Burns was asked.

"Look at him," Burns answered, nodding toward Jermain, who was laughing and talking animatedly. "We've done it this way twenty-three times before. You do what works."

The mood was akin to a holiday family dinner. Jermain and Erica began talking about their most recent confrontation on the basketball court.

"Tell the truth," Jermain prodded. "It was close."

"It wasn't close."

"Yes, it was."

"Ten-six isn't close," Erica countered.

"It was ten-eight. And the only reason you won was because, when I was ahead, you started trash-talking and fouling and throwing elbows, and I was too much of a gentleman to hit you back."

"You did too foul me."

"No, I didn't. I touch you once and it's 'Jermain, why are you fouling?'"

Then the conversation turned to the fight.

"Hopkins thinks he can scare me with that look," Jermain proclaimed. "But he ain't never been looked at by my mother." There were gales of laughter. Jermain blew a kiss toward his mother, who was seated at the far end of the table. "When I was little, if I did wrong, that look was scarey. Bernard's look ain't nothing compared to that."

People talk about a big fight atmosphere and how it can freeze a fighter. But the spotlight had been on Jermain since his Olympic days, so that was old news to him. The pressure would come from getting in the ring with a great fighter who was favored to beat him.

"This reminds me of my first pro fight, against Chris Walsh at Madison Square Garden," Jermain said. "It's something new, stepping things up to the next level."

"Every time you hit Bernard," he was told, "there's going to be four thousand people in the stands who holler 'golly gee!'"

Evander Holyfield, who had travelled to Las Vegas for the fight, came by to say hello and was asked about the match-up. "Jermain is ready," Evander said. "This reminds me of my first fight against Dwight Muhammad Qawi. Bernard has the same mindset as Qawi, but I don't think Jermain will be intimidated. No one can intimidate anyone else. It's all about how a person feels about himself."

"I'm tired of Hopkins getting in my face and talking bad about Arkansas," Jermain added. "But I don't worry about all the hoopla and trash-talking. I'm just here to get a job done. All my life, I've had this in me, and tonight it's gonna come out."

Jermain finished his meal of grilled chicken and pasta. Then, at 3:30, he went back to his room.


Shortly after 6:00 PM, wearing a gray T-shirt and black warm-up pants with a gray stripe down each side, Taylor arrived at his dressing room. The MGM Grand Garden Arena was beginning to fill up. At the sports book, Hopkins was still favored but the odds had dropped to 3-to-2. That reflected the view that Jermain was as good as anyone Bernard had ever fought with the exception of Roy Jones and, possibly, Felix Trinidad.

Jermain sat quietly on the sofa beside Pat Burns and watched as Vernon Forrest dismantled Sergio Rios on the large television screen in front of him. Dennis Moore stood guard by the door. Cutman Ray Rodgers was readying the tools of his trade. Ozell Nelson, Dan Lowry (who ran the gym in Little Rock where Ozell first trained Jermain), and Joey Burns joined them. So did Pat's 12-year-old son, Ryan. Well-wishers came and went.

At 6:30, Burns closed the door to all but essential personnel. Five minutes later, referee Jay Nady came in to give the pre-fight instructions. The Taylor camp was happy with the choice of Nady as the referee. He was a big no-nonsense guy who ran a tight ship and, it was hoped, would keep fouling to a minimum. "This is for every belt that I know of," Nady began. The pro forma instructions followed.

At 6:55, Ozell Nelson went to Hopkins's dressing room to oversee the champion's hands being wrapped. While he was gone, Naseem Richardson (a Hopkins second) watched Pat Burns do the same with Jermain. At 7:20, the taping was done. "Except for the commission inspector," Burns said, "all cell phones off, please."

Everything in the dressing room was relaxed, business-like, and low-key according to plan. There was no music. The temperature was 85 degrees.

Jermain put on his University-of-Arkansas-red trunks. Lou DiBella came in and sat on a chair in the corner. "I don't know that Jermain is going to win," DiBella had said earlier in the day. "I do know that Bernard is in for a long hard night." DiBella looked relatively calm, but his words belied that belief. "It feels like my whole life is bet on this fight," he said.

Jermain went into an ante-room the size of a small boxing ring with a carpeted floor and cinderblock walls. Under the watchful eye of Burns and training assistant Eduardo Martinez, he began to shadow-box, work the pads, and break a sweat.

At 7:45, Naseem Richardson returned and Jermain gloved up. Once a fighter has his gloves on, he can punch but he can't do much else.

Taylor, Burns, and Martinez went back into the ante-room. Work resumed on an intensified level, with Burns giving advice in a reassuring yet authoritative voice.

"Make sure your feet and hands work together . . . He won't be able to stop the jab. The moment you sense he's trying to counter the jab with a jab, double up . . . The last fifteen seconds of each round, you'll have already won it and he'll try to steal it. Don't give up anything cheap . . . Punch him anywhere you can . . . Speed kills. If he's doing forty, you do sixty. If he's doing sixty, you do eighty . . . Don't let the crowd influence you . . . If he gets in a rhythm, go in with a forearm and push him out of it . . . I'm looking for at least twenty-five jabs a round. Pick him apart. That's how you dominate."

At 8:12, the final preliminary fight ended. Jermain started hitting the pads with greater intensity. "He's sharp," Burns said. "We're bringing back a world champion."

Everyone in a fighter's camp believes; particularly when the fighter is young and undefeated. But Jermain would be facing a man who hadn't lost a fight in twelve years.

"Two minutes thirty seconds, and then you walk," HBO production coordinator Tami Cotel instructed.

"Everybody do their job," Burns said.

And so it would be. Two men in the ring. One filled with hate and anger; the other with a joy for life. Urban versus country, enforcer versus protector, nasty versus nice. But in the coming hour, none of that would matter. In real life, sometimes the bad guy wins, the good guy loses the girl, and the hero dies of cancer.

It was a pro-Taylor crowd. That was evident from the roar of approval that resounded when Jermain entered the arena. 11,992 fans were in attendance. One-third of them had come from Arkansas, Two minutes later, Hopkins made his way to the ring. Michael Buffer introduced the fighters. The bell for round one sounded. One could imagine the voice in Jermain's head: "I'm in the ring with a great fighter. Now is the time to find out if I'm a great fighter too."

The early rounds belonged to Taylor. Hopkins goes through the early stages of a fight cautiously. Jermain advanced behind his jab, while Bernard slowed the pace by retreating and keeping his right hand cocked to discourage forays by the challenger. Forty seconds into round two, a chopping overhand right followed by a left hook caused the champion to fall back and downward against the ropes. Some thought it should have been called a knockdown. Jay Nady let the moment pass.

Taylor was faster. Hopkins minimized the number of encounters by moving around the ring and did his best work while punching out of clinches with sharp punishing blows. Bernard is supreme on the inside. That was where he was expected to do the most damage.

Fifty seconds into round five, the fighters clashed heads and an ugly wound pierced Taylor's scalp just above the hairline to the bone. Blood flowed freely and would for much of the night. Jermain had only been cut once before in a professional fight. Blood can undermine a fighter's confidence, and some ring judges score blood more than they should.

Bernard Hopkins, it has been said, takes away his opponent's fight plan. Then he implements his own. Jermain expended a lot of energy chasing Hopkins around the ring and throwing sometimes-wild punches. In round nine, he seemed to tire and the roles of predator and prey were reversed. The champion began his assault. A right hand hurt Taylor in round ten. More punishing blows followed. Round eleven was more of the same. Now Hopkins's fists were doing his talking for him. That one hurt, didn't it, Jermain?

Then came a moment that will forever define the career of each fighter. There was a minute left in round eleven. The momentum was all with Hopkins. Taylor was backed against the ropes, in trouble. Hopkins landed a big right hand. And in his darkest moment, Jermain summoned the strength to fire three hard shots with lightning speed into Bernard's body. Rather than engage, Hopkins stepped back. No one knew it at the time, but that was when Jermain Taylor established himself as a champion.

"We have a split decision," ring announcer Michael Buffer told the crowd when the fight was over.

Twelve thousand people held their breath as the final moments of the drama unfolded.

116-112 for Hopkins.

115-113 for Taylor

And 115-113 "for the NEW undisputed middleweight champion of the world, the pride of Little Rock, Arkansas, Jermain Taylor."

In the aftermath of the fight, Hopkins showed a conspicuous lack of grace. "This is a situation where I won and they gave it to the other guy," he said.

Hopkins partisans focused on two issues. First, they claimed, this was an extremely close fight and close fights should go to the champion. But that school of thought was debunked years ago by veteran trainer Gil Clancy who declared, "Once the bell for round one rings, both guys are equal. The only edge the champion should get is, he keeps his championship if the fight is a draw."

That, of course, was where Hopkins moved next. More specifically, he complained about ring judge Duane Ford scoring the last round for Taylor. Had Ford marked his card differently, Bernard would have retained his title on a draw.

For the record, this observer had the fight even at 114-114. But Hopkins has only himself to blame for the result. Rather than focus on one round, let's look at the fight as a whole.

Over the first eight rounds, Bernard threw an average of nineteen punches per round and landed an average of only five. Fighters don't win many fights that way. Most great fighters land more than five punches a round over the first eight rounds of a championship fight. Taylor challenged Hopkins to fight, and Bernard backpedaled.

After eight rounds, Taylor had outlanded Hopkins 63 to 40. In other words, during the first two-thirds of the fight, he landed 57 percent more punches than Bernard. Overall, he outlanded Hopkins in six of the twelve rounds, while Hopkins outlanded Jermain in five (including the final four rounds of the fight). In the fourth round, each man landed seven punches. Bernard pulled ahead in the punch-stat totals over the final four stanzas, but four rounds are less than eight.

Hopkins gives the impression that he's impervious to pain, and he says that Jermain never hurt him. But something kept Bernard at bay for the first eight rounds. Maybe he knows something about his limitations that the rest of us don't.

It should also be noted with regard to the scoring that Duane Ford gave round four to Hopkins, which many observers felt was the wrong choice. Bernard saved a point in the second round when Jay Nady didn't call his being punched into the lower ring ropes a knockdown. And Nady could easily have taken points from Hopkins for hitting and holding, low blows, hitting behind the head, using his elbows, and leading with his head. Indeed, the referee came close to doing just that when he visited Bernard's corner after round eight and warned, "One more time and I'll take a point away."

And let's not forget, after an accidental clash of heads, Taylor fought the last seven-and-a-half rounds with a gash in his scalp that required fifteen stitches to close.

"I won the fight," Jermain said afterward. "Bernard needs to stop crying, but that's the type of person he is. When he was champion, I gave him respect. Now I'm champion. Give me the respect I deserve."

It's unlikely that Hopkins will do that. But as Jermain's cutman, Ray Rodgers, noted, "Bernard can say what he wants. The belts are going to Little Rock." And one Arkansas traveller queried, "If that Hopkins feller is smarter than everyone else, how come Jermain figured him out in round one and it took him eight rounds to figure out Jermain?"

At the very least, Jermain Taylor fought boxing's reigning pound-for-pound champion even over twelve rounds. On July 16th, Jermain Taylor was every bit as good as Bernard Hopkins. And that requires a tip of the hat to Pat Burns.

Bouie Fisher recently declared, "Becoming a great trainer takes years of knowledge and experience. Some of the trainers who people call 'great' today aren't even good. They were just placed in great situations."

Taylor was a prospect coming out of the 2000 Olympics, but no one said that he was a can't-miss proposition. The big-money contracts that year went to Ricardo Williams and Rocky Juarez. Burns has guided Jermain from his first professional fight to victory over Bernard Hopkins. That deserves attention.

Arkansas hasn't has a lot of individual sports heroes. Dizzy Dean, Brooks Robinson, Bill Dickey, Don Hutson, and Scottie Pippen were hall-of-fame athletes who earned their laurels in the north. Sonny Liston's Arkansas roots hardly made the state proud. That leaves John Daly and Sidney Moncrief. Jermain Taylor might be the biggest thing to come out of Arkansas since Bill Clinton. His victory has been mentioned in the same breath as the Razorback's 1994 triumph over Duke for the NCAA basketball championship and the football team's 1965 defeat of Nebraska for a share of the national crown. That could place Pat Burns in the same ledger (albeit not on the same page) as Nolan Richardson and Frank Broyles in Arkansas lore.

As for the big picture in boxing, Taylor might be the new star that the sweet science has been waiting for. The past twelve months have seen the devaluation of the sport's flagship fighters. Oscar De La Hoya, Roy Jones, Mike Tyson, Evander Holyfield, Felix Trinidad, Shane Mosley, Arturo Gatti, and Kostya Tszyu all met with adversity; and there hasn't been much to fill the void. Floyd Mayweather has extraordinary talent but limited drawing power. Zab Judah has shown flashes of both, but sometimes comes up short. Miguel Cotto might not live up to the hype. Ricky Hatton could be the "next Arturo Gatti" but that's different from being a great fighter. As good as Winky Wright, Antonio Tarver, Marco Antonio Barrera, Erik Morales, Manny Pacquiao, Juan Manuel Medina, and Diego Corrales are, their crossover appeal is limited. As for today's heavyweights, the less said the better.

Taylor could be "the man." But first, he'll have to get by Hopkins again in a contractually-mandated rematch. That bout is now expected to take place in December or January. Everyone acknowledges that Hopkins makes adjustments brilliantly. What does that presage for next time?

"I learned from this fight," Jermain said afterward. "Bernard's not a big puncher, but he's an accurate puncher. He picks his punches well. And he's a dirty fighter, who's very good at what he does. He took me to places where I'd never been before, but all that will make me stronger. I should have cut the ring off more and thrown more body shots. I should have come out of the clinches differently and kept my left hand high. I'll be working on those things in the future."

"I've talked to Jermain until I'm blue in the face about dropping his left hand," Pat Burns said after the fight. "I've told him again and again. There's nothing more I can do on that one. He'll just have to watch the tape and learn for himself, which I think he'll do. I fully expect Bernard to be better next time, but Jermain will be better too."

He'd better be. Hopkins is a masterful fighter. In the ring, he's a work of art. To perform the way he does at age forty is extraordinary. Bernard came into the Taylor fight with a 20-1-1 record in world-championship contests and the third-longest championship reign in boxing history (ten years, 82 days). He won't go quietly.

"There was Holyfield-Bowe and Ali-Frazier," Hopkins said shortly after his defeat. "Now maybe we can have Bernard Hopkins against Jermain Taylor."

Perhaps. But before there's a trilogy, Bernard will have to win the rematch. A lot of people said that Jermain Taylor was one tough fight away from beating Bernard Hopkins. When they meet again, Jermain will have that one tough fight under his championship belts.

Thomas Hauser can be reached by email at thauser@rcn.com.