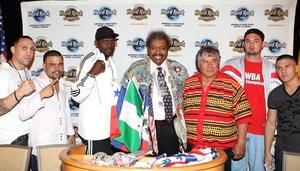 Photo by David Martin Warr

Don King hosted a press conference Wednesday announcing his world championship fight card on Nov. 5 in Hard Rock Live at Seminole Hard Rock Hotel & Casino in Hollywood, Fla., featuring World Boxing Association champion Guillermo "El Felino" Jones (37-3-2, 29 KOs) defending his title against WBA No. 14-ranked cruiserweight Mike Marrone (20-3, 15 KOs), from Vero Beach, Fla.

Jones, a Panama native, showed off his growing English skills with some smack talk worthy of a native speaker.

"The tiger is hungry, Jones said. "I need some meat. I've only got rice right now. I'll take Mike Marrone's white meat. He better be ready for what I'm going to bring."

"I'm hungry to defend my title and fight many more bouts."

Marrone, who is dropping down to cruiserweight from heavyweight for his first appearance in a world championship match, said he didn't have anything bad to say about the man he will face in the main event

"I thank Guillermo Jones for the opportunity for me to fight for a world title," Marrone said from the podium. "Rather than say bad things about my opponent, I only have good things to say about Guillermo. He's gentleman.

"Come fight night is when I will go to work. I will do everything I can to take away Jones' belt. He's got the same title worn by Evander Holyfield, Dwight Muahmmad Qwai, O'Neil Bell, Jean-Marc Mormeck and many others."

New Don King signee Joey "Twinkle Fingers" Hernandez (19-1-1, 11 KOs), from Miami, is looking forward to defending his USBO junior middleweight title against Elco "The Animal" Garcia (25-7, 12 KOs), from Mexico.

"I'm young, fly and flashy," the brash Hernandez told the media. "My dad and I used to book all of my fights with help from others, but it was time for me to be with a promoter. I grew up watching Don King and all his fights, and it's an honor to just listen to him speak at the press conference here today. I can't wait to entertain all of my South Florida fans on fight night."

A surprise at the press conference was the addition of World Boxing Council No. 1-ranked mandatory challenger Francisco "The Wizard" Palacios (20-1, 13 KOs), from Bayamon, Puerto Rico, now fighting out of Orlando. Palacios will appear on this "Viva Don King" card on Nov. 5, and then he's lined up for the winner of Krzysztof Wlodarzcyk vs. Danny Green on Nov. 30 in Australia.

Palacios attended the press conference holding his baby son, Jaden Anthony, who was born on, the same night he fought Wlodarzcyk in Poland, losing a highly controversial split decision.





"The greatest thing in my life happened on April 2 in America when my son was born," Palacios said. "That was the good news. The bad news for me was fighting in Poland on the same night and losing a decision against Wlodarzcyk that I thought I won."

"I look forward to staying sharp on Don King's card on Nov. 5 while I await the winner of Wlodarzcyk vs. Green on Nov. 30. Then I will fight for and win the world championship that escaped me. It's wizard time."

Emerging super lightweight Angelo "La Cobra" Santana (11-0, 8 KOs), a Cuban defector now living in Miami, looks to defend his WBA FEDECARIBE title and maintain his unblemished record facing Broderick Antone (11-11-1, 5 KOs), from Troy, N.Y.

"I am ready to win again," Santana said. "It doesn't matter who they put in front of me. I will mow them down like all the others I have faced."

Raw Quotes



Guillermo Jones (WBA cruiserweight champion): "The tiger is hungry, Jones said. "I need some meat. I've only got rice right now. I'll take Mike Marrone's white meat. He better be ready for what I'm going to bring.



"I'm hungry to defend my title and fight many more bouts."



Mike Marrone: (WBA No. 14-Ranked cruiserweight): "I thank Guillermo Jones for the opportunity for me to fight for a world title," Marrone said from the podium. "Rather than say bad things about my opponent, I only have good things to say about Guillermo. He's a gentleman.



"Come fight night is when I will go to work. I will do everything I can to take away Jones belt. He's got the same title worn by Evander Holyfield, Dwight Muahmmad Qwai, O'Neil Bell, Jean-Marc Mormeck and many others.



"I come from Vero Beach, and it took a village of people to raise me and they will all be coming down to the Seminole Hard Rock in Hollywood on November 5 to see me fight. I can guarantee them and everyone attending the fight that I will do my best to become a world champion."



Joey Hernandez (USBO junior middleweight champion): ""I'm young, fly and flashy," the brash Hernandez told the media. "My dad and I used to book all of my fights with help from others, but it was time for me to be with a promoter. I grew up watching Don King and all his fights, and it's an honor to just listen to him speak at the press conference here today. I can't wait to entertain all of my South Florida fans on fight night."



Francisco Palacios (WBC No. 1-ranked cruiserweight and mandatory challenger to the champion): "The greatest thing in my life happened on April 2 in America when my son was born. That was the good news. The bad news for me was fighting in Poland on the same night and losing a decision against Wlodarzcyk that I thought I won.


"I look forward to staying sharp on Don King's card on Nov. 5 while I await the winner of Wlodarzcyk vs. Green on Nov. 30. Then I will fight for and win the world championship that escaped me. It's wizard time."



Angelo Santana (WBA FEDECARIBE super lightweight champion): "I am ready to win again. It doesn't matter who they put in front of me. I will mow them down like all the others I have faced.



"Thanks to my promoter Don King and all my team members. I have already earned a regional title and I want more."