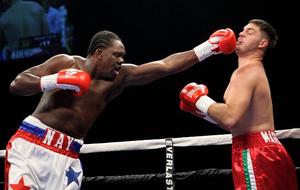 Jones jabs Marrone pic David Martin Warr

WBA cruiserweight champion Guillermo Jones (38-3-2, 29 KOs) handed out a sustained beating to Mike Marrone (20-4, 15 KOs) before Marrone's corner mercifully stepped in to rescue their boxer in the sixth round at the Seminole Hard Rock Hotel in Hollywood, Florida on Saturday.

Jones dominated from the opening bell by raining in crisp, sharp punches from every angle, which had the former heavyweight backing up and his head snapped back from Jones piston like jab.

Jones continued to batter Marrone in the second round by connecting with some well timed uppercuts and body shots that had Marrone laid on the ropes and coveering up.

Marrone bravely fought back, however, Jones continually marched forward and again had Marrone on the defensive and eating jabs and punches from all angles.

The fourth round was much of the same with Jones landing massive shots pretty mucg at will and Marrone trying his best to survive the onslaught. By the fifth round Marrone looked as though he'd had enough, especially when Jones threw every punch in the book at him, eventually flooring Marrone with an overhand right at the end of the round.

Marrone beat the count and managed to get back to his corner. The brave warrior should have been pulled out of the fight there and then but somehow his corner men allowed him to come out of his corner for the sixth round. Marrone was again on the receiving end of Jones's accurate punches and was again badly hurt but this time his corner men threw in the towel after 1.56 to save him further punishment.



Speaking after the fight Jones said: "Marrone tried to do some things, but when I saw he didn't want to have much to do with me, I started boxing him. I wanted to use my jab and show that I still have great boxing skills. I thanked Marrone for making me fight him the way I did.

"I would like to fight a Klitschko. They're fighting blown-up cruiserweights, but I can fight at heavyweight. I'm a fighter. I have always come to fight and I always will.

"The tiger is hungry. He needs more meat."


Dignified in feat Marrone responded: "The biggest difference were the angles of Jones. He threw punches from unusual angles, like I had never seen before. I got hit too often in the beginning, so I knew I had to make the fight a brawl.

"He hits with power and precision, but I got some shots in of my own. I wanted to continue but the fight was stopped."

Other results from the Don King promoted bout

WBC UNITED STATES SUPER WELTERWEIGHT CHAMPIONSHIP (Vacant)
12 ROUNDS
UNANIMOUS DECISION
JOEY "Twinkle Fingers" HERNANDEZ ELCO "The Animal" GARCIA
USBO Junior Middleweight Champion Wily Veteran
Miami, Fla. Guachochi, Mexico (Colorado)
19-1-1 (11 KOs) 25-7 (12 KOs)
153 153 ¼
CRUISERWEIGHT ATTRACTION
8 ROUNDS
UNANIMOUS DECISION
FRANCISCO "The Wizard" PALACIOS JOELL GODFREY
WBC No. 1-Ranked Mandatory Challenger Gateway City Veteran
Bayamon, Puerto Rico (Orlando, Fla.) East St. Louis, Ill.
20-1 (13 KOs) 13-4-1 (6 KOs)
202 193 ¾
WBA FEDECARIBE SUPER LIGHTWEIGHT CHAMPIONSHIP
9 ROUNDS
TKO 1 – 2:57
ANGELO "La Cobra" SANTANA BRODERICK ANTOINE
WBA FEDECARIBE Super Lightweight Champion Slick Southpaw
Miami, Florida (Cuba) Troy, New York (New Orleans)
11-0 (8 KOs) 11-11-1 (5 KOs)
137 ½ 136 ½
SUPER MIDDLEWEIGHT ATTRACTION
9 ROUNDS
UNANIMOUS DECISION
GUSMYR PERDOMO LAFARRELL "Fabulous Fairway" BUNTING
Valorous Venezuelan Crafty Competitor
Termero, Venezuela Memphis, Tenn.
17-3 (11 KOs) 18-3-1 (17 KOs)
170 ½ 173 ¾




MIDDLEWEIGHT ATTRACTION
8 ROUNDS
UNANIMOUS DECISION
JUAN UBALDO CABRERA STEPHEN SCOTT
Undefeated Puncher Slick Southpaw
Santo Domingo, Dominican Republic Queens, New York
18-0 (14 KOs) 8-2 (1 KO)
158 ½ 157 ½
LIGHT HEAVYWEIGHT ATTRACTION
6 ROUNDS
TKO 4 – 1:16
MARCUS OLIVEIRA CHRIS EPPLEY
Undefeated Puncher Gateway City Slugger
Lawrence, Kan. St. Louis, Mo.
21-0-1 (16 KOs) 10-1 (9 KOs)
179 174 ¼
HEAVYWEIGHT ATTRACTION
4 ROUNDS
SPLIT DECISION
CHAEN "Checkmate" CHESS HASSAN LEE
Queen City Prospect Philly Prospect
Cincinnati, Ohio Philadelphia, Pa.
1-0 (1 KO) 0-2
229 ¼ 217
HEAVYWEIGHT ATTRACTION
4 ROUNDS
TKO 2 – 3:00
TREVOR "The Dream" BRYAN DEMARCUS YOUNG
Pro Debut Undefeated Prospect
Albany, N.Y. Columbia, S.C.
0-0 4-0
229 226
JUNIOR WELTERWEIGHT ATTRACTION
4 ROUNDS
UNANIMOUS DECISION
AMIR "Last of a Dying Breed" IMAM CHRISTIAN "Real Deal" STEELE
Pro Debut Prospect
Albany, N.Y. Columbia, S.C.
0-0 1-1
141 ½ 140 ¾
FLORIDA STATE BOXING COMMISSION – CHAIRMAN, DR. MELODY JARADO
TOM MOLLOY, EXECUTIVE DIRECTOR – KATHY GENTILE, COORDINATOR
RINGSIDE PHYSICIANS: DRS. ALLAN FIELDS and JERRY OBED

WORLD BOXING ASSOCIATION CRUISERWEIGHT CHAMPIONSHIP: JONES vs. MARRONE
WBA Supervisor: Noryoli Gil
Referee: Tellis Assimenios, Fla.
Judge: Michael Pernick, Fla. 50-43 J
Judge: Rocky Young, Fla. 50-44 J
Judge: Bill Ray, Fla. 50-44 J

WBC U.S. SUPER WELTERWEIGHT CHAMPIONSHIP: HERNANDEZ vs. GARCIA
WBC Supervisor: Bismarck Morales
Referee: Frank Gentile, Fla.
Judge: John Rupert, Fla. 114-112 H
Judge: Michael Pernick, Fla. 114-112 H
Judge: Billy Ray, Fla. 114-112 H
WBA FEDECARIBE SUPER LIGHTWEIGHT CHAMPIONSHIP: SANTANA vs. ANTOINE
Supervisor: Noryoli Gil
Referee: Frank Gentile, Fla.
Judge: John Rupert, Fla. 10-8 S
Judge: Michael Pernick, Fla. 10-7 S
Judge: Rocky Young, Fla. 10-8 S