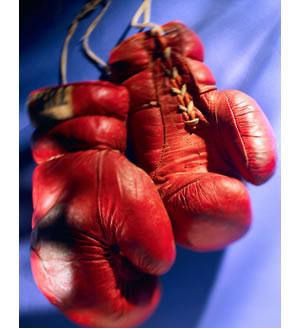 generic old gloves

This Wednesday night's big card in Newark just got bigger. In a battle of undefeated Heavyweights John Lennox will take on former world amateur champion Joey Dawejko in a four round bout.at the Robert Treat Hotel.

The card is promoted by Vincent Ponte's Gulfstream productions along with Gabe LaConte

Lennox of nearby Carteret, New Jersey has a record of 6-0 with three wins coming via knockout

Lennox has built a big following and the former college football star is looking for the biggest win of his pro career.

This will be Lennox' fourth fight of 2011 and third career appearance at The Robert Treat Hotel.

In his last bout, Lennox scored a 2nd round stoppage over Jason Pauley on July 29th in Philadelphia.

In his last appearance at the Robert Treat, Lennox scored a first round disqualification verdict over Kareem Wilson on June 22nd.

"We know that this will be a tough fight, but we also know that a fighter needs to take a step up. Dawejko has a great reputation and we anticipate it will be a tough fight but we know that John is in tremendous shape and will fight a great fight and he will have his hand raised at the end of these four rounds.", said Rich Massini, who is the manager of Lennox.

Dawejko of Philadelphia is 4-0 with one knockout and is a former world Jr. Amateur champion who has created a big reputation on the east coast.

"I appreciate this opportunity that John took this fight. I have been off since January but I am looking forward to coming back with an impressive win", said Dewejko

In his last bout, Dawejko scored a four round unanimous decision over Taffo Asongwed on January 22nd in Chester, PA

That fight will be part of a huge night of boxing.

In the main event, Michael Torres (13-2,7 KO's) of Jersey City, NJ taking on Mark Alexander (10-5, 1 KO) of London, England in a ten round Jr. Welterweight bout.

Thomas LaManna will also be fighting on the show when he takes n Josh Williams for the BAM Youth title.

Vinny O'Brien will take on debuting Carlos Velez in a four round Welterweight bout.

In a battle of Lightweights from Newark, Carlos Vinan (10-9-4, 2 KO's) takes on Wanzell Ellison (4-0, 3 KO's) in a six round bout.

Tyrone Luckey (4-1, 4 KO's) of Middletown, NJ will take on an opponent to be named in a four round Lightweight bout.

Tyabb Beale (4-3, 1 KO) of Newark, NJ will fight Taffo Asongwed (2-8-7) of Montreal in a four round Heavyweight tussle.

John Bolden (2-1, 2 KO's) of New York will see action against Eric Newell (1-1, 1 KO) of Bethlehem, PA in a four round Heavyweight bout.

Rounding out the card will be John Thompson (1-0, 1 KO) of Newark battling Lee Snow of Baltimore in a four round Super Middleweight bout.

Renee Aiken is the matchmaker for this card


Tickets priced $100 (Limited VIP), $50, & $30 (Very Limited) and are on sale now and can be purchased by calling 973-350-9993 or 1-866-263-STAR

The Grand Ballroom at the Robert Treat Hotel is located at 50 Park Place, Newark NJ. Doors open at 6:30 PM, first bout 7:30 sharp.