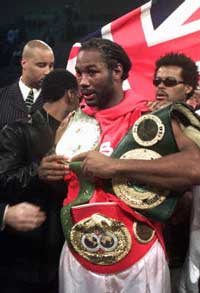 By Anthony Evans: Yesterday's announcement that the most meaningful heavyweight fight available would be taking place in less than two weeks' time has ignited fan interest across the sporting globe. While Lennox Lewis's Hall of Famer trainer Emanuel Steward is drafting in a pair of freakishly tall sparring partners to help Lewis get used to punching upwards, one suspects that neither the defending champion nor challenger Vitali Klitschko have enough time to formulate any intricate strategies.

Lewis, it seems, has already decided what type of fight he wants at the Staples Center in Los Angles. The fight will not go the distance, the world's No.1 heavyweight said. I am not going to waste time and plod around. I am going to show him what he's been asking for - I do not get paid for overtime. Klitschko has been calling me out for some time, but he is in big trouble. He should be careful what he wishes for. On June 21, he is going to find out what it is like to be in with an A-class world champion.

Lewis, of course, famously boasted that he could have Vitali for breakfast and brother Wladimir for lunch. He'll now get to back up that boast when he faces the 6ft 8inch 'Dr Ironfist' in just 11 days time.

Despite Vitali being of the Caucasian persuasion, this is a far more dangerous assignment for the two-time and true world heavyweight champion than the remnants of Mike Tyson represented almost precisely one year ago. Klitschko, who turns 32 next month, in a fighter with ability, hunger and – above all – strength and power to rival that of Lewis himself.

Vitali Klitschko is the biggest man Lennox has ever faced as a professional, admitted Steward. I will be looking to bring in one or two seven-foot sparring partners to get Lennox accustomed to the height. But make no mistake, Lennox is in great shape. I think he will knock Klitschko out by the fifth round.

Former WBO and two-time European Champion Vitali has been chasing this bout for a long time. Klitschko said: This has been a lifelong dream of mine to fight Lennox Lewis. I am very excited about the opportunity to fight him in Los Angeles and on HBO. It is going to be a great fight.

It could be. With the younger Klitschko, Wladimir, yet again been caught with his chin down two months ago Vitali is the only real challenge out there for the champ who has done it all.

Those who remain sceptical of the LA based former Soviet soldier invariably claim he bottled it in the sole loss of his 33 fight career. No doubt a laser beam of attention will now be focused on his April 2000 loss to Chris Byrd, who took the WBO heavyweight title in Berlin, Germany when 'Dr Ironfist' was forced to retire with a torn right rotor cuff.

In February I spoke with the actual doctor who advised Vitali's corner that night, and he told me that if the Ukrainian had fought on for another minute he'd could have lost the use of his right arm forever. Really, after hearing that, what choice did Klitschko have but to withdraw from a bout he was winning (fight for five rounds with one arm) by scores of 89-82 and 88-83 twice?

Far more interesting than the groundless 'Quitschko' quips is Klitschko's alleged KO loss to Pele Reid. It is boxing lore across the Atlantic that the British journeyman stopped Klitschko in a kick-boxing contest a decade ago – apparently using punches, too.

Personally, when it comes to these types of stories, I never buy 'em unless I eye 'em and I've yet to come across an independent witness who can categorically confirm Klitschko was smashed by Reid. Certainly, Klitschko's chin has been sturdy enough in his 32-1 (31) career which started in November 1996.

Lewis, his team, Klitschko and backers Universum, plus fight bankrollers HBO all deserve enormous credit for making this fight happen. All of them are taking a bath financially in comparison to the money they'd be getting for the mooted November PPV. But this was the only fight on the table the boxing world was interested in.

Tickets are available from TicketMaster and the Staples Center box office.