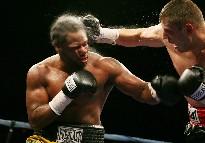 Liakhovich Sergei rh Brewster Tom Casino

PRESS RELEASE-During the third round of his fearless, bloody campaign against Robert Helenius in Erfurt, Germany this past August, Sergei "White Wolf" Liakhovich suffered fractures of the bones located high on the bridge of both the right and left sides of his nose. His courageous battle through the remaining brutal rounds garnered him a multitude of new fans who having been sending emails praising Sergei's heart, determination and skills.



Kathy Duva, Main Events CEO, was impressed, "Despite the fact that Sergei was bleeding profusely from two fractures of his nose and swallowing blood from the third round on, Sergei kept himself in the fight and put on one of the gutsiest performances that I have seen in a boxing ring in a very long time. In my opinion, had he not been gasping for breath throughout the fight due to his fractures, Sergei would have won the bout. Even with his injuries, he appeared to be getting the best of Helenius during many of the rounds. Had Sergei not been injured, I have no doubt that we would have seen a very different result."



After a relatively short recovery period, Sergei is anxious to get back on track to a world title, "I am back in training. I feel great. I'm working on my overall physical and strength conditioning right now, in fact I just came back from hiking. I will be back in the boxing Gym this coming week."




Sergei spoke of his war with Helenius,"I believe that challenges make you stronger, that you always need to learn from your experiences and make the necessary adjustments. In my case, one of the things I need to do first is to change my corner situation. I have the great support of my Promoter Kathy Duva and my attorney and advisor Tony Cardinale. I also would like to say thank you to everyone, to all my fans for your good comments and great support."



"Right now my focus is on getting back in the ring as soon as possible. I need to fight regularly and to stay active. I want to fight good fighters and I will do whatever it takes to get back to the top."