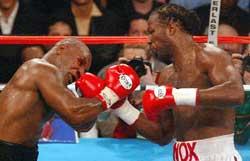 By Daley James Francis: Finally, David Haye and Wladimir Klitschko should be locking horns in the summer, after a merry-go-round where money, ego and TV have been cited as the reason that the fight has taken so long to be finalised.

But if we look through heavyweight history, there have been many heavyweight fights that made perfect sense at the time, yet never happened. In heavyweight boxing, logic sometimes takes a back seat.

The most recent cases of battles that alluded fight fans include Lennox Lewis versus Riddick Bowe, Lewis versus Tyson (the 1995-97 version) and Mike Tyson versus Tommy Morrison. Back in 1991, Tyson-Morrison had the potential to be one of the biggest box office fights in history, with Morrison unbeaten and coming off a role in Sylvester Stallone's 'Rocky V', and Tyson working his way back into contention after the defeat to James 'Buster' Douglas.

In some cases fights that were meant to happen were ruined by the fists of an underestimated opponent. Oliver McCall ruined the last chance of Lewis-Bowe happening when he stopped Lewis in 1994, and when Tommy Morrison ran into the fists of Michael Bentt in 1993, it put paid to a Lewis-Morrison fight in December that year and cost both men a mega payday.

Lewis, although a great heavyweight, had one of the most frustrating championship reigns in boxing history. Bowe famously threw the WBC belt in the trash rather than face him, Tyson did the same (opting to defend his WBA belt against Evander Holyfield instead) and even when he did finally get his defining fight – against Holyfield – the fight ended in a controversial draw. It is a testament to Lewis' greatness that he kept going and cleared out the division the way he did, in the face of such frustration.



On occasion, the logical fights happen too late, therefore leaving a bad taste in the mouth. There are not many people in the world who enjoyed watching Lennox Lewis beat up an old and shot Mike Tyson when they finally met in 2002, with the exception of promoters and accountants. The post-fight interview for that fight is still one of the most heartbreaking moments in the sport.

Larry Holmes and George Foreman tried to make a fight happen between them, but in 1999, not 1978, when the fight still would have had some meaning. When the two men signed for the fight, both men were in their forties and looking for one last big payday. The fight eventually fell through.

So in late June or early July, when Haye and Klitschko are squaring off centre ring, be thankful it is finally happening. There have been many great opportunities missed through the ages and there will be many more.

March 15, 2011