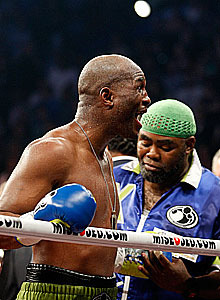 New champion Hopkins isn't done yet (Yahoo! Sports

PRESS RELEASE-Philadelphia, PA (Sept. 9)...As we mark the 10th anniversary of September 11, 2001 and the tragic occurrence that happened, we must remember that the first major sporting event held in the borough of Manhattan following the tragedy was the middleweight championship fight between Bernard Hopkins and Felix Trinidad. It was a night that helped return boxing and sports fans to a sense of normalcy and that propelled Hopkins to a new level of superstardom.



It's hard to believe 10 years have passed since that battle at Madison Square Garden that ended with an upset knockout and chants of "U-S-A! U-S-A!". And it's every bit as hard now to believe that Hopkins was thought, at age 36, to already be an "old" fighter. Now the light heavyweight champion of the world at age 46, Hopkins is still making history, just as he did in handing the great "Tito" Trinidad his first loss that night.



The Trinidad fight was originally scheduled for September 15, 2001, so Hopkins was already in New York on that fateful day that changed our world.



"Ten years ago on September 11," Hopkins remembers, "I was running early that morning in Central Park. The next thing I know people were hollering that a plane had crashed into the tower. Everything changed after that."



Hopkins' grief on a human level was mixed with uncertainty on a professional level. He was unsure whether the fight would happen and, if so, when? He headed home to Philadelphia to feel safer and be closer to his family. He also set-up camp in downtown Philly and kept training, staying in is fight mindset despite the emotions swirling around him.



"Once I heard the fight would take place on September 29, I stayed in Philadelphia as long as I could," Hopkins recalls. "Riding back and getting closer to New York, I felt different. There was still an unsettled and eerie feeling that we were going to fight. I just had to block that out of my mind and stay focused on being ready for one of the biggest opportunities of my career.



Hopkins continued, "The Trinidad fight was important for many reasons. It was for the unification of the middleweight championship. But it became much bigger after 9/11. By having the fight two weeks later on the 29th, I think we were sending a message, through the fight, that America would not be bullied around and we have a resolve that is unmatched by any other country in the world. I remember the politicians and leaders saying that we should show our strength and keep living our lives. I think the fight helped people start that process.



"I remember being in the arena that night and seeing the service people of New York, the policemen and firemen, who we dedicated the fight to. I felt that responsibility of

representing our country, fighting as hard as I could, and most importantly, capturing the undisputed middleweight championship of the world. The fact that this fight is now part of my story makes me feel proud of what I have accomplished. I believe my story is a true American story. I will never forget that experience as long as I live."



That victory made Hopkins the undisputed middleweight champion and he went on to break the records for longest reign and most successful defenses at 160 pounds. A decade later, Hopkins is in the midst of his second reign as 175-pound king, preparing for a demanding defense against top contender "Bad" Chad Dawson on October 15 at STAPLES Center in Los Angeles and will be produced and distributed live by HBO Pay-Per-View®.



The world has changed in countless ways since the events of September 11, 2001. But one thing that hasn't changed, amazingly, is the "world champion" status of the living legend Bernard Hopkins.