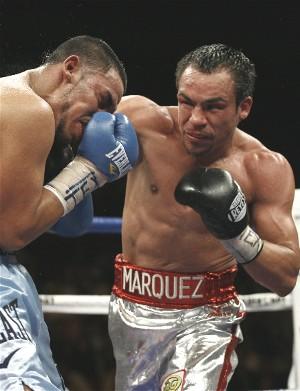 Juan Manuel Marquez lands: HoganPhotos.com

By Paul Upham: Juan Manuel Marquez overcame a furious initial onslaught from Juan Diaz to knockout the younger challenger in round 9 of their lightweight boxing world title battle on Saturday night at the Toyota Center in Houston, Texas, televised in the USA on HBO World Championship Boxing.

35 year-old Marquez 50-4-1 (37), who held The Ring magazine lightweight world championship going into the fight, picked up the vacant WBA/WBO lightweight world titles and also won Diaz' IBO title belt.

"We had to work because he throws a lot of punches," said Marquez, after the win. "I thought it was pretty even the first three rounds. Yes, he was throwing a lot of punches, but with head movement and body movement I was picking them off. In the fourth and fifth round, I could see that my punches were making him tender to the body. Fortunately, the knockout came."

25 year-old Diaz 34-2 (17), in light blue trunks, was very aggressive from the opening bell, making Marquez trade wildly. Diaz was digging to the body and cornering Marquez, in silver trunks with red trim. Diaz was fighting fast, pushing Marquez back onto the ropes. The toe to toe battle to the final bell had the crowd roaring.

Diaz continued fighting aggressively and confidently in round 2. The challenger was making Marquez fight the sort of pace that would drain both men. This led to some thrilling exchanges. Fast punches were on the menu and Marquez was being served up with his back on the ropes. A vicious left hook from Diaz wobbled Marquez momentarily, caught with his head in the air. While Marquez was forced back into a corner, he hid his hurt well and Diaz failed to follow up successfully. Marquez was trying to work the body to slow Diaz down. A left uppercut from Marquez landed clean. Marquez looked surprised at the pace and ferocity from Diaz. "Don't let him out jab you," trainer Ronnie Shields told Diaz.

Diaz was stalking Marquez in round 3, his left hook working well. The veteran Marquez was trying to control centre ring. Diaz attacked with reckless fury and Marquez clipped him as he rushed forward with well timed punches. Hard and more frequent shots from Marquez saw him get back to the middle of the ring.

A left hook from Diaz landed flush on Marquez' jaw in round 4. Diaz was punching with venom towards the ropes as Marquez was trying to match his pace. Diaz snapped Marquez' head back, but it was a better round for the champion.

There were some stinging combinations from Marquez in round 5. Diaz' pace was slowing. The two were taking turns with combinations. Left hooks from Marquez crashed onto Diaz' jaw. Marquez was ducking and avoiding some wild hooks from Diaz. Controlled punching from Marquez saw him changing the direction of the fight. Diaz sustained a cut above his right eye from an accidental head clash in-close.

Diaz was pressuring Marquez back onto the ropes in round 6. Marquez hooked his way off. Diaz cornered him again and Marquez spun brilliantly and landed in reply.

Hard punches from Diaz landed on Marquez in the corner in round 7. Fast punches from Diaz forced Marquez to be more defensive, limiting his own offence. Marquez' was aggressive in stanzas. A five punch combination from Marquez forced Diaz to cover up. Marquez was fighting smoothly, trying to take centre ring.

Marquez was landing as Diaz came forward in round 8. Diaz was cut over the right eye on his eye lid from a left uppercut. Marquez was fighting on his toes with confidence. Diaz tried to overwhelm Marquez, but he spun him around. Marquez landed clean punches. Diaz jumped in and a stunning two-way exchange ensued. A left hook from Marquez hurt Diaz, who looked wobbly on his legs.

A sweet combination from Marquez opened round 9. Diaz was not pressing forward with the same previous authority. Marquez was not giving ground on the inside so easily any more. A left uppercut and right hand hurt Diaz, sending him down to the canvas. Diaz beat the count, but with 35 seconds remaining in the round, there was too much time to survive. The boxers stood and traded and Marquez landed a booming right uppercut which landed under the jaw of Diaz. It knocked him out instantly and he crashed violently to the canvas. Referee Rafael Ramos waving off the fight immediately at the 2:40 minute mark without bothering to count.

Diaz was on the canvas surrounded by doctors for a few minutes, before he was allowed to regain his feet. .

"I got caught with a good punch," Diaz explained. "I got cut and the blood was in my eye. I couldn't do anything about it. I kept fighting with my heart out. I kept pushing forward. I felt that I was doing better on the inside and then he got me with a good punch."

Date February 28
Location Toyota Center, Houston, Texas, USA
Juan Manuel Marquezw.ko.9 Juan Diaz
The Ring magazine, WBA/WBO lightweight world titles
Chris John d.12 Rocky Juarez
WBA featherweight world title
Danny Garcia w.ud.8 Cristian Favela, welterweight
Daniel Jacobs w.ko.1 Jose Luis Cruz, super middleweight


Paul Upham
Content Editor