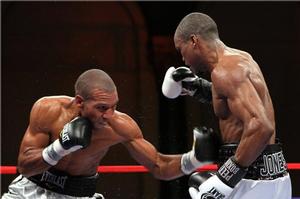 Pic Tri Nguyen

By Jason Pribila: When Philadelphia welterweight Mike Jones was selected as the 2009 Secondsout.com "Prospect of the Year", many of my friends across the pond may have asked themselves, "Who is Mike Jones?"

On Saturday Night, Jones has the opportunity to answer that question for himself, when he enters the ring to face Jesus Soto-Karass as the main support of the Manny Pacquiao – Antonio Margarito fight live at Cowboys Stadium, in Arlington, TX, USA.

Prior to 2010, Jones had been considered Philadelphia's best kept secret. He fought under Hall of Fame Promoter, Russell Peltz' banner and quickly established himself as the city's top ticket seller. When his popularity and wing-span out grew the city's Legendary Blue Horizon, he moved on to headlining shows on the Boardwalk of Atlantic City. Despite the buzz that Jones was creating. he was unable to attract the cameras of premium cable channels HBO or Showtime.

Jones caught a break in 2010 when Bob Arum's company was looking to stage a fight for their brand new "Top Rank Live" series. Arum and Peltz worked out an agreement to allow Jones to appear on a February main event against veteran Henry Bruseles. Jones overcame a sluggish start to pull away down the stretch to earn a decision victory.

When Top Rank returned to the New Jersey shore in April to promote the Kelly Pavlik – Sergio Martinez middleweight title fight, they again turned to Jones to serve as the evening's co-feature. Even though HBO only aired the main event from Atlantic City, Jones made the most of his opportunity and looked impressive in dismantling Hector Munoz in five one-sided rounds.
Showtime soon was calling and featured Jones in the main event of their popular "Shobox" series. The evening was thought to serve as a preview of a potential match-up with fellow prospect, Antwone Smith; but the apple cart was upset when Lanardo Tyner stopped Smith in nine. Jones did his part and stopped the game Irving Garcia in five. It again took Jones a few rounds to get rolling, but soon he was able to display the arsenal that was previously only seen by the standing-room only crowds that paid for to his fights. The final punch that Jones threw may have landed a foot below Garcia's belt, but he had already taken the fight out of his opponent.

Rumors soon began to swirl about who would be next to test Jones. Tyner was an early favorite, but the focus soon turned to potential title shots. When pampered titlist, Andre Berto, priced himself out of a fight with Shane Mosley; Jones name was one of the few that HBO would approve as an alternative.

Berto responded by asking, "Who is Mike Jones?"
Main Events wanted to add Jones as the co-feature to last Saturday's Zab Judah – Lucas Matthysse fight card that was televised on HBO. However, the evening belonged to Golden Boy Promotions, who instead chose to add two California natives (Robert Guerrero – Vicente Escobedo) to the card. Who needs a live gate when you got HBO?

Finally, Jones caught a break when the Pacquiao – Mayweather negotiations broke down for the second time this year. Top Rank quickly matched the Congressman with Margarito. The fight would take place at Cowboys Stadium, where Pacquiao fought in front of 40,000 earlier this year. The promotion would also benefit from the large Mexican fan base expected to show up to support Margarito. However, perhaps due to the outcry of those who threatened to boycott the PPV due to Margarito's involvement, Top Rank put together a better than expected undercard.

Kelly Pavlik signed-on to make his first ring return following the Martinez loss. Two-time Cuban Olympic Champion, Guillermo Rigondeaux (6-0, 5 KO), was added to the card and matched tough with 41-fight veteran, Ricardo Cordoba. And Mike Jones was penciled in to lead off the televised portion of the card.

Two weeks ago, Kelly Pavlik cited a bruised rib as his latest injury to cause him to pull out of a fight. Luckily for Top Rank, they had one of their hottest fighters, Brandon Rios, already in camp preparing for a December fight. Rios is trained by Robert Garcia, who will also be leading Margarito to the ring for the main event. In order to give Garcia time to make sure Margarito's hands are wrapped legally, Rios is slated to kick-off the telecast. The Jones – Soto-Karass scrap will now serve as chief support in the spot that Pavlik occupied.

Even the humble Jones had to admit that the leap from club shows to a $1.2 billion stadium is tough to visualize.

"I can't imagine. It's definitely going to be surreal when I get out there, "Jones said in an interview on 15rounds.com. "I'm excited to go there and see it."

Jones acknowledged that he will be the road team when he enters the ring in what is expected to be a pro-Mexican crowd.

"It makes you a little tougher when you are fighting on the road," Jones said. "When people are rooting against you, it makes you tougher and motivates you to do well."

An impressive victory for Jones would get him very close to a title shot. Discussions have already started about the possibility of Jones facing Kell Brook for a vacant title in early 2011. Jones insists that he has remained focused on the task at hand.

"I'm not looking forward to (a title shot) right now," Jones said. "I'm looking at this fight with Soto-Karass. He's a tough opponent, and that is what I'm focused on."

Team Jones seems to have done a good job getting their fighter prepared for the 2008 version of Soto-Karass, who himself, was on the doorstep of a title shot. Soto-Karass won four fights that year, including a stoppage win over the always game, David Estrada. Two more decision wins followed in 2009, and then he came out flat against Alfonso Gomez on the Pacquiao – Cotto undercard.

Soto-Karass is a notorious slow starter, who gains momentum as the fight goes on. He was once guided by disgraced trainer, Javier Capetillo, and fought at a Margarito-like work rate.

"He brings a lot of pressure," Jones said of his opponent. "I can't get into the game plan, but I plan to outbox him."

When people see Jones' frame for the first time, they usually compare him to Tommy Hearns, but he is much more boxer than "Hit-man". However, what makes Jones a fan and television friendly fighter is that he often lets his hands go when he gets hit. And there will be times when Jones gets hit on Saturday Night.

"At times it could be explosive," Jones admitted. "I'm not going to back down. I'll stand my ground, and see what happens. With all due respect," Jones continued, "I'm coming to stop him."

Jones' final message to his fans was stated as if he was pinching himself, "November 13, Mike Jones is gonna be there."

It might be a good time for a certain welterweight titlist to do his homework.

Jason Pribila could be reached for questions or comments at pribs2000@yahoo.com

November 13, 2010