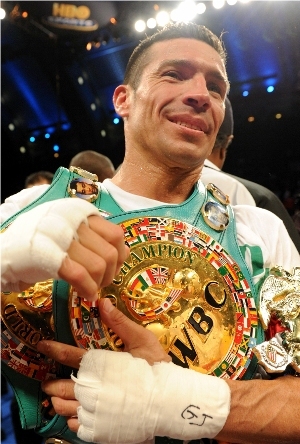 By Jason Pribila: I arrived home from Atlantic City at 7:00 am on Sunday morning. I decided that a power nap at a rest stop on the AC Expressway would serve me well. The HBO televised fights lasted a total of 20.5 rounds of a scheduled 22 and pushed my departure time from Boardwalk Hall back to 12:30 am. I then spent another hour trying to find my car in one of the parking decks at Caesars. A combination of short-term memory loss and no sense of direction had again joined forces to make me proclaim that I'm no longer traveling alone. Well, not before Andre Ward – Carl Froch, anyway.

When I got home I was able to watch the HBO broadcast. This was necessary because there were not any monitors available for the press or fans to watch replays between rounds. Once my fight report was complete I checked out how a few other boxing scribes described what they had just witnessed. To my surprise, I read a tweet on ESPN.com stating that the crowd was lively and full of real boxing fans.

In this case, I have to disagree with what was written. This promotion seemed doomed from the start. The main event featured Martinez from Argentina and Barker from England. There was a small pocket of Barker fans that sang a few verses of "Barker Wonderland", but as far as inspiring the masses to hop a flight across the pond, we were reminded that there is only one Ricky Hatton. For all the excitement that Martinez had brought to the ring in his previous three visits to the building, he had been the B-side on each occasion and was unable to absorb the fans of those he defeated.

The HBO broadcast also had to deal with a strong slate of college football and the Major League Baseball playoffs that featured home games for both the Philadelphia Phillies and New York Yankees. Last minute attempts to offer discounted tickets failed to fill the 5,000 seats that were available for the main event.

In January of 2005 I attended my first fight in Atlantic City. Hours before HBO went live, the city was electric. Walking through the casinos constant chants of, "Gatti, Gatti, Gatti" could be heard. I immediately felt that I was attending an event as well as a prize fight.

In June of 2008, then middleweight champion Kelly Pavlik, was in town to defend his title against unknown Brit, Gary Lockett. There were 10,000 people at the fight, and the Boardwalk was a sea of scarlet and gray, the school colors of Pavlik's Ohio State.

On these occasions, and others like it, it was clear that I was in the presence of real fight fans. This was easy to see because people wearing T-shirts of their favorite fighters. Members of fight teams would be seen walking toward the arena, and there were posters and billboards reminding people why they were in town.

On Saturday, I did not notice one billboard for the fight on the AC Expressway, nor did I notice many within the casino. Pre-fight talk consisted of breaking down the baseball playoffs with the Yankees and Phillies fans that filled the 24 Hour Happy Hour at the Wild Wild West Casino. None of the people I chatted with were aware that there was a fight taking place a quarter of a mile away.

The experience inside the arena was even worse. The untelevised bouts were fought in front of the Press and empty seats. The final bout before HBO went on the air ended by 9:15pm, leaving those who bought a ticket with at least 45 minutes of dead time. At least the Press had the option to retreat to the Press Room and watch the Yankees. I cannot think of another form of entertainment that costs a minimum of $50 for a seat, and allows for a lull of just under an hour. At least on Broadway, fans are treated to an opening act before an intermission.

I love covering fights in Atlantic City, and I look forward to every opportunity I have to get up close to the finest athletes in the world. However, unless a fighter could be established as a ticket seller on the East Coast, promoters may have to start looking elsewhere.

I'm just happy that this was not my first experience at Boardwalk Hall, as this was a case where it would have been a better experience watching at home.

Dewey Bozella:

The highlight of my trip to Atlantic City was that I was able to meet Dewey Bozella, the ESPYs 2011 Arthur Ashe Award winner for courage. Bozella had been convicted of the murder of a 92 year-old woman in 1983. A crime he never committed, but was sentenced to Sing Sing on the strength of testimony of three inmates who traded their lies in return for their own freedom.

Bozella eventually overcame his bitterness and found his sanctuary in the boxing ring. He eventually became the Sing Sing light heavyweight champion and shared the ring with former title challenger Lou Del Valle.

In 1990, Bozella found himself back in court. The prosecutor's case was even weaker than the first trial, and they offered Bozella a deal. Admit your guilt, and you will be set free. Bozella refused to plead guilty to a crime he did not commit, and again left his fate in the jury's hands. Surprisingly, he was again found guilty and sentenced to 20 years to life in prison.

Bozella finally caught a break when his case as accepted by The Innocence Project, an organization that uses DNA evidence to reverse convictions of those who are wrongfully convicted. The Project uncovered evidence as well as a confession from a different suspect of the crime. After 26 years, Bozella was finally a free man.

Upon his release Bozella gained a boxing license from the California State Athletic Commission, and he will be part of the Bernard Hopkins – Chad Dawson undercard at the Staples Center in Los Angeles.



I saw Bozella following the Martinez – Barker fight. Shook his hand and wished him well. After living a nightmare for 26 years, Bozella was now living his dream.

Cotto – Margarito II:

I cannot imagine there being a more electric atmosphere for a fight than what I will experience when Miguel Cotto and Antonio Margarito meet for the second time inside of New York's Madison Square Garden. I attended Cotto's battles against Zab Judah and Shane Mosley in the same building and the Puerto Rican's faithful provided an atmosphere I won't soon forget. Factor in the exciting war waged in their first fight and the bad blood that exists due to the suspicion that Margarito fought with illegal hand wraps, and this fight screams, "Can't miss".

Top Rank ensured that the foundation of the recently refurbished Garden will be tested by putting together the strongest Pay Per View card in years. Opening the televised portion of the card with be the Secondsout.com 2009 Prospect of the Year, welterweight Mike Jones. The undefeated Philadelphia product will face his toughest test to date, Sebastian Lujan and his 13 fight winning streak in a title eliminator for Andre Berto's belt.

Showtime's loss will be HBO PPVs gain now that lightweight titlist Brandon "Bam Bam" Rios has been added to the card. Rios is quickly becoming one of the sport's most exciting fighters and his addition to any card is a positive even though his opponent is yet to be determined.

Rounding out the card is a rematch of one of the front runners for Fight of the Year. Pawel Wolak and his swollen eye survived the hard charging, crisp punching Delvin Rodriguez as the two settled for a Draw. Their first fight was an ESPN Friday Night Fights instant classic, and the two are expected to pick up where they left off. Each is a regional draw that will no doubt have their share of real fight fans in attendance.

This is a fight card not only worth the price of a PPV, but it will also give me reason to open my wallet and buy a ticket. I don't care if I have to sit on the roof, I'll be inside the Garden on December 3.

Timothy Bradley Signs with Top Rank:

Junior welterweight Timothy Bradley (27-0, 11 KO) has signed a promotional deal with Top Rank Inc. with the hopes of becoming a superstar and add his name to the short list of potential opponents for Manny Pacquiao in 2012. Bradley is set to face the shell of Joel Casamayor on the undercard of Pacquiao – Marquez on November 12.

While I am happy that Bradley will return to the ring, this match-up does little for me or the PPV. It will good for Bradley to get to the ring after being sidelined due to a pending lawsuit with his former promoter. A fighter has a limited shelf life, and the 28 year-old needs to be active during his prime.

Top Rank will keep him busy and market him much better than he has been in the past, but I just don't see the star power in a fighter who has only 11 stoppages in 27 bouts. The next time Bradley does something to excite me inside the ring will be the first.

Pacquiao – Marquez Face Off:

The latest edition of the Max Kellerman vehicle aired on HBO last Saturday in advance of the eventual 4 part 24/7 series that will follow both fighters from training camp up until their fight.

A series that had been highlighted by the verbal sparring of Hopkins – Pascal and Klitschko – Haye had the tough task of pairing two guys who rarely provide bulletin board material to promote a fight. On this edition of Face-Off trainers Freddie Roach and Nacho Berinstain joined their fighters as they broke-down highlights of their first two encounters. While the highlights served as a reminder of how evenly matched these fighters were at lower weight classes, it did little to get the juices flowing.

In Pacquiao's recent fights, the politician has seemed to have been in the business of handing out gold watches to fighters who seemed happy to receive the big pay day that eluded them earlier in their careers. Having two men amicably break down fight film failed to capture the intensity of previous episodes, and left me with the feeling that this would be another case where the promotion would sell us on a competitive fight that would not translate as such in the ring.

Jason Pribila is a full member of the Boxing Writers Association of America. He could be reached for questions and comments at pribs2000@yahoo.com or followed on Twitter @ PribsBoxing.