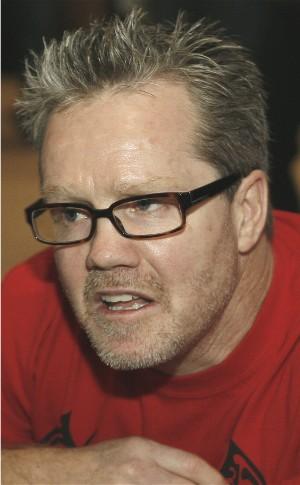 Freddie Roach

By Paul Upham: Former undisputed heavyweight world champion Lennox Lewis has been let go as a ringside boxing commentator by HBO Sports in the USA and will be replaced by world champion trainer Freddie Roach.

44 year-old Lewis was hired by HBO in 2006 as a commentator for their "Boxing After Dark" programs alongside blow-by-blow caller Bob Papa and analyst Max Kellerman.

Unfortunately, the three were not able to gel as a team. Papa and Kellerman could not find a way to weave Lewis into the commentary mix, failing to maximise the use of the world champion's extensive boxing knowledge.

Sources close to the situation have told SecondsOut that a decision not to renew Lewis' contract was made two months ago. His last assignment for HBO was the Tomasz Adamek-Cristobal Arreola heavyweight match on 24 April.

Born Frederick Roach on 5 March 1960, the trainer is a former lightweight professional boxer and runs the Wild Card Boxing Gym in Los Angeles. He was the Boxing Writers Association of America 'Trainer of the Year" in 2003, 2006, 2008 and 2009

HBO executives have been impressed with Roach's appearances during multiple 24/7 television documentary series and with his connection to current star Manny "Pac-Man" Pacquiao and work with multiple world champions over many years, he is a popular boxing industry insider.

With Roach training WBA junior lightweight world champion Amir Khan when he faces Paulie Malignaggi on HBO's "Boxing After Dark" on 15 May, the new HBO recruit won't appear at ringside behind the microphone during the fight.

However, with regular HBO commentator and trainer Emanuel Steward working the corner of Miguel Cotto when the Puerto Rican faces Yuri Foreman at Yankee Stadium in New York on 5 June on HBO's "World Championship Boxing", it is likely Roach will work that fight, with Steward joining Bob Papa and Max Kellerman at ringside for the Khan-Malignaggi HBO "Boxing After Dark" match.


Paul Upham
Content Editor