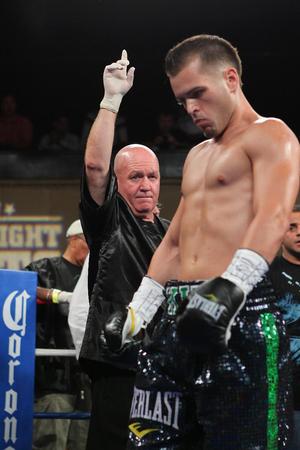 Kevin Rooney Jr ( Photo by Ed Diller)

On Saturday, August 27th, Kevin "Kid" Rooney will make his Atlantic City debut when he meets New Jersey's pro-debuting Carlos Perez at the Tropicana Showroom in the Tropicana Casino and Resort. Rooney-Perez is scheduled for four rounds in the jr. middleweight division, and will be one of the featured undercard bouts on Joe DeGuardia's Star Boxing promoted show, featuring heavyweight fan-favorite Vinny Maddalone, and Atlantic City's Shamone "The Truth" Alvarez in separate bouts.

"So far Kevin has been very exciting to watch," stated Joe DeGuardia, CEO and President of Star Boxing. "Not only are his performances inside the ring exciting, but it's apparent he has learned a thing or two from me about promoting during his time here at Star Boxing," said DeGuardia with a chuckle. "In all seriousness though he really has promoted himself well in the two fights, and had great turn outs come see him from the NYC and upstate New York areas."

Rooney, the son of trainer, Kevin Rooney, and publicist for Star Boxing, made his pro-debut back in April on ESPN's Friday Night Fights on a Star Boxing promoted card at the Mohegan Sun. In that bout, Rooney, dropped his opponent twice, once in the first and once again in the second, before going on to win a dominate four round unanimous decision. Rooney's two knockdowns earned him that evening's Just For Men: "Punch of the Night".













Rooney followed up that performance with a devastating first round knockout over Elmer Vera on the undercard of Delvin Rodriguez and Pawel Wolak's epic battle on Star Boxing's July 15th at the Roseland Ballroom in NYC. Now Rooney will look to make it a clean sweep of the tri-state area when he squares off against Perez on August 27th.

"I'm really looking forward to fighting in Atlantic City," stated Rooney. "Working for Joe has enabled me to fight on some really good cards, and I can't thank him enough for the opportunities. I've had tremendous support in each of my first two fights and I expect the same thing come August 27th.

Tickets can be purchased by calling the Star Boxing office at (718) 823-2000 or visiting www.starboxing.com. Tickets are priced at $30, $50, $100 and $200 VIP seats.


August 24, 2011