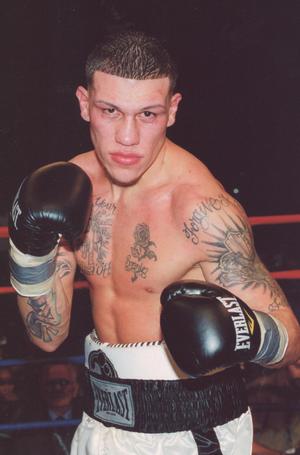 Gabriel Rosado

'King' Gabriel Rosado, of Philadelphia, who takes pride in being a Philly fighter, meets Keenan Collins, of Reading, PA, for the vacant Pennsylvania State Junior Middleweight Title in a scheduled 10-round contest Friday evening, Sept. 9, at the Asylum Arena, 7 West Ritner Street.

"It takes a lot of pride to be a Philly fighter," said Rosado, who is returning to action less than two months since knocking out Ayi Bruce, of Ghana, in five rounds on July 15. "Philly fighters have skills, but at the same time they have a lot of heart, so when I step in the ring, I want to display my skills and at the same time entertain the crowd because they want to see a good fight.

"Bernard Hopkins, Meldrick Taylor and Ivan Robinson are well-known Philly fighters and, hopefully, one day I'll be on that level. I want to be a star and a legend. Being a Philly fighter, I have a lot of pride and I want to give the fans exactly what they want."

Rosado (17-5, 10 KOs), is riding the most impressive streak of his career, having won his last three fights, seven of his last nine, 11 of his last 14. Included in those streaks are victories over former IBF world junior middleweight champ Kassim Ouma, of Uganda, and top contender Saul Roman, of Mexico.



The Rosado-Collins championship bout and the semifinal, which features unbeaten welterweight prospect Ronald Cruz, of Bethlehem, PA, against Anges Adjaho, of Buffalo, NY, will be broadcast on TeleFutura's Solo Boxeo Tecate at 11.30pm ET/PT (10.30pm CT).

Five additional fights complete the card, which begins at 7.30 p.m. and is being promoted by Peltz Boxing Promotions, Inc., Don Chargin Productions and Golden Boy Promotions.

Tickets are priced at $45 and $65. They are on sale at the offices of Peltz Boxing Promotions (215-765-0922) and also can be purchased online at www.peltzboxing.com.

August 22, 2011