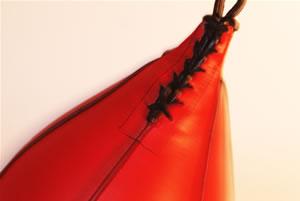 generic speedball

Jerry Glick at Ringside: Amanda Serrano scored her fourth consecutive knockout when Kimberly Conner was hammered to the canvas by a powerful right hook from the Brooklyn, NY southpaw in round two of their battle for the vacant IBF Women's Junior-Lightweight belt.

When Conner, 9-2-2 (4 KOs), bravely got to her feet she was in desperate shape as she tried to stand up. It would have been okay if referee Benji Estevez ended the fight right there, but he allowed it continue.

Serrano, 12-0-1 (8 KOs), attacked her stricken opponent with a two handed assault prompting the referee to finally jump in at 1:45 of the second frame.

Havoc Promotions had a few problems as a couple of fighters were unable to fight for different reasons but the girls took over the main event and gave the fans something to cheer about. With her stirring knockout over the capable Conner, 127 pounds, who travelled all the way from Little Rock, AR, Serrano, 128 pounds, has gained a lot of new fans and a world title.

In a hard fought four round, Fernando Rodriguez got off the floor in the first round to give Anthony Irons a hard fight but it was Irons who won the unanimous decision in this welterweight clash in the co-feature at Brooklyn, NY's Aviator.

It was the fight of the night as these two warriors went at it from the first to the last bell. In spite of his ordinary record, 6-6 (3 KOs), Rodriguez was no tomato can. He came from Dallas, TX to win. He was caught by a right that staggered him, and then a second one dropped him in the first round. He got up with attitude, that is, he was more angry than hurt and tried his best to return the favor. In fact it was Rodriguez, 147 pounds, who won the second round easily. He trapped Irons, 143 ½ pounds, on the ropes and let it all fly as he threw power shots to the head and body. Irons, from Brooklyn, NY, showed his toughness but Rodriguez looked like he'd been there before. He was rugged and fought with grit, but lacked the skills that Irons possessed. The judges all agreed with Secondsout's scorecard, 39-36, improving Irons record to 4-0-1 (2 KOs). Shada Murdaugh refereed.

THE UNDERCARD (All fights were scheduled for four rounds)

Debutant Neuky Santelies, 131, New York, NY, 1-0 (1 KO), attacked Fernando Ramos, 130 ¼, Lajas, Puerto Rico, 0-2, to his body causing an injury which convinced Ramos he had enough after the first round ended.


Another debutant, Ryan Ramaya, 122, Queens, NY, 1-0 (1 KO), hammered Jonathan Gonzalez, 119 ¼, Puerto Rico, 0-2 with a blistering body attack the caused referee Estevez to stop the fight at 2:15 of the first round.


In a pier six brawl, Armin Mrkanovic, 189, Brooklyn, NY, 2-1 (1 KO), outfought Kenneth Rosser, 187, Philadelphia, PA, 0-2, landing three rights in a row to the head. When Mrkanovic thought it was over, or that referee Murdaugh had separated them, or for whatever reason, he walked away. Murdaugh signaled him to resume fighting. He did, punishing Rosser with lefts and rights until the referee called it off at 2:02 of the second frame.


Alvin Acosta, 165, Bronx, NY, 0-2, lost a fight back in 2005. He took off five and a half years before having his next fight against Lekan Byfield, 164, Decatur, GA, 1-1 (0 KOs), which was a hard fought brawl resulting in a close, majority decision for Byfield when two judges agreed 37-35, for him, but the third saw it even at 36-36 as did Secondsout. Acosta was bumped, not punched in the last round and went down. It was erroneously ruled a knockdown, but it counted. Pete Santiago refereed.


Zachary Ochoa, 138, Brooklyn, NY, 1-0 (1 KO), turned pro with an impressive win by TKO over William Ware, 140, Augusta, GA, 1-4 (1 KO), after Ware took a knee in the second round and walked away from being attacked along the ropes in the fourth, which prompted referee Murdaugh to wave it off at 2:53 of the round.


Dinmukhamed Niyazov, 137, Brooklyn, NY, 1-0 (0 KOs), outboxed and outfought game but winless Mateo Acosta, 139, Miami, FL, 0-4-1, to take a unanimous decision by a score of 40-36 across the board. Santiago refereed.

***PUNCHLINES***


On hand to watch the action on Saturday night at the Aviator were heavyweight contender Monte Barrett, middleweight contender Curtis Stevens, local favorites Gary Starke Jr., and Elton Dharry.


**Life Begins at 40**


There are a few interesting things happening for the forty year old Barrett. He is very happy about picking up a big win so late in his career over David Tua, "I've got a couple of situations," said Two Gunz. "I'm trying to get a fight with (Alexander) Povetkin for December 17th. I know he has a mandatory with Hasim Rahman. Hopefully that goes but if not I'm doing the WWE with John Cena and Vince McMahon. I'm going to be a full time wrestler."


Does life begin at 40? "Yes, life begins at 40," he replied.